Pinay filmmaker continues to reap honors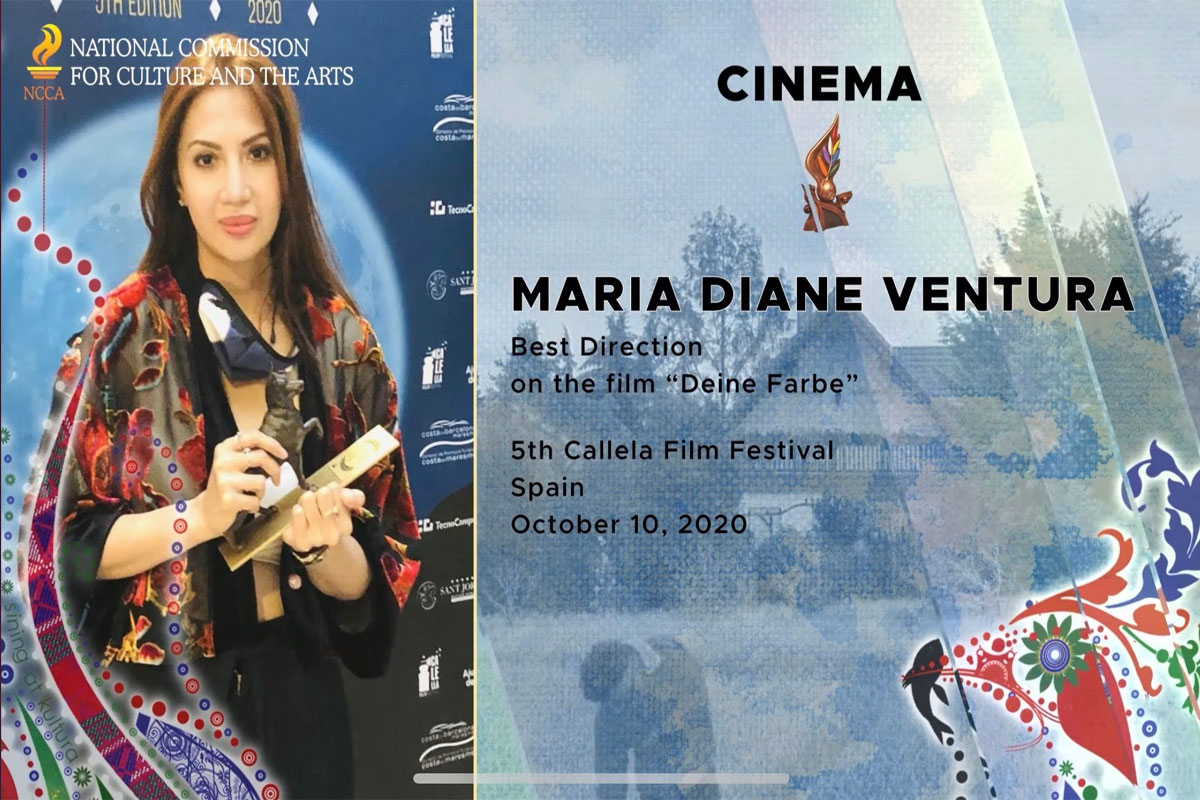 DIANE Ventura, a Pinay filmmaker based in America, has been making waves in various film festivals abroad with her first international feature, "Deine Farbe (Your Color)". The film is set in Germany and Spain and uses the German language. It's the story of two friends, Karl (Jannik Schumann) and Albert (Nyamandi Adrian), who come from different social and economic status.
The film's synopsis says that both want to escape from their hometown in Germany and start a new life in Barcelona. With their mutual sense of humor and provocative ideas, they decide to document their youthful adventures with the dream of sharing their passions publicly. But upon settling in Barcelona, they realize that life there is not as easy as expected. Their resistance to normalcy finds them walking divergent paths.
Karl doesn't know that Albert starts experiencing personal troubles, but pride and the fear of revealing his own secrets drive him to the edge. What was originally meant to be a harmless idea becomes a tragic instrument for self-destruction.
Diane's first full-length project, "Awaken" (Mulat) in 2016, won the best narrative feature award at the 2016 World Cinema Festival in Brazil, with lead star Jake Cuenca bagging the best actor award for his role in the film.
"Deine Farbe (Your Color)," continues to reap honors as it harvested its most recent wins — Best German feature at the Berlin Film Festival (Filmhaus) and Best Director at the International Film Festival Manhattan (IFFM). At the same time, Best Actor recognition was also given to Nyamandi Adrian at the IFFM while the Best Supporting Actor citation was awarded to Jannik Schumann at Filmhaus.
As of the latest count, "Deine Farbe" has already won 22 awards from film festivals across the continents of Asia, Australia, Europe and America, including the following: Best German Feature and Best Supporting Actor from Filmhaus Berlin 2021; Best Director and Best Actor from IFFM, New York 2021; Debut Award from Diorama International Film Festival, New Delhi, India 2021; Best Feature Drama, Best Director and Best Actor from Queen Palm International Film Festival, Palm Springs 2021; Best Performer and Best Editing from G Biennale, Australia, 2020; Best Director and Best Actors from Calella Film Festival Barcelona, 2020; Best Woman Filmmaker and Best Narrative Feature from Vegas Movie Awards, 2020; Best Ensemble Cast from Couch Film Festival, Los Angeles 2020; Best Cinematographer from the Canadian Cinematography Awards, 2021; Best Feature from Canadian Cinematography Awards, 2021; Best Picture, Best Lead Actor and Best Supporting Actor from Skiptown Playhouse Int'l Festival, Hollywood 2021; and Ani ng Dangal recipient, National Commission for Culture and the Arts, Philippines 2021.
The film premiered last year at Hofer Filmtage, one of the most important film festivals in Germany, and was a finalist at the JellyFest in Los Angeles in 2021, while landing in the list of official selections at the following prestigious international film festivals all over the world: Philadelphia Independent Film Festival, 2021; European Cinematography Awards, 2021; L'Hospitalet de Llobregat, Spain 2021; New York Cinematography Awards, 2021; Amerta Film Festival, Turkey 2021; Soho International Film Festival, New York 2020; Cardiff International Film Festival 2020; Festival Internacional de Cinema de Lleida Visual Art, Spain 2020; Lonely Wolf Film Festival, London 2020; New York Movie Awards, 2020; Gold Movie Awards, London 2020; Lift Off Los Angeles; Paris Lift Off Festival 2020; and Cyrus Festival, Toronto 2020.
"Deine Farbe (Your Color)" is available for streaming in 68 countries via Amazon Prime Video. It is set to premiere in the Philippines on WeTv and iFlix on Dec. 8.
Of all the awards her film had received, Ventura says: "If only to bring honor and pride to the country I am very grateful to represent, these awards and accolades are enough motivation for me.
Perhaps I only speak for myself, but in this industry where pragmatism is not exactly a priority, being acknowledged for your work helps silence or mitigate deafening doubts. They encourage me to keep writing the stories I feel compelled to tell even if doing so sometimes goes beyond all reason. That there is even one person that believes in your work can make the difference between holding on or giving up altogether."
Ventura also revealed that she is nearing completion writing her next film feature, "Luz Oscura (Dark Light)," a psychological drama set in Mexico. The new movie tells the story of Ines, a prepossessing yet weary and withdrawn woman from Mexico, who moves to Los Angeles in search for absolution after having survived a most heinous traumatic transgression. Her journey to deliverance and healing leads her to a disturbing confrontation with a painful truth she thought had been long buried.
The new film is about a woman overcoming trauma through self-empowerment and cognizance that the past does not define who you are or who you become. Ines transforms her pain into power as she liberates herself from the chains that keep her from taking control of her own fate. The lady director hopes to finish filming within 2-3 years and create short films or music videos in between.
AUTHOR PROFILE
Concerts and Movies
SHOW ALL
Calendar