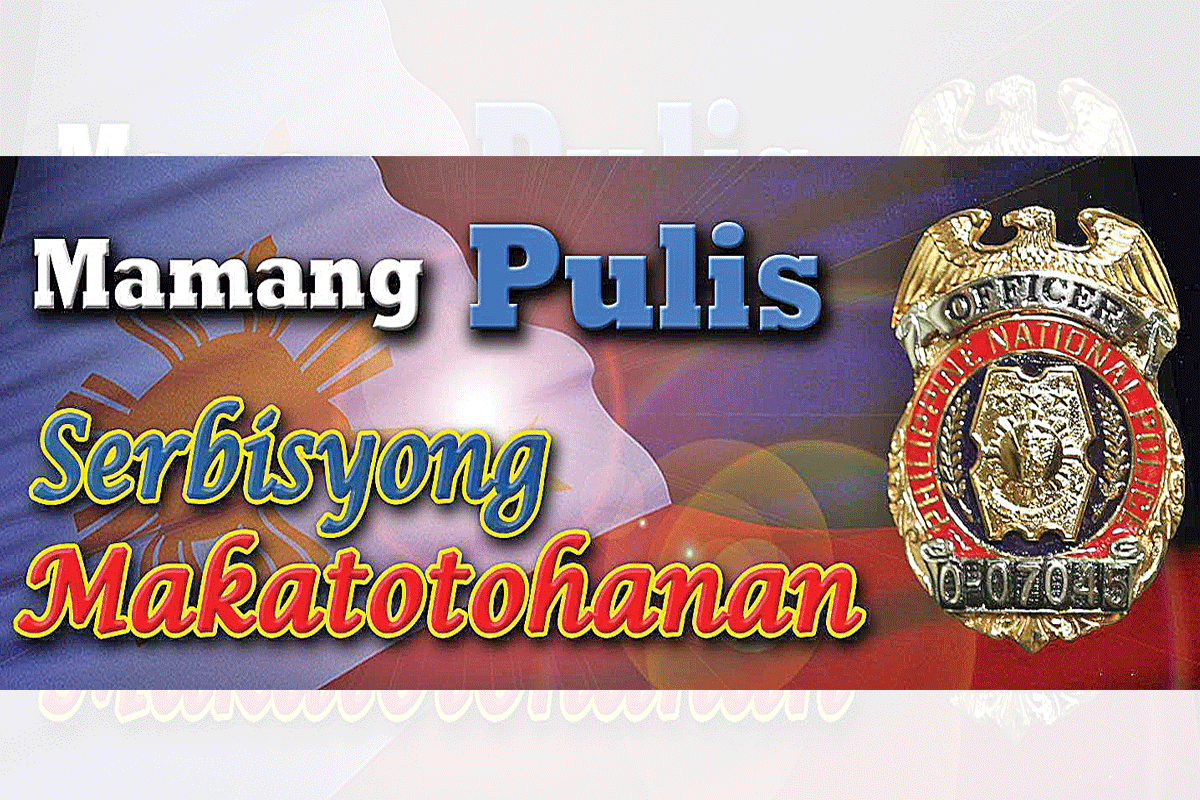 Eleazar: We're going all-out vs 2022 aspirants with crime group links
PHILIPPINE National Police (PNP) chief, General Guillermo Lorenzo T. Eleazar yesterday said they are going all-out against candidates in next year's elections who have proven links with organized crime groups specifically those involved in illegal drug activities.
He made the assurance following the arrest of two mayoralty bets found to be involved in illegal drugs, the latest of them a mayoralty aspirant in Midsayap, Cotabato who yielded an estimated P5 million worth of shabu and a loaded caliber .45 pistol.
Tom Nandang alias 'Datukon Nandang,' a 52-year old mayoralty aspirant in Northern Kabuntalan, Maguindanao was arrested by local police, military and Philippine Drug Enforcement Agency (PDEA) operatives.
The suspect is now under the custody of the PDEA, said Director General Wilkins M. Villanueva who ordered the filing of non-bailable criminal charges for illegal possession of drugs and firearm against the accused.
Gen. Eleazar said the arrest of Nandang is proof of the PNP's commitment to run after lawless elements, including persons aspiring for elective posts since they will act as peace spoilers during the election period.
"I commend our operatives who carried out this operation for heeding to my call to monitor the illegal drug activities of some erring candidates in order to ensure that drug money will not be used to fund their bid for the 2022 local and national elections," said the top cop.
"This is but proof of our continuous determination to win the campaign against illegal drugs despite the serious challenges we are facing now. We will not be distracted in our determination to further cripple the operational capability of illegal drugs syndicate in the country," he added.
Gen. Eleazar also reiterated his warning on political aspirants with connections to crime groups. "You will be arrested. The PNP will stop you from using your guns and goons to try to steal the elections from our kababayan," he said.
He also assured the public, "Hindi titigil ang inyong PNP sa pagtugis sa mga narco-politicians at iba pang mga pulitiko na may kinalaman sa mga criminal groups. We will not allow them to use their illegal connections to undermine our democratic process," Gen. Eleazar said.
Two weeks ago, PDEA and Cordillera Police Regional Office agents also arrested a dismissed member of the Northern Police District seeking a mayoralty post in Mountain Province for marijuana trafficking.
Cordillera police director, Brigadier Gen. Ronald O. Lee said that 37-year old Sonny Kalaw turned out to be a former NPD member who was dismissed from the police force when he went on AWOL (Absent without Official Leave) status after being investigated for extortion and kidnapping-for-ransom
"Loko talaga yang dating pulis na yan. Biro mo, naging tricycle driver sa Sabangan, Mountain Province tapos nagulat na lang ang mga tao nung nag-file ng candidacy for mayor. Kung hindi siya nahuli, galling sa illegal drugs ang source ng kanyang pagkampanya tiyak," Lee told the Journal Group.
According to Brig. Gen. Lee, the P2.28 million worth of marijuana bricks seized from the suspect and his cohorts could provide him enough money to bankroll his initial political campaign in Sabangan.
In a report to Gen. Eleazar, the Cordillera police director said they have further stepped up their efforts to identify and arrest marijuana couriers in the region amid reports that the price of cannabis in the local market had significantly increased in the aftermath of their series of marijuana eradication drives in the region which has so far led to the destruction of over P1 billion worth of fully-grown marijuana crops since last April.
For his part, PDEA chair, Director General Wilkins M. Villanueva discouraged the public from casting their votes for drug-tainted candidates in next year's polls.
He said that joint elements of the PDEA Regional Office-Cordillera Administrative Region under Director Gil Cesario Castro and the local police conducted an interdiction/ checkpoint operation in Oowayen, Barangay Poblacion, Sadanga municipality that led to the arrest of the mayoralty candidate and his four accomplices.
Seized during the operation were 19 bricks of dried marijuana leaves, with an estimated street value of ₱2,280,000; one black Toyota Hi-Ace Grandia and 16 pieces of spent 9mm ammunition and nine live 9mm bullets.
"Dismiss candidates who are involved in illegal drug activities. They do not deserve your votes. We urge the voting public to choose wisely our next leaders," Villanueva said.
"In all likelihood, reelectionists and prospective bets who act in collusion with drug syndicates might continue to lord it over the polls. Drug money may seep into the electoral process, funding the campaign of certain politicians seeking positions in the government in exchange for protection and self-preservation.
"Your vote is precious and please treat it that way. If we want to attain drug-free communities, we should opt for leaders who genuinely defend the nation from illegal drugs," Villanueva said.
According to Brig. Gen. Lee, apart from Kalaw, the other suspects arrested were Jonathan Abella,37; Jeric Sansano,30; Samson Damaso,28;; and a 17-year old male.
Lee said that Abella turned out to be an employee of the Bontoc General Hospital while Sansano, Damaso and Kalaw are all construction workers. The teenager is a student.
The PNP chief has ordered a full probe on the extent of the illegal drug activities of the two arrested mayoralty bets even as he warned 2022 candidates to think twice before trying to use 'drug money' to win elective posts.
Gen. Eleazar said candidates running for different elective positions in the 2022 polls must stay away from known illegal drug personalities to boost their election chances.
According to the top cop, he is raising the alarm bells amid the possibility of illegal drug syndicates financing the campaign of some candidates in exchange for protection once they are elected citing cases in the past wherein some locally elected officials were arrested for involvement in illegal drugs.
In particular, he mentioned the case of former Panukulan, Quezon Mayor Ronnie Mitra who, along with his driver were arrested by the police in October 2001 for transporting almost 500 kilos of shabu worth P1 billion using an ambulance in Real municipality.
In 2007, Mitra and his driver Javier Morilla were sentenced to life imprisonment by a Quezon City court. They were also ordered to each pay a P10 million fine. However, two Chinese nationals tagged as accomplices to the mayor were acquitted for lack of sufficient evidence.
Gen. Eleazar also cited the case of a former Maguindanao town mayor who was arrested last June for possession of a cache of firearms and explosives and more than P200,000 worth of shabu at the Batangas City port.
The accused identified as ex-policeman-turned former Talitay, Maguindanao Mayor Montasser Sabal was later killed after reportedly grabbing the firearm of one of his escorts as he was about to be brought to Camp Crame.
"Illegal drugs operation is a lucrative business and we are not discounting the possibility that either some erring candidates would use this for fund-raising or the drug syndicates would offer campaign donations in exchange for protection once they are elected. Hindi natin papayagan ito kaya inatasan ko na ang ating PDEG at Intelligence Group na tingnang mabuti ang ganitong posibilidad," said the PNP chief.
"Binabalaan ko ang mga kandidato na huwag mamuhunan sa iligal na droga sa kanilang kandidatura dahil ako mismo ang mag-e-expose sa inyo at mangunguna sa pagsampa ng disqualification at mga kaukulang kaso kapag nakakalap kami ng sapat na ebidesya laban sa inyo. Hndi ko hahayaang mauwi sa wala ang lahat ng hirap at sakripisyo ng PNP sa aming agresibong kampanya laban sa iligal na droga," he added.
AUTHOR PROFILE
Opinion
SHOW ALL
Calendar