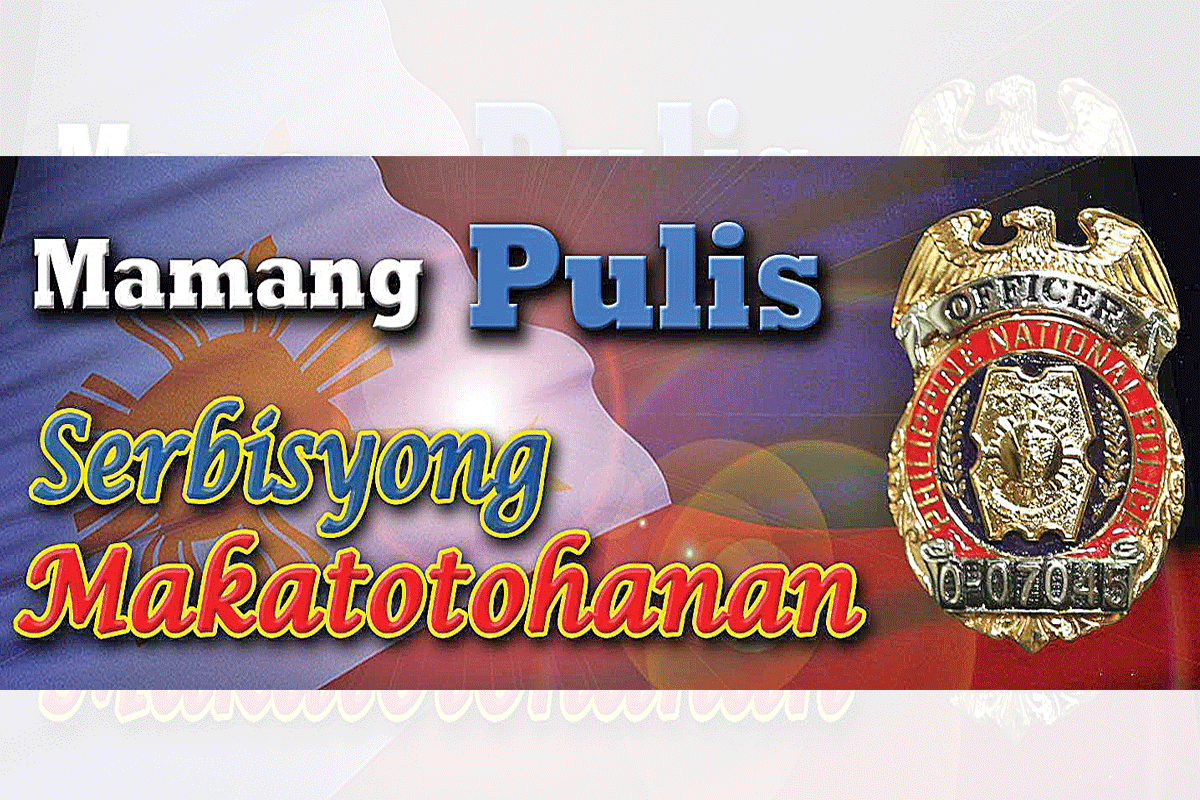 Azurin warns rogues in uniform: Try me
PHILIPPINE National Police (PNP) chief, General Rodolfo S. Azurin Jr. has a stern warning to the remaining misfits and scalawags in the force: Try me.
The country's 28th top cop said that under him, he wants to fully confront 'those within the organization who err.'
According to him, their internal cleansing program of preventive punitive and restorative efforts have been actually very effective but still, all police commanders need to exercise their respective disciplinary authority or be replaced with a more competent commander.
"It will be a year of continuing change for the organization as we remain resolute in improving police work and capabilities and cleansing our ranks of misfits and scalawags," the member of Philippine Military Academy 'Makatao' Class of 1989 declared.
Last week, the official tasked by Gen. Azurin to lead their effort to account for rogue officers in uniform officially took over as new director of the PNP Integrity Monitoring and Enforcement Group.
Brigadier Gen. Warren F. de Leon, a member of PNP Academy Class 1993, committed to further step-up their campaign against police misfits and scalawags 'without fear nor favor' as ordered by Gen. Azurin.
The official said they will be going after active, retired and dismissed police personnel regardless of their rank, position and source of commission.
However, the official who presided over the IMEG turnover of command rites at Camp Crame last Friday PNP Director for Intelligence, incoming Major Gen. Benjamin C. Acorda Jr. called on IMEG officers and men "to please don't use your office to tarnish and damage the reputation of innocent people."
Gen. Azurin has ordered the PNP-DIG to intensify their monitoring of police personnel involved in illegal activities so that the PNP-IMEG can undertake necessary operations to catch them.
Prior to his designation as new PNP-IMEG director, Brig. Gen. de Leon was the PNP Deputy Director for Intelligence. He also previously headed the PNP Intelligence Group in 2020.
Brig. Gen. de Leon replaced Brig. Gen. Samuel C. Nacion of PNPA Class 1992 who has been named as new PNP Deputy Director for Investigation and Detective Management.
Shortly after he assumed his new post, de Leon announced the arrest of Police Master Sergeant Alvin Enad, an active member of the Police Regional Office 7 who is wanted for a robbery with double homicide case.
In a report to Gen. Azurin, the official said that the wanted policeman was arrested by members of the IMEG Visayas Field Unit under Colonel Alejandro Espiritu with the assistance of the PRO7 Regional Intelligence Division and the San Fernando Municipal Police Station in Cebu.
"We have arrested a wanted policeman in close coordination with PRO7 director, Brig. Gen. Roque Edgardo Vega," de Leon said.
According to the official, his men arrested the suspect inside the PRO7 Regional Personnel Holding and Accounting Unit inside Camp Osmeña in Cebu City.
Brig. Gen. de Leon said that MSgt. Enad is the subject of a warrant of arrest for a robbery with double homicide case issued by Judge Joy Redoble of the Carcar City Regional Trial Court Branch 77 in Cebu.
No bail has been recommended for the temporary liberty of the accused who is now under the custody of the IMEG-VFU.
Court records showed that the suspect was charged in connection with the death of couple Peter and Malou Baringui-an in San Fernando, Cebu on February 13, 2022. The slain woman is a councilor of Barangay Balungag when he and her husband were shot dead while they were about to have their dinner with their family and bodyguards inside their house in Bgy. Panadtaran.
At least five bonnet-wearing men armed with long firearms barged inside the victims' residence and shot them without any provocation. Malou was aiming for a seat in San Fernando's town council in last May 9 election when she was killed.
Five policemen were later linked to the killing of the couple and charged with robbery with double homicide, said Brig. Gen. Vega. Four suspects were eventually accounted for by the PRO7 days after the killing.
During investigation, one of the accused policemen tagged Enad as one of their accomplices prompting Vega to place him under camp restriction pending the issuance of a warrant of arrest against him.
Brig. Gen. de Leon said he wants his men to account for more policemen who are already the subject of warrants of arrest for various criminal offenses.
Last week, PNP-IMEG officers captured a dismissed police official wanted for a murder case and for allegedly heading a gun-for-hire group which has gained notoriety for targeting politicians and other wealthy persons in Ilocos-Pangasinan region, a report to Gen. Azurin said.
The suspect identified as ex-Police Lieutenant Colonel Wilson Magpali, the subject of a non-bailable warrant of arrest for murder issued by Judge Nyerson Dexter Tito Tualla of the San Fernando City RTC Branch 28 in La Union.
Members of the IMEG Luzon Field Unit headed by Col. Jeff E. Fanged tracked down the former police official in his hiding place in Barangay Legaspi in Tayug, Pangasinan and placed him under arrest 4:40 a.m. last Sunday.
The suspect yielded a PNP-issued 9mm Berreta semi-automatic pistol with three loaded magazines.
During the short stint of Nacion as PNP-IMEG OIC, the unit accounted for 18 rogue active, retired or dismissed policemen.
Gen. Azurin has ordered the PNP-IMEG to ensure that it won't hesitate to arrest policemen-whether they are in active service or not—in case they are caught in the act of violating the law or are already the subject of warrants of arrest issued by competent courts in the country.
In response to the Chief,PNP's directive, Brig. Gen. de Leon said his order for his men is to don't hesitate in arresting police personnel who are facing criminal and administrative charges as soon as arrests orders have been issued against them by competent courts.
"The PNP leadership is very firm on this: we are showing no leniency to any PNP member, either active, retired, dismissed or suspended who are involved in illegal activities.
We are going all-out against these rogues in uniform who continue to defy the law despite the PNP chief's stern warning. This is our commitment to the PNP organization and the entire public," said de Leon.
He said that information may be relayed to the PNP IMEG Hotlines: Smart- 09989702286 or Globe- 09957952569 or thru the Facebook Page: Integrity Monitoring Enforcement Group and Twitter Account: @imeg2017.
The official assured that the identities of the informants will be kept in utmost secrecy.
AUTHOR PROFILE
Opinion
SHOW ALL
Calendar