Review of police crime thriller with an asskicking heroine, 'Black and Blue'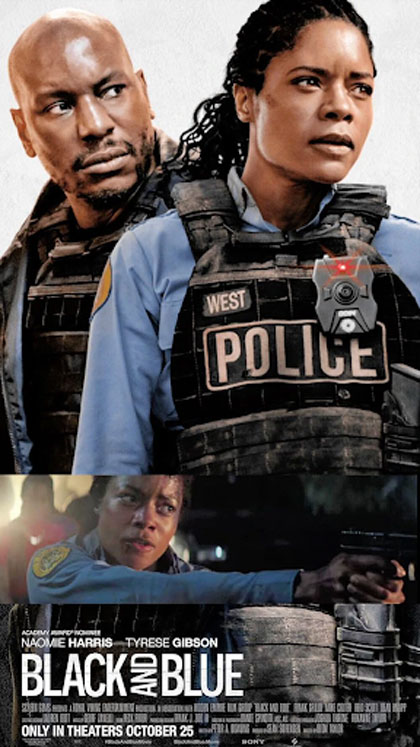 NAOMIE Harris is an English actress best known for playing Miss Moneypenny in the Daniel Craig versions of James Bond. She got an Oscar best supporting actress nomination for "Moonlight".
She now plays an army war veteran, Alicia West, who gets hired as a rookie cop in her hometown in New Orleans where she grew up in an impoverished neighborhood.
As a new cop, she is paired with the friendly Jennings (Reid Scott), a white guy who tells her that the town where she grew up has changed. When Jennings is assigned to go on a double shift, he asks Alicia to take his place as he is dating his wife that night. She is then paired with Brown (James Moses), who is black like her.
Alicia is very new to the game and she'll learn the hard way to a rude awakening as the film goes on. During their shift, Brown gets a call and they go to an abandoned warehouse where he tells Alicia to just wait in the car.
But when she hears gunshots inside, she follows him and she sees Brown and two other cops, Malone (Frank Grillo) and Smitty (Bea Knapp), doing cold-blooded extrajudicial killing on some drug dealers.
When they see her, Smitty shoots at her as she is wearing a body cam that has recorded the entire incident. She gets wounded but still manages to escape and run for her life. They chase her and this becomes a cat and mouse game where she tries to elude her pursuers.
She hides in the grocery store of Milo (Tyrese Gibson), an old friend who is reluctant to help her for his own safety. She calls Jennings to help her and they arrange to meet somewhere, but she soon realizes that he is also an accomplice of the bad cops.
Malone invents his own story and makes it appear to crime lord Darius (Mike Colter) that it is Alicia who has shot the drug dealers. Darius puts a bounty on Alicia's head and orders all his men to hunt her down as one of the victims is his nephew.
This makes Alicia's predicament even more complicated, as both corrupt cops and Darius' henchmen are now all pursuing her. How she manages to craftily evade all of them, for justice to triumph in the end, makes for an exciting climax.
Director Deon Taylor (best known for the "Luke Cage" series starring Mike Colter) succeeds in coming up with a fast paced thriller that happens only in one day. It maximizes the tension and excitement with credible gunfight and action sequences that are requisite to films of this genre that revolve on the seedy crime underworld of rogue cops who get the fear and distrust of the very people who they are supposed to serve and protect.
The movie could have been a standard crime thriller but setting it in New Orleans gives is a refreshing locale and Harris is so committed in her performance enough to carry the film despite some loopholes. As the idealistic heroine, she infuses her character with contagious life and energy as she runs for survival, making us sympathize and root for her all the way up to the cathartic pulse-pounding showdown with her primary tormentor.
Tyrese Gibson ("Fast & Furious" movies) gives great support as an old friend with whom she forges an alliance to survive the dangerous streets in their own neighborhood. Frank Grillo as the ruthless crooked cop hunting Harris down infuses his role with rugged intensity and is perfectly repulsive as the main antagonist.
AUTHOR PROFILE
Concerts and Movies
SHOW ALL
Calendar