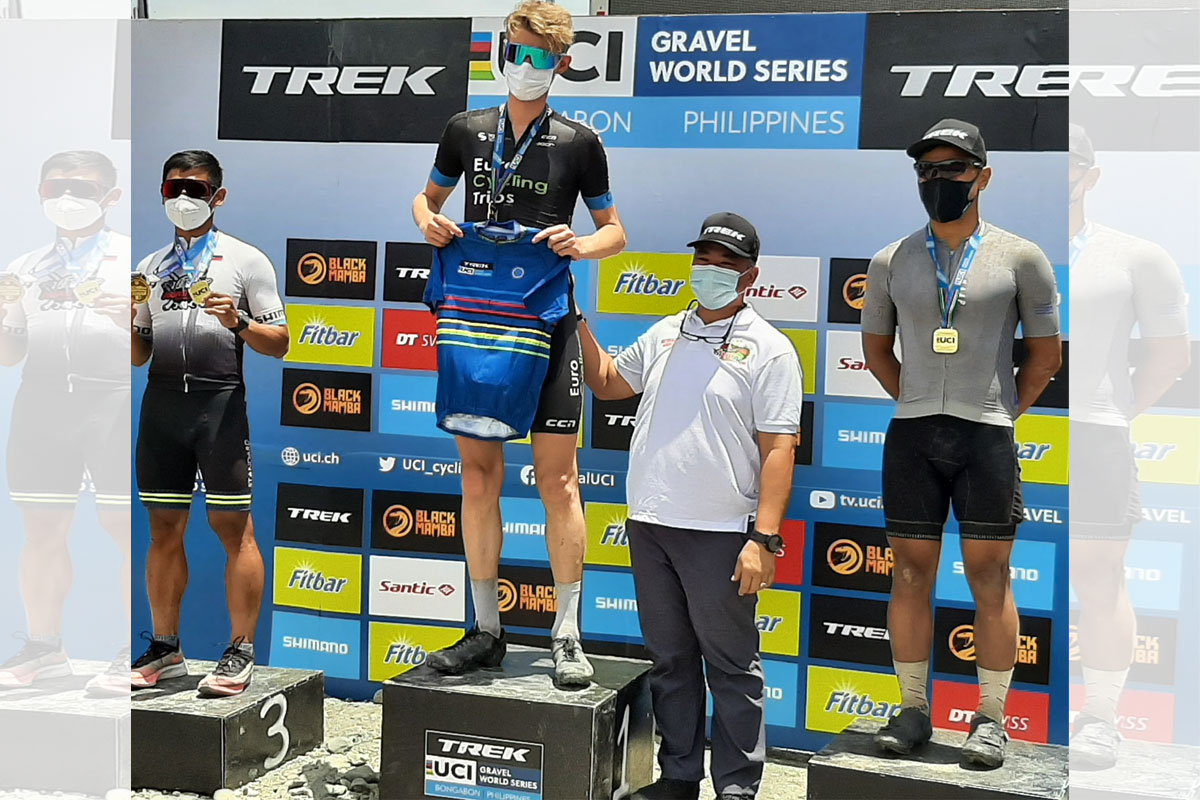 TOP 3 FINISHERS OF UCI GRAVEL WORLD SERIES 2022 — Bongabon, Nueva Ecija Mayor Allan Xystus Gamilla awards the top three finishers in the men's 19 to 34 category of the 2022 TREK UCI Gravel World Series qualifying leg held at the country's Onion Capital on Sunday. 2nd from left is number one finisher, Rick Nobel, a 27 year old from Netherland, 2nd- Mervin Santiago and third-Jarwyn Banatao. Pjoto by STEVE A. GOSUICO.
Gravel World Bikefest 2022 kicks off in RP's Onion Capital; Dutchman tops bikefest
BONGABON, Nueva Ecija — An international cycling event took center stage in this 2nd class municipality widely known as the country's Onion Capital with the inaugural leg of the 2022 Trek Union Cycliste Internationale (UCI) Gravel World Series kicking off here on Sunday morning.
Mayor Allan Xystus A. Gamilla fired off the starting gun and off went some 389 cyclists from all over the world to take part in the biggest biking event dubbed here as "Gravel Filippine Bongabon."
It was the first time to be hosted here ever by an Asian country like the Philippines.
Rick Nobel, a 27-year-old Dutchman who is a member of the Eurocycling Trips Procycling team emerged as the top finisher in the 19-34 year-old category of the gruelling 85-kilometer off-road course which served as the qualifying round in the next leg scheduled in Australia.
Nobel clocked in at 3 hours, 11 minutes and 38 seconds to finish ahead of the pack that included 15 homegrown cyclists from this town, who is known for its annual holding of the Sibuyas Festival in honor of the local farmers.
He was followed by second placer Mervin Santiago at a time of 3:11:47 and third Jarwyn Banatao (3:11:48), of the Trek Phils/Opus Land team and of the Janzbike Racing team, respectively.
When asked how did he find the course here, Nobel said the course is very nice and he plans to come back next year.
Nobel also admitted he is just a "normal guy" when it comes to cycling, noting that he's got a full time job back home and he said the level of competition in Netherlands, his country is very high.
Mayor Gamilla said the bikefest's qualifying leg held here marked the start of the 10-day festivities celebrating the town's much-renowned Sibuyas Festival from April 4 until April 10, 2022.
Its hosting of the prestigious Gravel World Series here, the mayor said, is aimed to showcase the town's tourism potentials as "Biking Capital of the Philippines" for possessing one of the best off-road courses in the country.
AUTHOR PROFILE
Provincial
SHOW ALL
Calendar