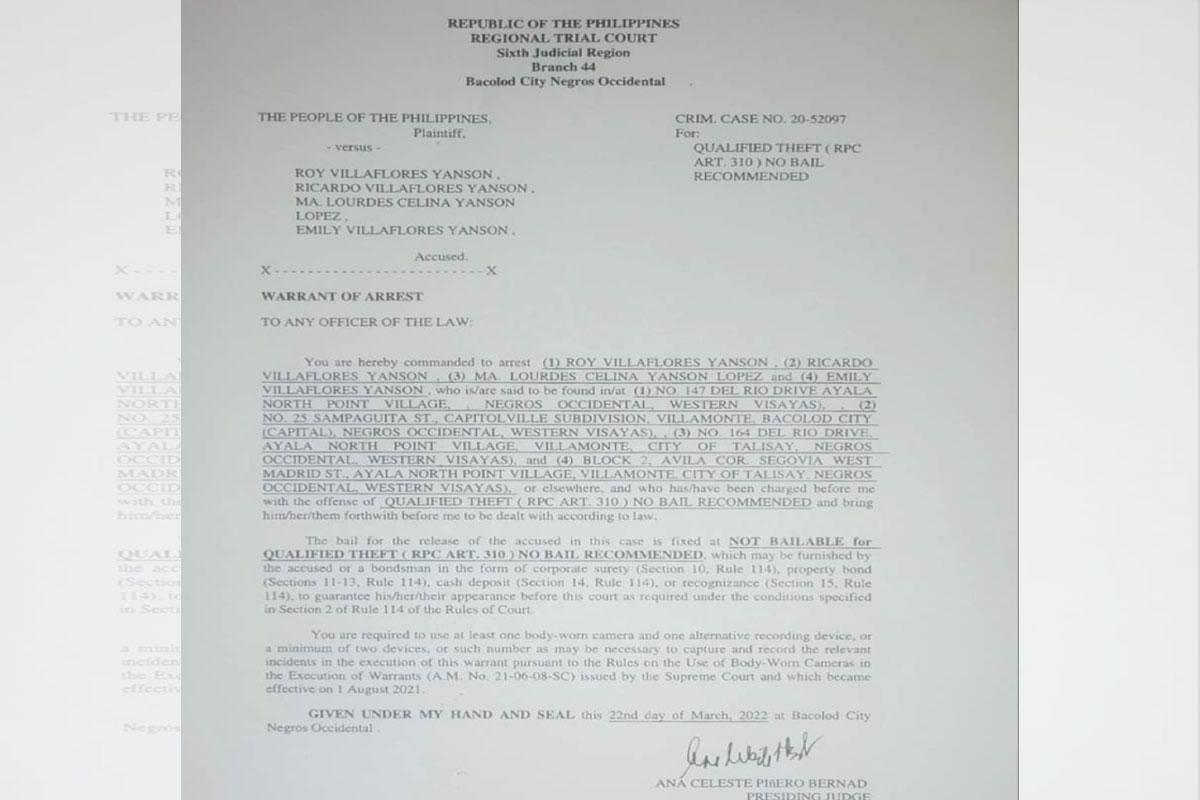 Bacolod RTC orders arrest of Yanson 4
A REGIONAL trial court in Bacolod City has ordered law enforcers to arrest four Yanson siblings for alleged qualified theft in connection with the supposed theft last August 2019 of company properties and assets owned by Vallacar Transit Inc., a firm under the Yanson Group of Bus Companies.
In an Order dated March 22, 2022, the Bacolod City RTC Branch 44 ordered authorities to enforce the warrant of arrest against Roy Yanson, Ricardo Yanson Jr., Ma. Celina Yanson Lopez and Emily Yanson for qualified theft.
"No bail recommended and bring him/her/them forewith before me to be dealt with according to law," the court said in its order.
The court required the officers of the law to use at least one body-worn camera and one alternative recording device, or a minimum of two devices as necessary to capture and record the execution of the warrant of arrest.
In an earlier Order dated March 15, 2022, the court denied the motion to dismiss the warrant of arrest against the four accused.
The Yanson 4 also faced warrants of arrest for several crimes such as non-bailable carnapping in Criminal Case Nos. 20-51587 to 89 pending before Regional Trial Court Bacolod Branch 53 and grave coercion in Criminal Case No. 20-03-34459 pending before Metropolitan Trial Court-Bacolod Branch 7.
Records showed that when the legitimate management led by their sibling Leo Rey Yanson and mother Olivia Yanson retook possession of VTI main office in Bacolod City in August 2019, various office equipment, computers, documents, titles and other important papers were discovered missing.
Investigation by the CIDG Negros Occidental showed the properties were takento the compound of Ceres Premium Foods Corp.
The CIDG then filed qualified theft charges against the Yanson 4
Court records also showed that on April 19, 2022, a Hold Departure Order was issued against the Yanson siblings directing the Bureau of Immigration to stop the accused, arrest and surrender them to the court.
In a Report on April 21, 2022, the PNP said it failed to enforce the warrants of arrest for qualified theft against the Yanson 4 who allegedly could not be found in their respective residences.
AUTHOR PROFILE
Metro
SHOW ALL
Calendar