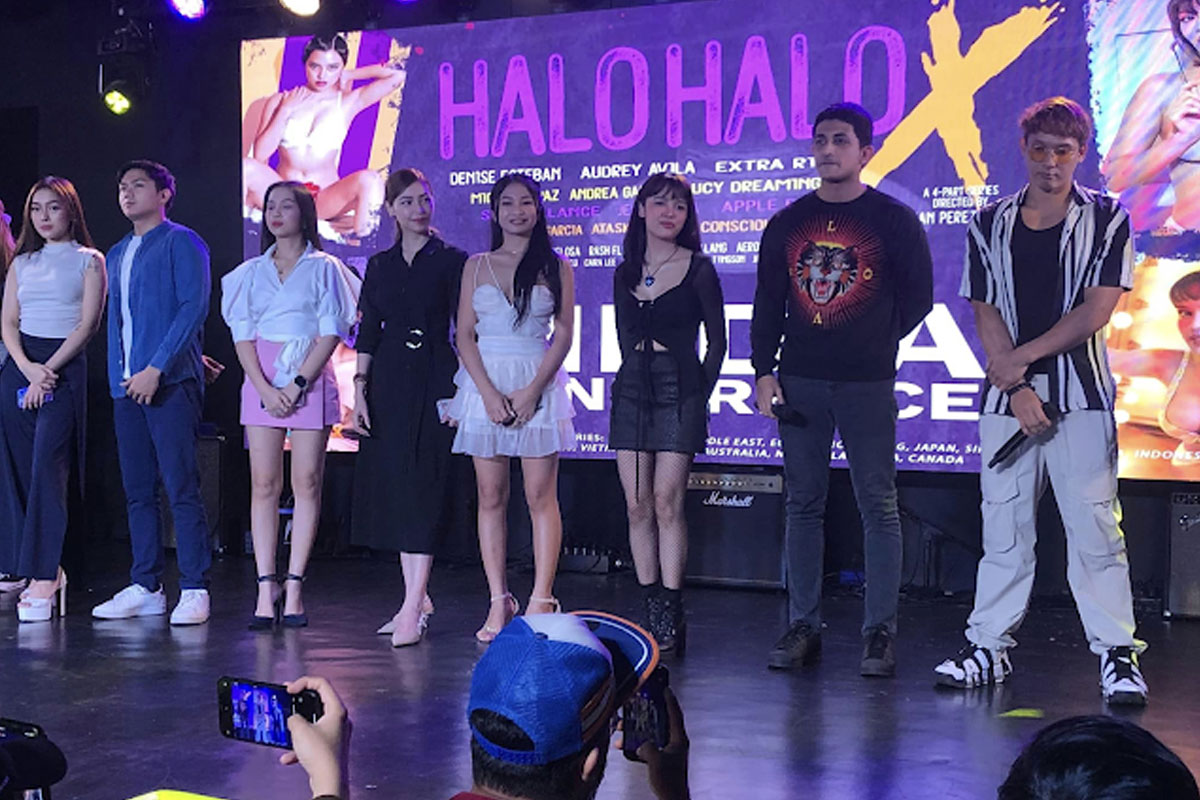 Sexy movies for theatrical release?
"HALO HALO X" is the third series directed by Cult Director Roman Perez Jr. for Vivamax. The first one was "Iskandalo" topbilled by Cindy Miranda and the second was "Sssshhh" with Salome Salvi. Both are topraters and "Sssshhh" will soon have a part two.
The four stories featured in "Halo Halo X" are all written by Direk Roman himself. "Ako 'yung head writer," he says. "But I asked other writers like Roni Benaid and John Pacala to write the full script. The stories are based on the real life experiences of people I know. Like the first story, 'Extra Rider', it's about delivery boys who are willing to offer extra service to their clients. We discovered may app pala talagang ganito."
"Extra Rider" was shown to the press. It stars Victor Relosa as Jeremy, a rider who can hardly make ends meet for his wife, Audrey Avila, and their baby.
Another rider, Mon Mendoza, orients him on how to earn more by being an extra rider. He threw up when he serviced his first client who happens to be a gay (Mark Grabador, who feels he's a bathing beauty while soaked in a bathtub.)
While servicing a beautiful matron (Yda Manzano), he meets her sexy maid (Denise Esteban) who also seduces him. Soon, he was returning to the condo unit to meet Denise in private.
Denise later asks his help to rescue her as Yda is physically abusing her, so he takes her home to his wife, saying Denise is his cousin. It's easy to predict that the wife soon learns the truth about them and what happens next is a bit rushed.
We felt like the story is still going strong and there are other possibilities to make it more exciting, but the episode is already running over time, so they had to rush things up and the ending appears quite abrupt.
The second episode is "Lucy Dreaming", with Micaela Raz as Lucy who keeps on dreaming about her own brother in law, Rash Flores. Her fantasies come true when Rash reciprocates her overtures and, as may be expected, conflicts ensue when her own sister, played by Andrea Garcia, learns about their infidelity.
We'll report on the 3rd and 4th episode later. How did Direk Roman cast the various roles in the series?
"Most of them, ngayon ko pa lang nakatrabaho and they were suggested by Viva," he says. "I'm so glad that lahat sila, magagaling, kaya hindi ako nahirapan. They were very cooperative, even in doing the sexy scenes. Kung nagustuhan ng Vivamax subscribers ang 'Iskandalo' and 'Sssshhh' before, I'm sure mas magugustuhan nila itong 'Halo Halo X' as the stories are more intriguing and the performances of all the stars are something we can be proud of."
Direk Roman is really the busiest Vivamax director at the moment. Aside from "Halo Halo X", he has also just finished a new movie, "Salakab", starring Angeli Khang and Benjz Sangalang. He's hoping this one will not be shown via streaming on Vivamax but on the big screen.
"Lately kasi, hindi nagki-click sa viewers ang wholesome films sa sinehan," he says. "So sabi ko, baka they want something sexy naman, like 'Salakab'. Parang yung nangyari noon sa movie kong 'Adan', when it was shown in theaters, it was a big hit. Baka si Angeli ang makakapagbalik ng viewers sa cinemas."
AUTHOR PROFILE
Showbiz
SHOW ALL
Calendar