ROMUALDEZ WITH PAGCOR, PCSO TOP EXECS — House Majority Leader and Leyte Rep Martin Romualdez (right) discusses vital issues with Philippine Amusement and Gaming Corporation Acting Vice President Tibo Vollaflor (left) during a short meeting at the Majority office in the House of Representatives. PAGCOR briefed House members on their proposed 2022 budget. Other photo shows Romualdez (center) and Committee on Appropriations Vice-Chairman Rep. Jose Manuel "Mannix" Dalipe (right) warmly welcoming Philippine Charity Sweepstakes Office Officer In Charge General Manager Larry Cedro (left) at the House of Representatives during the budget briefing of the PCSO for 2022. Photos by VER NOVENO
Romualdez: House OKs 11 top bills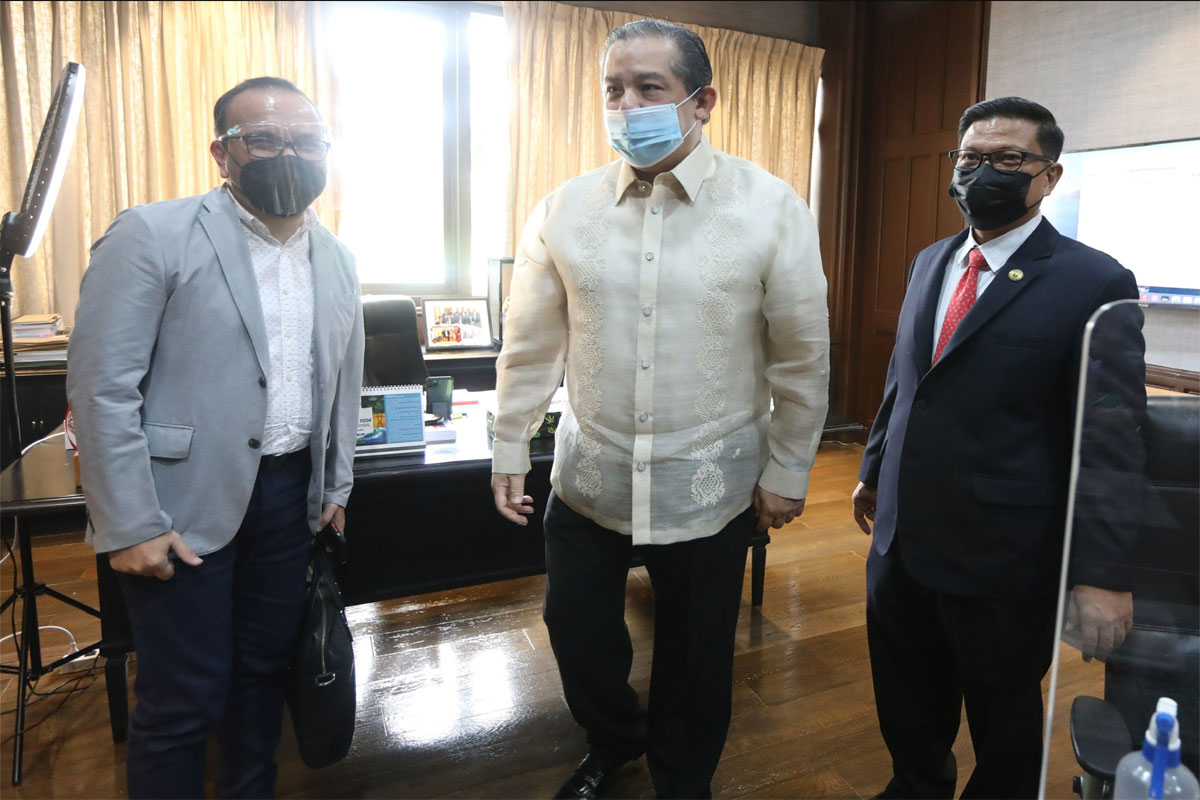 Eyes passage of nat'l budget before end of Sept.
THE House of Representatives under Speaker Lord Allan Velasco has approved the 11 top priority bills enumerated by the Legislative-Executive Development Advisory Council (LEDAC), House majority Leader and Leyte 1st District Rep. Martin G. Romualdez said after attending the 3rd virtual LEDAC meeting Friday.
Romualdez, chairman of the House Committee on Rules, said the Velasco-led House leadership delivered on its promise to pass the priority measures cited by President Rodrigo "Rody" Roa Duterte in his State of the Nation Address (SONA).
"Under Speaker Velasco's leadership, the House of Representatives has delivered on its commitment and all of the 11 top legislative measures have been approved on third and final reading," Romualdez said after attending the LEDAC meeting with Speaker Velasco, House Minority Leader Joseph Stephen "Caraps" Paduano, House Committee on Ways and Means and Albay Rep. Joey "Sarte" Salceda and Deputy Speaker and Deputy Majority Leader Juan Pablo "Rimpy" Bondoc of Pampanga.
"Acting on explicit instructions from Speaker Velasco, the House is eyeing the passage of the national budget before the end of September with high hopes that this will be certified urgent by President Rodrigo Duterte," Romualdez, president of the Lakas-Christian Muslim Democrats (CMD), said.
"We stayed true to our mandate and successfully passed most of the administration's priority measures, as spelled out by President Rodrigo Duterte in his SONA," Romualdez, a lawyer from the University of the Philippines (UP) and president of the Philippine Constitution Association (Philconsa), said.
Other attendees in the LEDAC meeting were Executive Sec. Salvador Medialdea, Finance Secretary Carlos Dominguez II, Socioeconomic Planning Secretary and National Economic and Development Authority (NEDA) chief Karl Kendrick Chua, Cabinet Secretary Karlo Nograles, Budget Undersecretary Janet B. Abuel who is the officer-in-charge of the Department of Budget and Management (DBM), Senate President Vicente "Tito" Sotto III, Senate Majority Leader Juan Miguel "Migz" Zubiri, Senate Minority Leader Franklin Drilon, Sens. Cynthia Villar, Imee Marcos and Pia Cayetano.
During the meeting, Romualdez said Chua presented the eleven top bills under the common legislative agenda (CLA) whose approval is being eyed before the year ends.
The House of Representatives has already approved the eleven top priority bills that Chua mentioned, according to Romualdez.
These are the Bureau of Fire Protection (BFP) Modernization, (House Bill No. 7406); Amendments to the Retail Trade Liberalization Act (RTLA), HB 59; Establishing the Tax Regime of Philippine Offshore Gaming Operators (POGO's), HB 5777; Amendments to the Public Service Act (PSA), HB 78; Amendments to the Foreign Investments Act (FIA), HB 300; Department of Migrant Workers and Overseas Act (DMWOFA), HB 5832; Real Property Valuation Reform Bill, HB4664; Rural Agricultural and Fisheries Development Financing System Act (AGRI-AGRA), HB6134; Government Financial Institutions Unified Initiatives to Distressed Enterprises for Economic Recovery (GUIDE) Act; Passive Income Tax and Financial Intermediary Tax Act (PIFITA), HB 304; and Virology Science and Technology Institute of the Philippines (VIP), 9559.
"As to the other measures that the House already approved on third and final reading, rest assured that the House is ready to meet with its Senate counterpart, for a Bicameral Conference meeting to thresh out and reconcile the differing provisions, if any," Romualdez said.
During the meeting, Chua also presented the other "remaining bills" that lawmakers will approve before the end of 18th Congress in June next year.
These include the Medical Reserve Corps (MRC) Act, Creation of a Disease Prevention and Control Authority (CDC) bill, Bureau of Immigration Modernization Act, Imposing Amusement Tax on Digital Platform and Offshore Betting Stations of Licensed Cockpits (e-sabong) bill, Department of Disaster Resilience (DDR) bill, Internet Transactions Act, and Expanded Solo Parents Welfare Act that the House of Representatives also approved on third and final reading.
Other bills are the Unified System of Separation Retirement and Pension of Military and Uniformed Personnel (MUP), Amendments or Repeal of Republic Act (RA) No. 10192, or the Continuing Professional Development (CPD), Boracay Island Development Authority (BIDA) bill, National Housing Authority (NHA), National Land Use Act (NaLUA), Increasing the Share of Local Government Units in the National Internal Revenue Taxes, and Magna Carta of Barangay Health Workers.
Romualdez said Chua also bared during the meeting that LEDAC received seven bills and three other measures from President Duterte's final SONA for Congress' consideration.
The seven measures received by LEDAC were Budget Modernization Bill (BMB), Waste-to-Energy bill (WTE), High-level National Penitentiary for Heinous Crimes bill, Open Access in Data Transmission bill, Financial Consumer Protection (PCF) bill, and Electric Vehicles Act.
The three bills mentioned by President Duterte in his sixth SONA were E-Governance Act, Mandatory Establishment of evacuation centers in every city, province, and municipality throughout the country and Free Legal assistance to Armed Forces of the Philippines (AFP) and Philippine National Police (PNP) officers and uniformed personnel.
Romualdez said the WTE, Open Access in Data Transmission bill, PCF bill, Electric Vehicles Act, E-Governance Act, and the Mandatory Establishment of evacuation centers in every city, province, and municipality throughout the country were already approved by the House of Representatives.
"Despite the challenges brought about by this pandemic, we accomplished our mission with the excellence and hard work of our fellow lawmakers, staff, and employees," Romualdez said.
AUTHOR PROFILE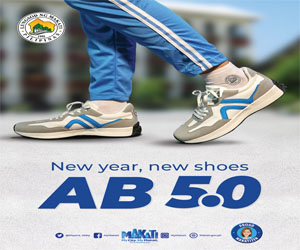 Nation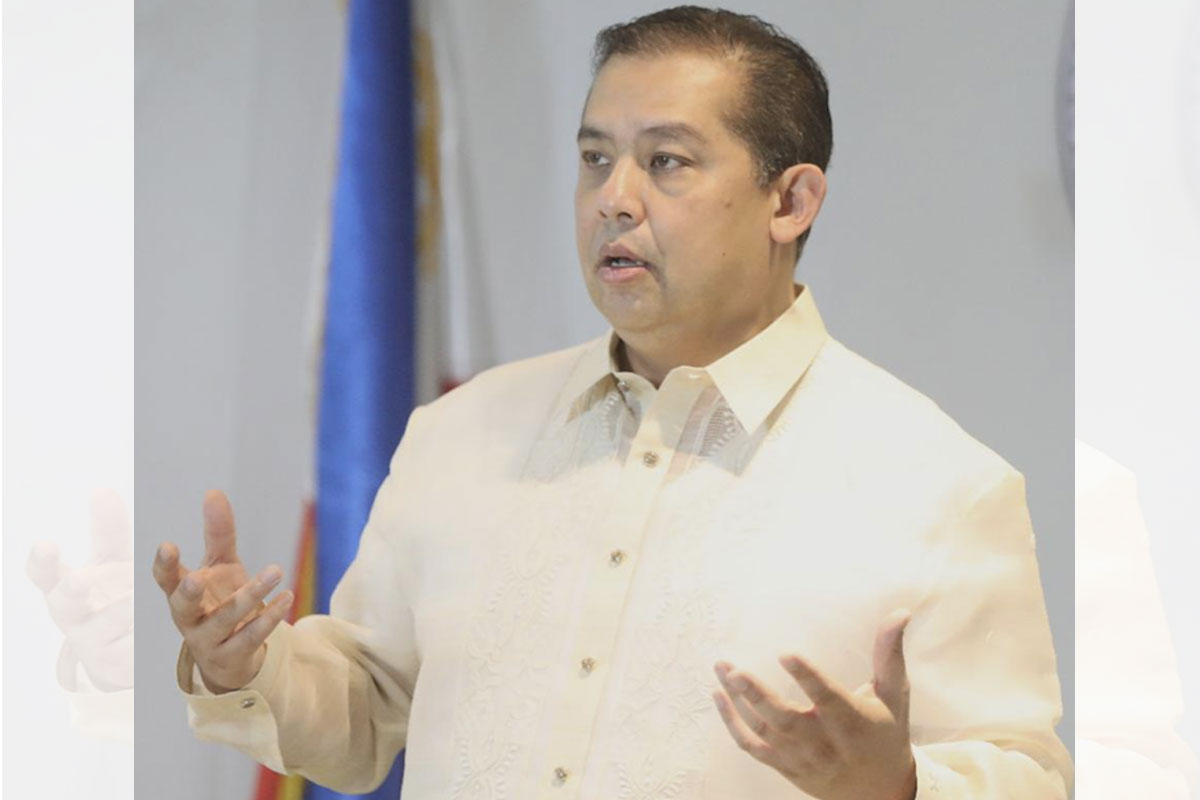 SHOW ALL
Calendar