 MMDA, LGUs need to enforce Anti-Littering Law to the letter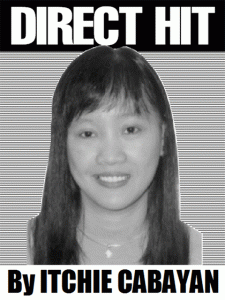 IT is so stressful watching Metropolitan Manila Development Authority (MMDA) Chairman Benhur Abalos making a desperate call for the public to stop throwing their garbage anywhere they please.
It is stressful in that we all know it won't be heeded. I've lost count of how many government officials have made similar, repeated calls both in the past and even currently to no avail.
The appeal of Chairman Abalos came after floods hit many parts of the metro during the heavy downpour on Thursday and Friday and he received reports that the flooding was caused by pumping stations and drainages being clogged due to huge amounts of garbage.
During an inspection led by MMDA Flood Control and Sewerage Management Office (FCSMO) Director Baltazar Melgar and Department of Public Works and Highways (DPWH) official Mike Bagon, particularly large volume of trash was found at the San Andres Pumping Station in Manila.
Abalos of course ordered the declogging of the 17 pumping stations under the MMDA while at the same time appealing to the public to throw their garbage properly. In essence, he said that even if the MMDA continuously cleans the pumping stations and rid them of trash that got trapped and caused clogging which, in turn, bring about floods, it will just be a never-ending cycle if the public will continue dumping their trash here and there.
If needed, he said marshals will be deployed by the MMDA to effect arrests and make litterbugs do community service by assigning them to declog the pumps themselves or simply gather trash in waterways.
He wants and expects the public to do their part but sadly, in this day and age, it remains to be an impossible dream.
Just days ago, a video of Mayor Isko Moreno picking up garbage with his bare hands went viral on social media.
Amid the heavy downpour, Mayor Kois visited the San Andres Sports Complex to check on the ongoing vaccination when he saw a mound of garbage right on the floor that leads to the seats at the balcony.
The former scavenger in him kicked in. Mayor Kois took a dustpan, asked for a garbage bag and then with bare hands began sorting out the said garbage, picking out with his bare hands the big ones that cannot be scooped by a dustpan. While doing so, he asked those seated to not throw their garbage anywhere. It could not be ascertained who among them threw the trash on the said floor so Mayor Kois did not pinpoint responsibility.
What irked the mayor even more was that the staff in the said complex were trying to take the work off his hands but did nothing before he himself acted on the problem. He scolded the staff and told them they need not be given orders all the time and should know by heart the nature of their job.
Imagine, those who were there at that time were awaiting their turn to get vaccinated for free, by city government personnel who reported for work even while it was raining hard and how do they return the favour? By littering the very area where they were made to wait for their turn, comfortably.
Just like Abalos, Mayor Kois also issued a desperate appeal for the public to dispose of their garbage properly and to practice self-discipline.
My good friend of long standing, former Manila Prosecutor and now Quezon City Judge Manuel Sta. Cruz, has a suggestion worth pondering on.
He says Presidential Decree 825, or the law on Anti-Littering, is still active and all that has to be done is enforce it to the letter.
"During my Inquest Days, ang daming hinuhuli nuon for that. We have good laws. That law was only copied by Singapore from us. And look at Singapore now, malinis and orderly," he says.
***
Jokjok (from Annalyn Casas of Cubao, Quezon City)— Anak: Itay, nagpapatanong si ma'am kung ano raw ba ang propesyon mo/Tatay: Sabihin mo, cardiologist ako Anak: Eh pag tinanong ako ni teacher ano po ba ang ibig sabihin ng cardiologist, ha 'tay?//Tatay: Sabihin mo 'yung taga–ayos ng radio sa car!
***
Direct Hit entertains comments, suggestions or complaints. Please have them emailed to itchiecabayan@yahoo.com or text 0919-0608558.
AUTHOR PROFILE
Opinion
SHOW ALL
Calendar