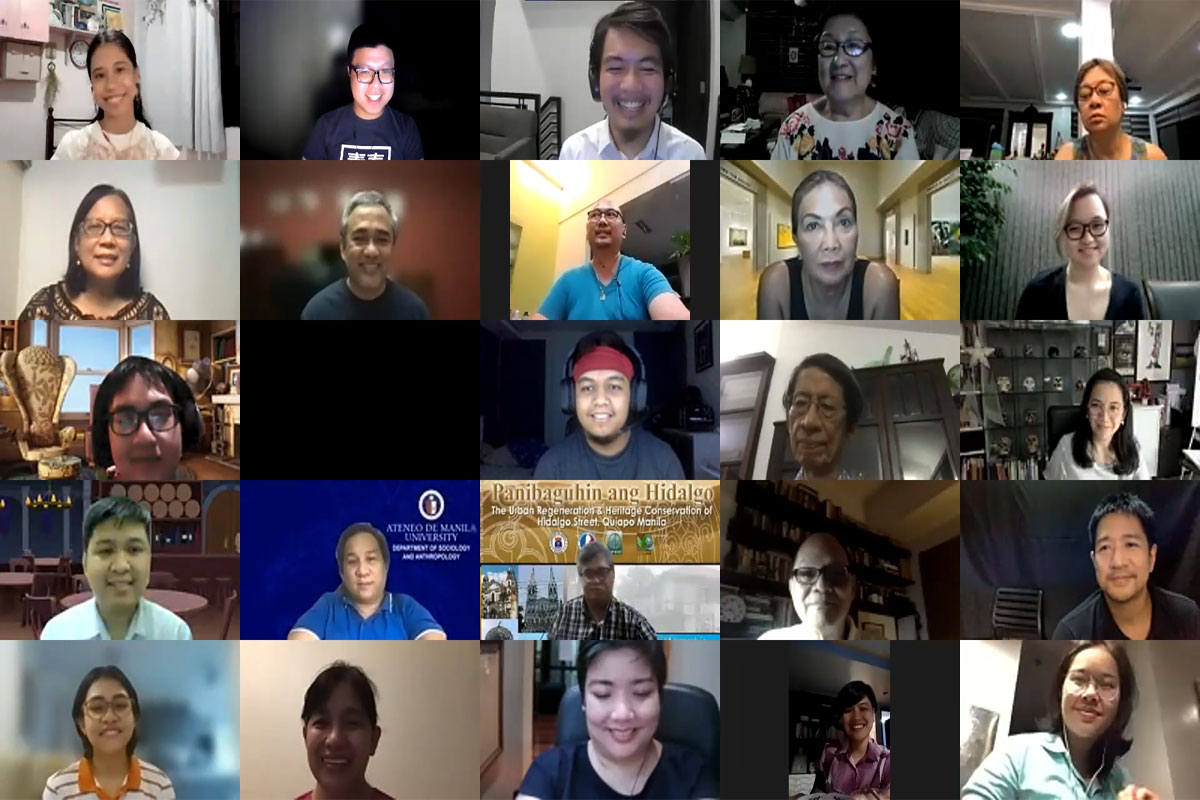 Participants of the Quiapo A la Carte Dinner pose for a photo at the end of the open forum.
Mama Sita Foundation celebrates Evolution of PH Cuisine with Quiapo A la Carte
QUIAPO, MANILA – "The world's first global city" was neither in Europe nor the Americas—according to British musical historian David Irving, Manila during the 17th-18th centuries could have worn that title very well. The city attracted peoples from four continents: Europe, Asia, North and South America. Trade, culture, and food reflected the height of the Galleon Trade, which connected Manila to Acapulco. At the heart of Manila, Quiapo is a bustling community brought together by trade and religion, work, and leisure.
"Quiapo A La Carte: Food Culture in Transit" celebrates the district's culture and evolution. This online event was held on November 13, 2021, and was presented by Dr. Fernando Zialcita of the Department of Sociology and Anthropology, his students from the Ateneo De Manila's Cultural Heritage Studies Program, and the Mama Sita Foundation, a staunch supporter of Philippine food.
The sumptuous dinner delivered to the doorsteps of the guests and participants was curated by Mr. Ige Ramos, author, and cultural heritage advocate, as well as catered by Chef Waya Araos-Wijangco of Gourmet Gypsy Art Cafe.
Muslim affinity
The menu was composed of two bento boxes, owing to the fact that half of the menu was cooked halal-style by Chef Waya. The first box contained merienda cena and dessert, while the second box included the halal main course and rice dishes. Moslem guests shall receive only the second box at their doorstep.
Buhay Quiapo Project
During the dinner program, Bakas Pilipinas, a non-government organization based in New York City which aims to help preserve heritage sites, launched the Buhay Quiapo Project, in partnership with the Department of Sociology and Anthropology of Ateneo.
Through this online event, the organizers and sponsors aimed to spread appreciation for Quiapo and its heritage culture as expressed through its cuisine and artistry. It was an event that fits right in among Mama Sita Foundation's current work of promoting the Evolution of Philippine cuisine through educational webinars for different audiences around the world.
If you have a Filipino food story to share, join Mama Sita's Mga Kuwentong Pagkain Facebook Group. For more information, visit Mama Sita's Mga Kuwentong Pagkain Facebook Page.
AUTHOR PROFILE
Food and Recipe
SHOW ALL
Calendar