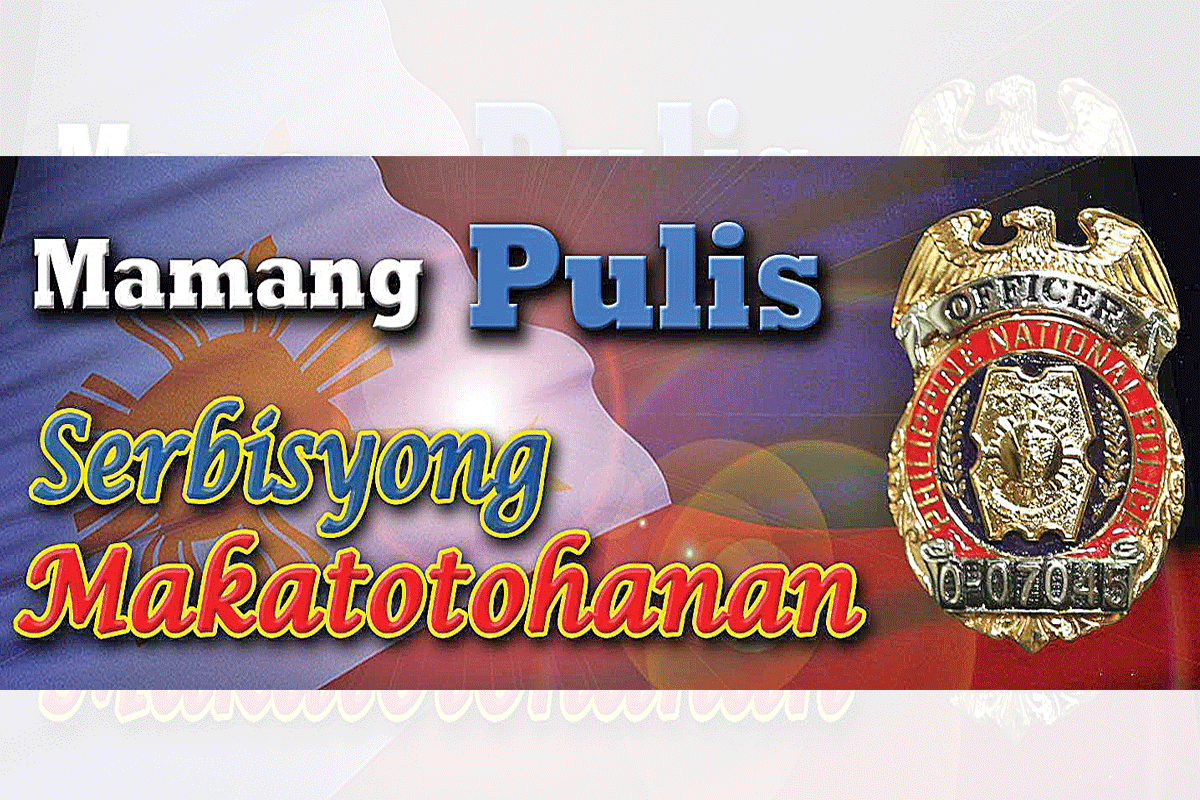 New PNP-SAF director vows to pursue culture of excellence amomg 'Tagaligtas'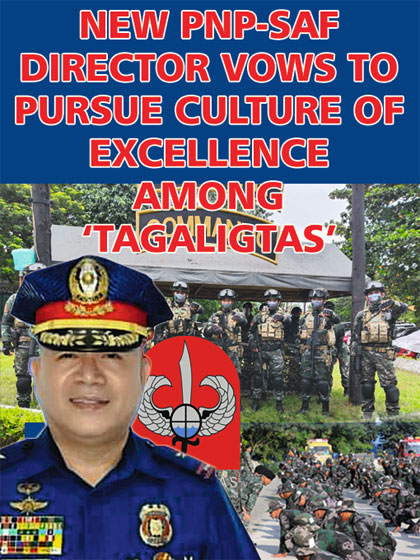 THIRTY-ONE years after joining the elite Philippine National Police Special Action Force (PNP-SAF) upon graduation from the Philippine Military Academy (PMA), Brigadier General Patrick T. Villacorte returns to the unit as its director with a vow to pursue the 'culture of excellence' promoted by his predecessors.
"Words cannot adequately capture the feelings I am having right now. Exited, proud, humbled. One thing is for sure — seeing all of you today is just like a homecoming to me. Sabi nga nila, hindi ka makakarating sa iyong patutunguhan kung hindi ka babalik sa iyong pinaggalingan," Villacorte said when he assumed last week the top PNP-SAF position vice Major Gen. Felipe R. Natividad who is now the new chief of the National Capital Region Police Office (NCRPO).
The official thanked another former PNP-SAF officer, now PNP chief, General Dionardo B. Carlos for giving him the trust and confidence to lead the special 'Tagaligtas' unit and vowed to fully support the latter's initiatives anchored on the principle of transparency, accountability and intensified cleanliness policy.
He also declared that the PNP-SAF will remain to be an apolitical unit that will help the police force ensure a fair, credible and honest May 9 national and local elections.
The erstwhile director of the PNP Communications and Electronics Service, Brig. Gen. Villacorte is one of the six members of Philippine Military Academy (PMA) 'Sambisig' Class of 1991 who joined the PNP-SAF upon graduation from Fort del Pilar.
A younger brother of retired Police General Jose Erwin 'Jet' T. Villacorte of PMA Class 1983, the new PNP-SAF director's classmates who joined him at the SAF in 1991 were then Lieutenants Roque Edgardo DP Vega, Rommel Francisco D. Marbil, Antonio C. Yarra, Luisito P. Magnaye and Alan Servida.
The six joined the PNP-SAF when it was still under Gen. Enrique T. Bulan.
Vega, Marbil and Yarra are now all one-star police generals like Villacorte.
Brig. Gen. Vega is the director of the Police Regional Office 7 in Central Visayas while Yarra is the PRO4-A director in Calabarzon.
Brig. Gen. Marbil is the director of the PNP Highway Patrol Group (PNP-HPG).
Brig. Gen. Magnaye retired on September last year as director of the PNP Health Service. Servida left the police force when he was still a Police Lieutenant Colonel assigned in Central Visayas and is now working for one of the country's top commercial banks.
His classmates recall that Maj. Gen. Natividad of PMA 'Bigkis Lahi' Class of 1990 was their '01 Student' or the highest-ranked officer when they joined the tough Ranger Class.
"Patrick got the Tarzan Award during our SAF Ranger Class, meaning he was the strongest among all of us. It was really a dream come true for him when he was designated as the new PNP-SAF director," said Brig. Gen. Vega.
Brig. Gen. Villacorte fondly recalled his memories as a SAF junior officer.
"I started my police service at SAF and eventually became an operations officer and company commander before I left the force. From those years, I have learned how to develop my skills and good leadership. SAF was and will always be my first love and it really feels great to be back with my first love. Sabi nga nila, kung tunay na mahal mo, babalikan mo," he said.
Villacorte said it is a privilege and a challenging task to lead the elite force.
"Privilege as not everyone was given a chance to lead the finest tactical unit of the PNP. At the same time, it is a challenging journey knowing the problems brought about by insurgencies, terrorism and other threats involving national security to include disasters, emergency situations among others.We play an indispensable role in maintaining the peace and order situation in the country being a dependable and highly-specialized force of the PNP," he said.
Villacorte said it is an honor to be counted among the directors of the PNP-SAF and admitted that it is even hard to follow their footsteps.
"As I have said earlier, even if I am faced with high expectations and challenges in this position, I am confident that we will surpass everything with the guidance of our Almighty as well as the support of the dedicated 'Tagaligtas' personnel that will help in contributing to the attainment of our mission," he said.
Brig. Gen. Villacorte said he is putting the morale and welfare of his officers and men on the top of his priority list. "I cannot attain my vision for SAF alone. We will work together with perseverance, dedication and passion to become exemplars of discipline, professionalism and integrity," he told his men.
The official also vowed to embark on a mission to further boost the capabilities of the PNP-SAF as it remains a source of national pride by the 225,000-strong police force.
"Let us revisit the Unit's development and transformation roadmap to ensure that all of us will be well-equipped in providing tactical support to the PNP, the Armed Forces and other law enforcement agencies particularly on the conduct of various operations against criminality, terrorism, insurgencies, command-type unconventional warfare, search-and-rescue, crowd dispersal management and the like," he said.
Villacorte likewise aired his mission to further pursue a culture of professionalism and tradition of excellence' among all SAF personnel. "We shall continue to train our team and challenge them in realistic conditions. Even if we focus developing them as war fighters, we must valud-add to their learning and growth and cultivate them to become better citizens, better sons and daughters, and eventually, excellent mothers and fathers," he emphasized.
The official said that in line with the continuing internal cleansing program of Gen. Carlos, he would see to it that SAF personnel will maintain their discipline.
"Take note that one single misdemeanor of our personnel will discredit our credibility. If we have the knowledge and discernment of self-discipline, then we will be able to do our tasks efficiently and effectively. Hindi natin hahayaang madungisan ang pangalan ng Pambansang Kapulisan dahil lamang sa maling gawain lalo't galing pa sa atin," he said.
Formed on May 12, 1983 by then Philippine Constabulary chief, later President Fidel V. Ramos, the PC-SAF evolved into becoming the PNP-SAF when the PNP was organized in 1991 following the abolition of the PC.
Initially formed to battle New People's Army and Moro guerrillas in the late 1980s and early 1990s, the PNP-SAF's mission has been expanded since then to battling organized criminal groups including drug syndicates, terror rings, leftist guerrillas and Southern Philippines-based lawless elements.
In 2017, the PNP leadership approved the creation of five more SAF battalions. SAF commandos are considered as among the 'best' in the world, they having to undergo a rigid SAF Commando Course or equivalent training such as Scout Ranger Course, Force Reconnaissance Course and Special Forces Operations Course before being allowed to wear the SAF Beret.
Its commandos also undergo specialized training such as Explosives and Ordnance Disposal, Basic Airborne Course, Urban Counter Revolutionary Warfare Course, K-9 Training Course, Sniper Course, Basic Underwater Search and Rescue Operations Course and the SAF Seaborne Warfare Course.
Its mission includes the following: develop, organize and train organic personnel in the furtherance of the assigned mission; conduct counter-terrorist operation in urban and rural areas; conduct commando-type unconventional warfare against lawless elements over extended periods of time with minimal direction and control; conduct search-and-rescue operations anywhere in the country during calamities and catastrophes; conduct civil disturbance management operations and address the requirements of stability and security operations in times of civil disobedience on a national scale; operate as a rapid deployment force ready and capable to strike anytime and anywhere in the country in support of unit PNP units and other agencies as higher headquarters may direct; to perform other tasks as the Chief PNP may direct; and maintain a reasonable degree of law and order in the national highways and major thoroughfares.
AUTHOR PROFILE
Opinion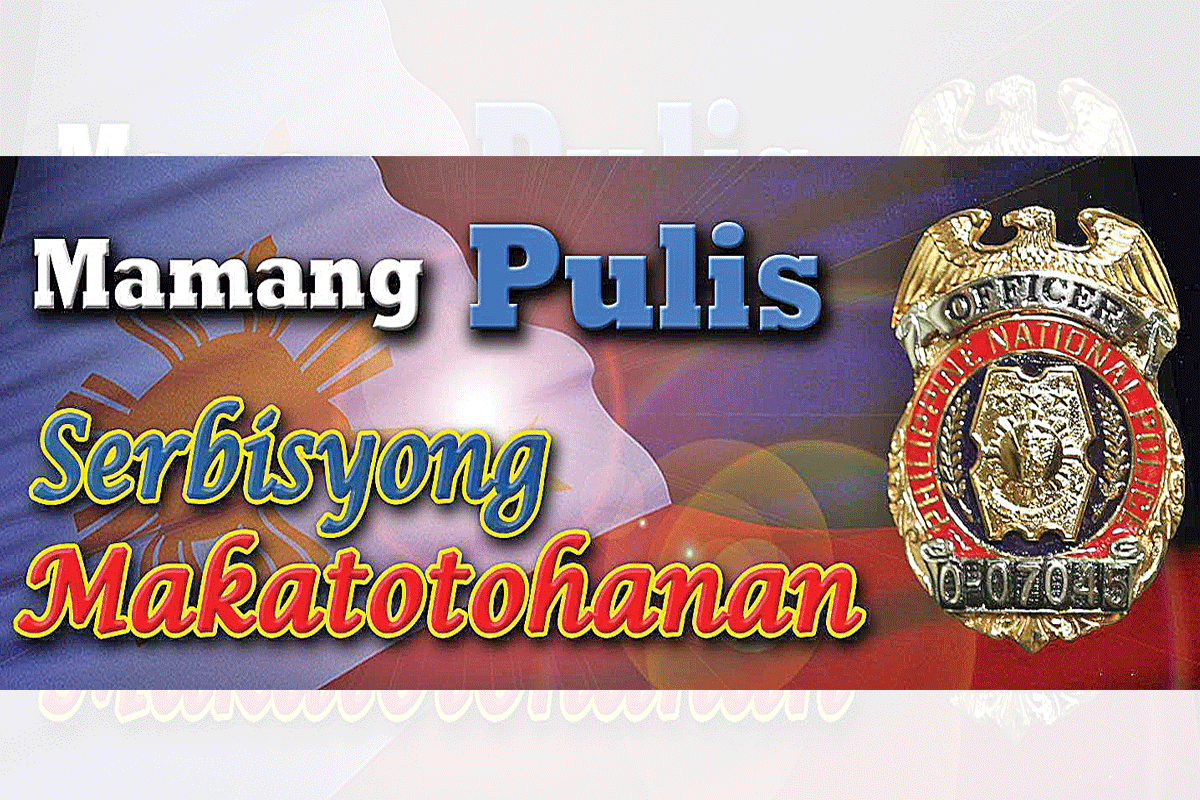 SHOW ALL
Calendar