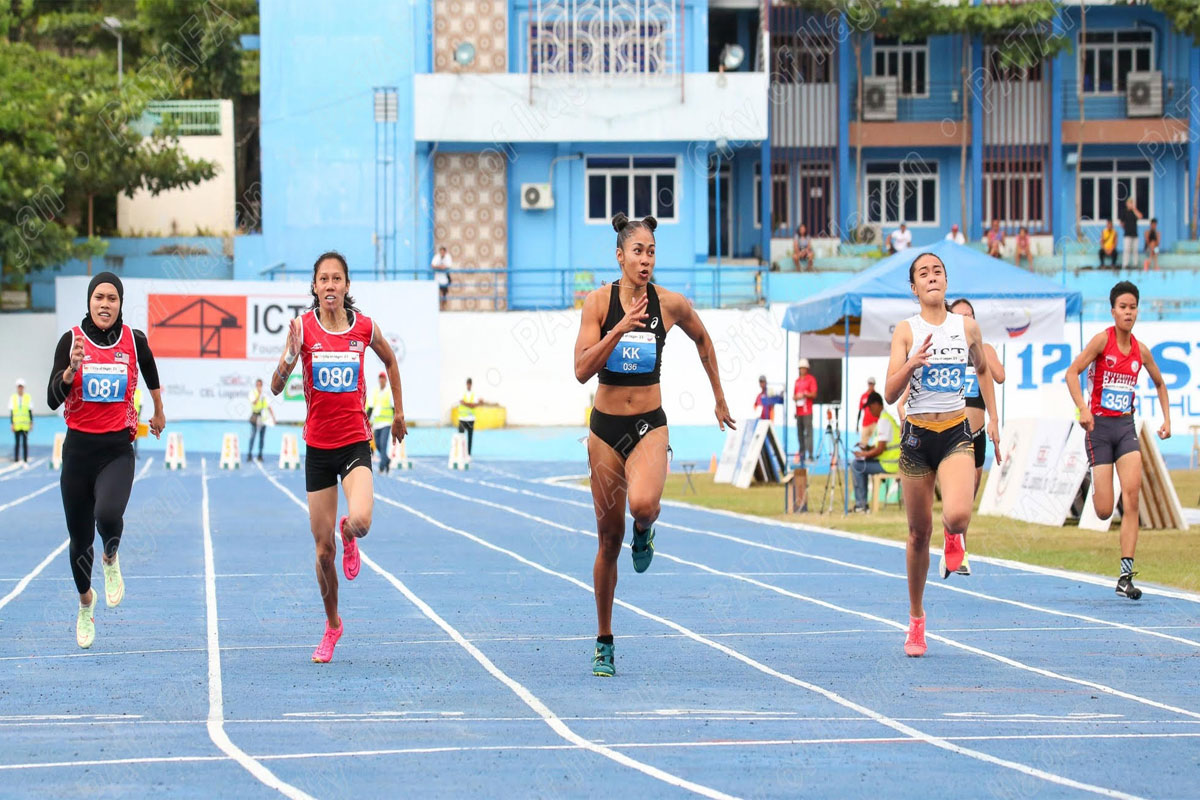 Filipino-American Kristina Knott displays her winning form during the women's 100-meter dash in the ICTSI-Philippine Athletics Championships at the Ilagan Sports Complex. PATAFA photo
Fil-Ams Cole, Knott dominate ICTSI meet
ILAGAN City — In one of the most exciting duels in the 2023 ICTSI-Philippine Athletics Championships, Elijah Cole outduelled national team member Hokett Delos Santos to clinch the gold medal in the men's pole vault at the Ilagan Sports Complex here Sunday.
Cole, ever so eager to make his mark in the sport he loves the most, soared to 5.05 meters for the coveted gold medal in his local debut.
That left Delos Santos, who cleared 5.00 meters, with the silver, and veteran Janry Ubas, who made 4.65m, with the bronze.
"Definitely not as planned, I don't know if you saw the crazy storm coming and maybe a little bit nervous because I started a little bit higher than I wanted to because I didn't know the wind was gonna be like that," said Cole, the 24-year-old Fil-Am from University of North Carolina, who traces his roots in Nueva Ecija and Leyte.
"It was really hard when we started clear skies and everything, everything was clear and had to go and I had to change a lot of things because of the wind," Cole added.
Despite the runner=up finish, De los Santos was satisfied with his performance.
"I thank the crowd because if they weren't here, I don't think I would've been able to perform well," said Delos Santos, who earned a silver in the SEA Games.
His coach, Emerson Obiena, said his ward will undergo rehabilitation before returning to action with hopes of representing the country in the SEA Games in Cambodia in May.
"We will look for tune-up competitions before the SEA Games," said Obiena, the father of Asian champion EJ Obiena.
Sharing the limelight with Cole were Tokyo Olympian Kristina Knott and Fil-American Nolan Crespo, who crowned themselves as the sprint queen and king.
Knott, back in action following an absence of almost one year due to injury, clocked 11.87 seconds to beat Zaidatul Zulkifli of Malaysia (12.02) seconds and Lianne Pama of University of Santo Tomas (12.08) in the centerpiece women's 100-meter run in the six-day event organized by the Philippine Athletics and Track and Field Association (PATAFA) in cooperation with the Ilagan City government, ICTSI and CEL Logitics.
Her 11.87 seconds, however, was still way below the 11.27 seconds which she established in the US three years ago to break the 33-year record of 11.28-second by the late two-time Asian sprint queen Lydia De Vega.
Still, Knott was visibly pleased with her performance.
"It was good. I'm super grateful that I was able to run two healthy races since this was my first competition back after my injury. We're just dusting off some rust because it's been a long time since I competed,"said Knott, the 27-year-old Fil-Am from Orlando, Florida.
"For the finals, it was definitely to get out because I was a little bit too passive in the first round. But me and my coach (Joey Scott), we had a plan going in," added Knott, who delivered two gold medals in the 200-m and 4×100 m mixed relay during the 2019 Southeast Asian Games in Manila.
Equally impressive was Crespo, who edged Amatus Somanghai of Indonesia and Muhd Noor Firdaus HJ Md Idris to clinch the gold in the men's 100m.
Crespo timed 10.89 against Somanghan's 10-92 and Idris' 10.98.
A full-blooded Filipino who was raised in the US, Crespo said he was able to get in touch with the PATAFA through a coach and now hopes to represent the country.
"He just said it was an opportunity because I'm still a Filipino, because my parents are in the States and I'm eligible for two citizenship, I had a chance," shared Crespo.
"I want to run. I want to do better and I want to represent the Philippines. It's me and for my family as well," he added.
Meanwhile, Mark Harry Diones took home the gold in men's triple jump with 15.81 meters.
Diones won over Tran Van Dien of Vietnam (15.73m) and Ronne Malipay of Bohol (15.34m).
"Pipilitin ko talagang makuha ko na ang gold sa SEA Games," said the 30-year-old campaigner from Libmanan, Camarines Sur.
"Hindi na tayo bumabata eh. Dumarating talaga ang panahon na kailangan mo planuhin lahat," said Diones
Also, Ngyuen Thi Huong of Vietnam leaped 13.01 to bag the gold medal in the women's triple jump women's open.
The Vietnamese defeated Princess Faith Gonzales of University of Santo Tomas and Abcd Agamos of Ilagan – National team (11.84)
AUTHOR PROFILE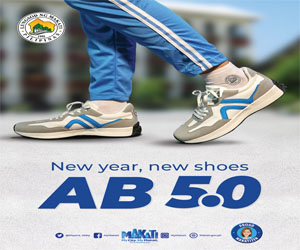 Other Sports
SHOW ALL
Calendar