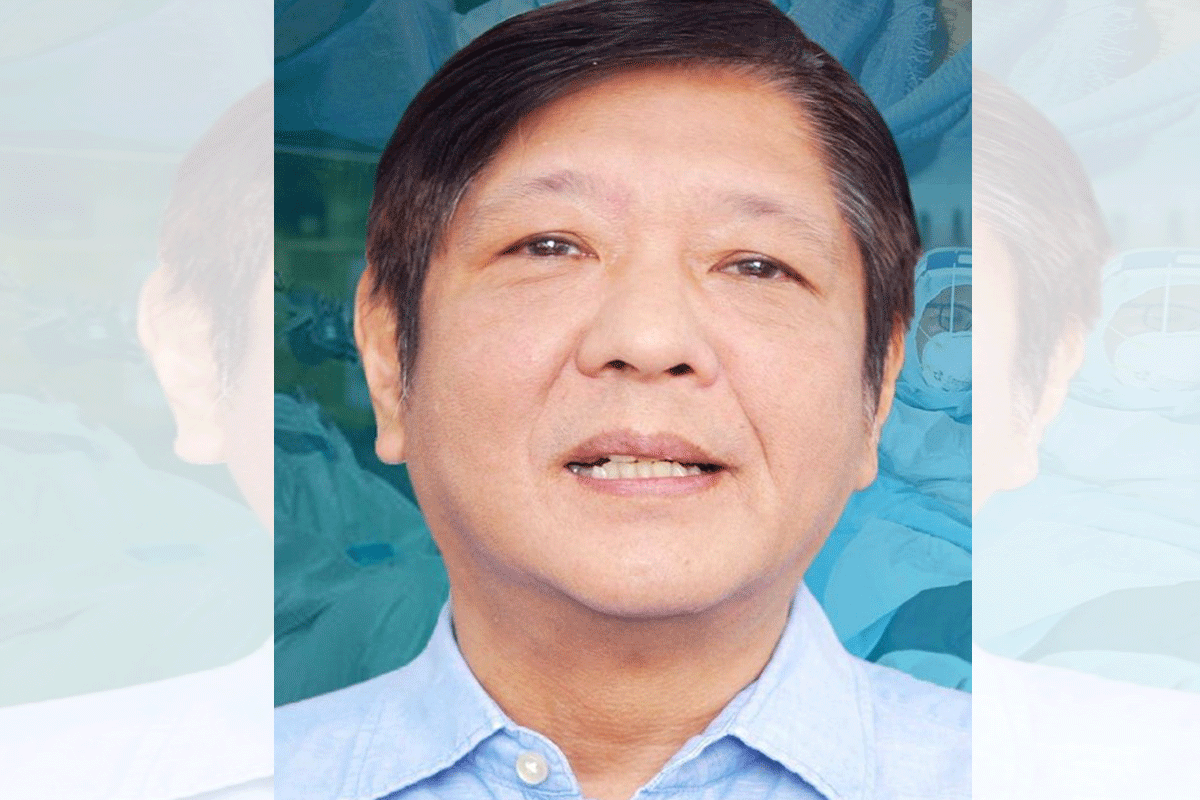 PFP standard-bearer Ferdinand 'Bongbong' Marcos, Jr.
BBM seeks oil excise tax suspension
PARTIDO Federal ng Pilipinas (PFP) standard-bearer Ferdinand 'Bongbong' Marcos, Jr. calls on Congress Wednesday (Oct. 20, 2021) to suspend the excise tax on oil products to negate the impact of runaway fuel prices particularly on the transport sector.
The presidential aspirant's urgent call to suspend excise tax on fuel, prompted by the surging oil prices in the world market, may significantly slash gasoline prices by P10 per liter and diesel products by P6 per liter.
Kerosene will likely go down by P5 per liter, and Liquified Petroleum Gas (LPG), a common fuel used by households for cooking, will be reduced by P3 per kilogram.
"Amending the oil deregulation law with the intent of addressing the issue of runaway oil prices will take some time. This move to suspend the excise tax makes sense and will have an immediate positive impact on our people," Marcos said.
Marcos, who met with leaders of various transport groups recently, lamented the impact rising fuel prices would have on the income of drivers and operators of public utility vehicles.
"We need to do something about this issue urgently because one sector that will be gravely affected has been suffering for the longest time in this pandemic. Transport workers and operators who depend on their daily operations for their livelihood are already in dire straits," Marcos added.
Transport groups who met with Marcos recently were Pangkalahatang Sanggunian Manila and Suburbs Drivers Association (Pasang Masda); Federation of Jeepney Operators and Drivers Association of the Philippines (FEJODAP); Philippine Confederation of Drivers and Operators Alliance of Concerned Transport Organization (PCDO-ACTO); Liga ng Transportasyon at Operators sa Pilipinas (LTOP); Alliance of Transport Operators and Drivers Association of the Philippines (ALTODAP); and Tiger in Asia.
Marcos also called on the DoE to study the restoration of the defunct Oil Price Stabilization Fund (OPSF) to cushion the economy from the inflationary effects of prolonged high oil prices.
"I implore the DoE to make a careful study on the possibility of bringing back the OPSF to cushion Filipinos from the impact of rising oil prices," Marcos said.
Signed into law in 1998, R.A. 8479 otherwise known as the Downstream Oil Industry Deregulation Act of 1998 aimed to liberalize and deregulate the oil industry and ensure a competitive market.
However, after the full deregulation phase, prices of petroleum products continued their upward trend since the country remained a net importer of the product, and changes in global prices still dictate local pump prices.
"While we acknowledge that the price of oil is determined by free-market forces, the government should have mechanisms prepared to intervene when the need arises. The OPSF will give us that ability and a serious consideration for its return should be studied," Marcos added.
The OPSF was set up in 1984 by former President Ferdinand Marcos to protect consumers from fluctuations in the prices of oil in the global market. Under the program, oil companies contributed a portion of their sales to the OPSF to serve as a buffer fund. It was later on abandoned during the time of President Fidel Ramos.
"The pandemic has changed the energy landscape. Just like any country reeling from it, we should learn to adapt to this new environment. I, for one, have always been a proponent of Renewable Energy and I believe that it will play a crucial role not only in our recovery but in the country's future as well," Marcos added.
The DoE also explained that the surge in oil prices was mainly due to a sudden increase in global demand as more countries starts opening their economies. The DoE added that slow production and stockpiling for winter of some countries also jacked up demand.
Local oil prices have risen for eight straight weeks. Pump prices were raised on Monday with gasoline increasing by P1.8 per liter, diesel and kerosene prices by P1.5 per liter, and P1.3 per liter respectively.
AUTHOR PROFILE
Nation
SHOW ALL
Calendar