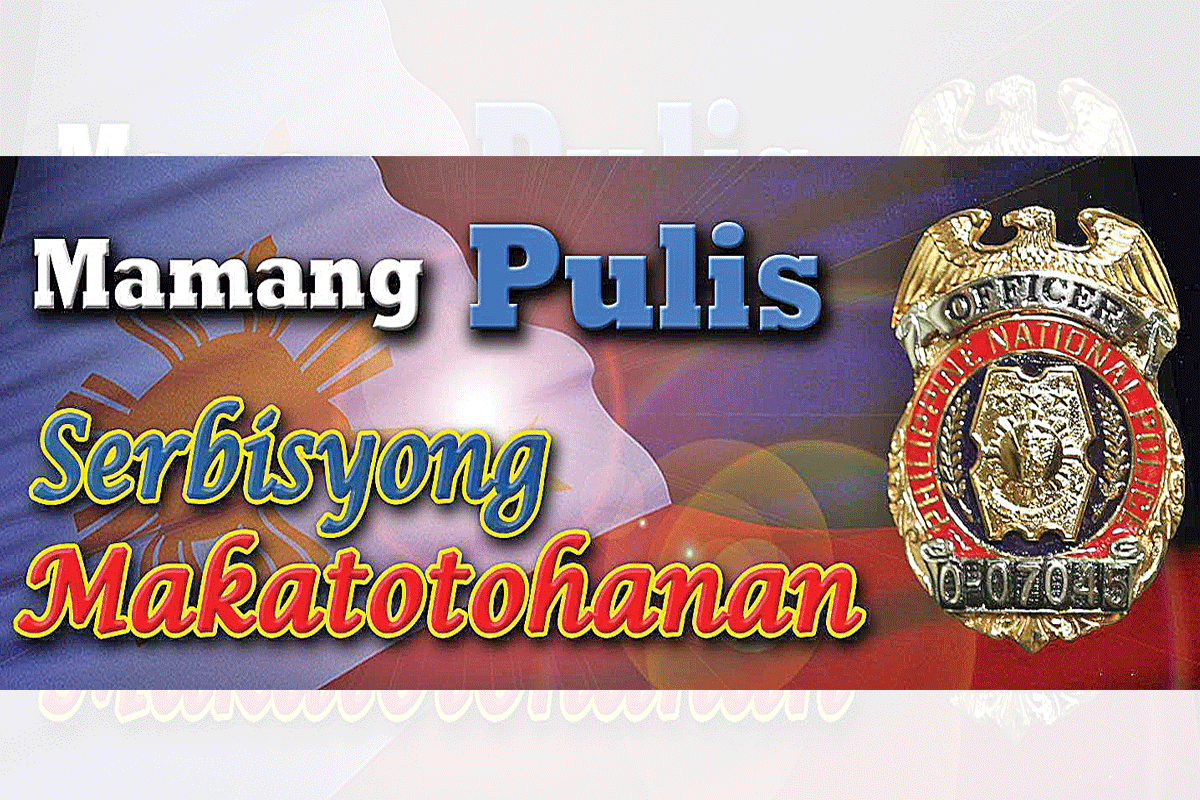 Eleazar assures PNP readiness amid national vaccine rollout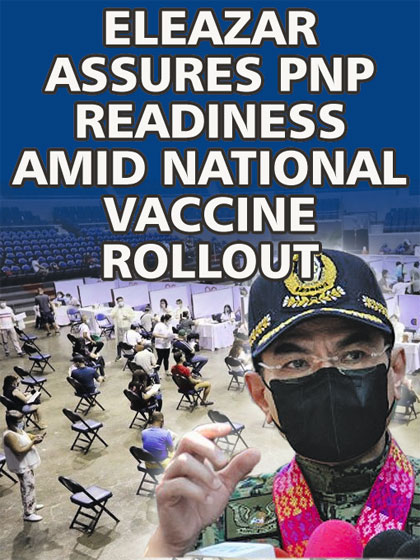 PHILIPPINE National Police (PNP) Chief, General Guillermo Lorenzo T. Eleazar has assured the 100 percent readiness of the force to ensure a smooth and fast-paced COVID-19 vaccine rollout across the country this month.
According to the top cop, all PNP personnel and resources are already 100 percent ready for the nationwide COVID-19 vaccine rollout with all concerned police units and offices closely coordinating with local government units in their respective areas for the massive vaccination program aimed at coming up with a herd immunity which is vital in fighting the dreaded COVID-19 virus.
"Ito ay matagal na nating napaghandaan bilang tugon ng PNP sa national vaccination program. Inatasan na natin ang lahat ng mga local police commanders na makipag-ugnayan sa ating mga LGUs para agad matugunan ang mga pangangailangan ng mga lokal na pamahalaan, ito man ay sa seguridad o sa manpower na magtuturok ng COVID-19 vaccine sa ating mga kababayan," Gen. Eleazar said.
Praying all cops will get the jab soon
The PNP leadership also expects all their members to get the vaccine shot very soon as they continue to be one of the government frontliners in the effort to help further reduce virus transmission in the country.
Getting the jab is a must and will provide each and every police personnel the protection he/she needs while at work daily in the force which has already recorded 68 COVID-19 fatalities since March last year.
The 68th fatality was a Police Master Sergeant from the Police Regional Office 10 in Northern Mindanao who passed away last May 26 although his death was only reported on Friday, said the PNP Health Service.
As of last June 5, there were already 24,691 police personnel who have contracted the dreaded virus since March last year although 22,890 of them have already fully recovered from the disease and are back on full duty status.
Another 104 new recoveries were reported by the PNP-HS headed by Brigadier General Luisito P. Magnaye on Saturday. The PNP-HS is also monitoring 1,733 'active cases' as of press time even as it reported 203 new cases.
Only 15,762 PNP personnel vaccinated so far
As of Saturday, the number of PNP uniformed and non-uniformed personnel who have already gotten the jab was pegged at 15,762 or roughly eight percent of the 210,000-strong police force.
This is because majority of the members of the PNP who have been serving as 'frontliners' in the government's effort to control the further spread of the killer virus were not considered as priorities in the vaccination program.
With the initial limited supply, frontline health workers and uniformed personnel were prioritized since they have higher risk of exposure while on duty and to allow them to continue fulfilling their duties in the public and private sectors.
However, it doesn't mean that all members of the police force would automatically get the vaccine. To date, only members of the PNP medical staff, those with comorbidities and senior citizens from the Non-Uniformed Personnel rank have been inoculated.
Gen. Eleazar said they are fully complying with the directive from the Inter-Agency Task Force for the Management of Emerging Infectious Diseases and the Department of Interior and Local Government when it comes to getting the vaccine.
The PNP chief said that even he has not gotten the jab. "All of my eight siblings and their spouses have already been vaccinated except me, the Chief, PNP," he told the Journal Group on Friday.
To date, a total of 14,728 police personnel and 1,034 NUPs have been vaccinated. At the PNP National Headquarters in Camp Crame alone, only a total of 2,060 PNP uniformed personnel and 351 NUPs have been inoculated.
At the National Capital Region Police Office (NCRPO), 7,023 uniformed personnel and 244 NUPs have gotten the jab already. The rest are the following: Police Regional Office 1 (300 uniformed personnel); PRO2 (650/24); PRO3 (1,182/95); PRO4-A (977/75); PRO4-B (110/4); PRO5 (387/16); PRO6 (291/22); PRO7 (704/54); PRO8 (82/6); PRO9 (220/12); PRO10 (19/2); PRO11 (82/91); PRO12 (61/1); PRO13 (148/19); Cordillera Police Regional Office (272/13); and Bangsamoro Administrative Region Police Regional Office (160/6).
Since the government's COVID-19 immunization drive began in March, only people categorized under the A1 to A3 priority groups were eligible for the vaccine. They include health frontline workers, mayors and governors, senior citizens, and persons with comorbidities.
This month, mass vaccinations for economic frontline workers or those under the A4 category will begin, but the national government narrowed down the initial priority list to those who work outside their residences or are government workers including members of the police force.
The A4 vaccinations will also start in Metro Manila, Bulacan, Pampanga, Cavite, Laguna, Batangas, Rizal, Metro Cebu, and Metro Davao, collectively known as "NCR Plus 8."
Gen. Eleazar has ordered the deployment of 35,415 police personnel to assist in the transportation of vaccines nationwide and an additional 13,840 policemen to help enforce minimum public health safety protocols and secure the different vaccination sites nationwide.
The top cop said the PNP's Medical Reserve Force is also ready for deployment to help speed up the inoculation process in some localities that may require assistance.
He likewise assured that police personnel who will be deployed will be provided protective gear, vitamins and supplements so they would have protection against the dreaded virus.
AUTHOR PROFILE
Opinion
SHOW ALL
Calendar