Woman left terrified to go outside after UFO experience
April 25, 2022 
The experience left her severely shaken up. Image Credit: CC BY 2.0 Gerhard Uhlhorn
A close encounter in 1997 left Sacha Christie scared of leaving the house in fear of being abducted by aliens.
For some people, witnessing a UFO can be a positive, life-changing experience, but for others – such as 51-year-old Sacha Christie – it can create anxiety and fear that endures for decades.
Christie, who hails from Liverpool, England, had a close encounter 25 years ago.
"Myself, my ex-partner Steve, my son Louie and two of three of Steve's family members went on a short break to a small remote cottage," she recalled.
"At one point Steve was pointing at these fluorescent lights in the sky that seemed to be getting bigger the closer they moved towards us. As the clouds were so low, the shadows and shape of UFO made it look like bright rippling jellyfish in the sky."
The experience wasn't limited to the sighting alone, however.
"Louie had told me that something had touched his foot and I believed him, but I wanted to look at the lights more, to understand what was going on," she said.
"I stood there for another minute or so, when I suddenly heard something running barefoot in the mud behind me. All of a sudden, it bumped into me as it ran past and my chest exploded. "
"Before I even realised it was happening, I was running back to the house in a panic, in complete hysterical blindness."
The encounter had such an effect on her that it left her with post-traumatic stress disorder and she is now frightened to leave the house in case something similar happens again.
"I used to feel safe before but seeing the UFOs so close up has removed the bubble I used to live in," she said.
Source: Lad Bible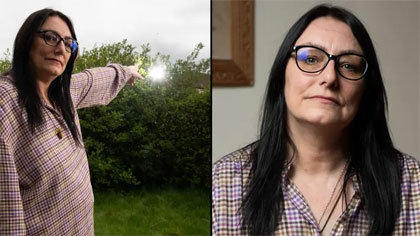 Woman Terrified To Leave The House After 'Alien' Encounters
Sacha Christie, 51, said she first saw what she believes was a UFO when she was just seven years old, and has si…
AUTHOR PROFILE