Independent Representatives led by Ilocos Norte Rep. Angelo Barba ( 3rd left) declare their full support for House Majority Leader and Leyte Rep. Martin Romualdez (4th left) as the next Speaker of the House of Representatives in the coming 19th Congress. Photo shows( from left) Rep.Wilton Kho (Masbate), Rep.Fernando Cabredo (Albay), Rep. Gerardo Valmayor (Negros Occidental), Rep. Ciriaco Gato Jr. (Batanes), Rep.Doris Maniquiz (Zambales), Rep. Yasser Alonto Balindong (Lanao del Sur) and Rep. Maximo Dalog Jr. (Mt Province).The group handed a manifesto of support to Romualdez. Photo by VER NOVENO
Vargas backs BBM, Romualdez aid packages
For pandemic-affected sectors
QUEZON City Rep. Alfred Vargas is backing efforts by the incoming House leadership to provide the administration of president-elect Ferdinand "Bongbong" Marcos, Jr. the needed budgetary support to continue providing aid for sectors affected by the pandemic.
"It is crucial that we extend to the incoming administration the widest range of budgetary tools to address the continuing effects of the pandemic on affected sectors and bring the economy back on its feet," Vargas said.
Vargas, chair of the House committee on social services, said the poor and other vulnerable sectors of society should continue to receive expanded social protection and other forms of government assistance.
"The oppressive economic effects of the pandemic continues to be felt by the poor and other vulnerable sectors. Aid in the form of financial and food assistance remains to be the most immediate lifeline that government can extend to them," Vargas said.
At the same time, Vargas said that government should explore aid mechanisms for Micro, Small, and Medium Enterprises (MSMEs), tourism establishments, and small private schools in the form of employee wage grants, interest-free loans, or other forms of assistance to help them recover.
"Our economic recovery rests on the recovery of businesses and enterprises whose operations will help provide jobs and stimulate economic activity," he said.
"Before the pandemic, our tourism and education sectors and our MSMEs have underpinned our country's economic growth and job generation program. Needless to state, these sectors and enterprises must be given priority in any economic recovery initiative," he added.
In a resolution filed this week, Vargas urged fellow House members and incoming members of Congress to support the "Bayan Bangon Muli" economic stimulus and mutual aid package being proposed by top contender for Speaker, House Majority Leader and Leyte Rep. Martin Romualdez.
Such support, Vargas said in his resolution, is an expression of "genuine unity in addressing the COVID-19 pandemic, similar to [his] advocacy for whole-of-nation, whole-of-government, and even whole-of-society approaches to rebuilding the country's economy and the lives of all our fellow Filipinos."
The Vargas resolution said the new president will begin his term "at a time when the country is gradually recovering from the social and economic devastation caused by the COVID-19 pandemic."
The Quezon City solon said Congress has worked hand in hand with the Duterte administration to address the pandemic and its economic and social impact through Republic Act No. 11469 or the "Bayanihan to Heal as One Act" and Republic Act No. 11494 or the "Bayanihan to Recover as One Act."
"These programs, projects, and activities that continue to assist and uplift our countrymen requires further support as the pandemic is not over and tens of millions still are reeling from its impact," he said.
Reports of sub-variants only show that COVID-19 continues to pose a threat no public health and the country's economic recovery, he added.
"We welcome a new administration with an overwhelming mandate from the Filipino people. Everyone of us, especially public servants and statesmen, must heed the call for unity in order to serve our countrymen faithfully. This entails extending them the help that they need, as tens of millions still require public aid to uplift them from the struggles that COVID-19 continues to bring," Vargas said. By RYAN PONCE PACPACO
AUTHOR PROFILE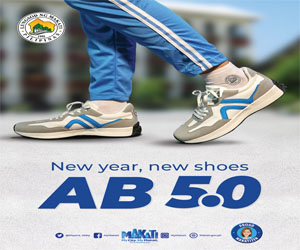 Nation
SHOW ALL
Calendar