These Iconic Celebrities Believe In Aliens… And They Might Not Be Who You Expect
Sep 21, 2021 Steve Palace
(Photo Credit: Bettmann / Contributor / Getty Images & Lucas Pezeta/Pexels)
It's sometimes said that celebrities live on another planet. So when famous people say they believe in aliens, who are we to ignore them?
Joking aside, there's a long tradition of well-known figures with an appreciation for all things ET-related. Read on to find out who… our choices may surprise you!
Dan Aykroyd
Dan Aykroyd poses with a bottle of 'Crystal Head' vodka (Photo Credit: Mathis Wienand/Getty Images)
It isn't a shock to learn that comedian and actor Dan Aykroyd believes in aliens. His real-life interest in otherworldly forces stretches back years.
He famously battled the unexplained in Ghostbusters and played a cone-headed alien on Saturday Night Live and on the big screen. However, his take on UFOs and the like is a little less comedic.
According to Aykroyd, aliens would "love to impregnate a woman and produce a hybrid baby."
Speaking to the British press in 2019, he noted that the majority were peaceful observers, though unfortunately some had "nefarious purposes and want to use us as lab rats."
Gillian Anderson
Gillian Anderson speaks onstage at The X-Files panel in New York City. (Photo Credit: Dia Dipasupil/Getty Images)
Another screen icon with her fair share of experience meeting aliens – albeit of the fictional kind – is Gillian Anderson, aka Dana Scully from The X-Files.
Does she subscribe to the idea of "the truth" being "out there," to borrow a line from the show? A 2012 interview with The Guardian revealed her view: "the universe is obviously vast and the thought that we are the only planet full of living beings doesn't make sense".
Anderson isn't watching the skies just yet. To her, extraterrestrial life is a possibility, and she "wouldn't rule it out." Former co-star David Duchovny, on the other hand, thinks it's all space junk. Oh, Mulder!
Winston Churchill
Winston Churchill During The Second World War In Italy (Photo Credit: Capt. Tanner/ Imperial War Museums via Getty Images)
Sir Winston was the steadfast Prime Minister who led Britain to victory in the Second World War. He tackled the Nazi menace from the air. But how did he feel about little green men?
Live Science highlights the fascinating fact that Churchill wrote an essay on the subject in 1939… the year conflict broke out. Brought to light in 2017, "Are We Alone in The Universe?" showed the wartime bastion in an open-minded mood.
Churchill expressed doubt that Earth was the "only spot in this immense universe which contains living, thinking creatures." He also poured cold water on the idea of Earthlings representing the "highest type of mental and physical development."
As Live Science notes, Churchill was the first PM to have a scientific advisor. From the Battle of Britain to Battle Beyond The Stars!
William Shatner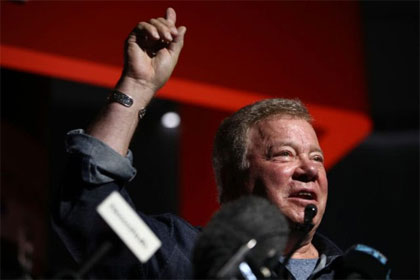 Actor William Shatner speaks during the opening of the new Rocket Lab factory in Auckland, New Zealand. (Photo Credit: Phil Walter/Getty Images)
If any iconic celebrity is going to believe in aliens then it's Captain Kirk himself, William Shatner. The actor and author hosts a series called "The UnXplained" on History.
Interviewed by Den of Geek this year, he described the idea of humans not being alone in the universe as "a very overwhelming question." He later added: "That means that the universe is alive, vibrating with life. Actually, I think that's so."
Shatner has been involved with beings from other planets throughout his career. Even today, he shows no sign of losing interest in alien activities.
Muhammad Ali
Heavyweight Boxing Champion Muhammad Ali looks surprised at break in training ringside (Photo Credit: Nik Wheeler/Corbis via Getty Images)
A surprising celebrity who believed in extraterrestrial encounters was Muhammad Ali. He floated like a butterfly, stung like a bee, and talked like one of the Men In Black.
Covering author Timothy Green Beckley's 2016 tribute following Ali's death, the Express featured revealing conversations with the famous fighter. These formed part of Beckley's 2015 book Amazing Flying Saucer Experiences of Celebrities, Rock Stars and the Rich and Famous.
As well as seeing UFOs flying over New York, Ali was allegedly approached by an alien craft on the New Jersey Turnpike! The champ talked about "a cigar-shaped ship" and also the "shadow made by the UFO as it passed over the pavement of the road in the light of the full moon." He also said, "I've had 16 sightings total to date" and alleged that UFOs are easy to spot "playing tag between the stars" in the early morning hours.
Ali reportedly thought the aliens were on his tail. Ali vs the Aliens? That's one fight the world would love to have seen.
Elvis Presley
Las Vegas: Singer Elvis Presley, closeup at a press conference (Photo Credit: Bettmann / Contributor)
The King of Rock and Roll was also a space cadet. That's according to the man himself, who met visitors from another planet at an early age.
History's Ancient Aliens mentions "an unexplainable light beaming over Elvis' family home" at the time of his birth! This was described not only by his kin but also by the attending doctor.
The BBC quotes Larry Geller, who had one of the most unique jobs of all time… spiritual advisor to Elvis Presley (he also handled the King's hair). Gellar stated that when father Vernon "looked up into the skies above their little shack, he saw the strangest blue light."
Then, at age eight, Elvis was "telepathically visited by aliens who showed him a future vision." This vision was of a guy in a white jumpsuit. Had Presley witnessed his own future? Gellar also reveals that he and his famous friend spotted UFOs over Graceland.
thevintagenews.com
AUTHOR PROFILE