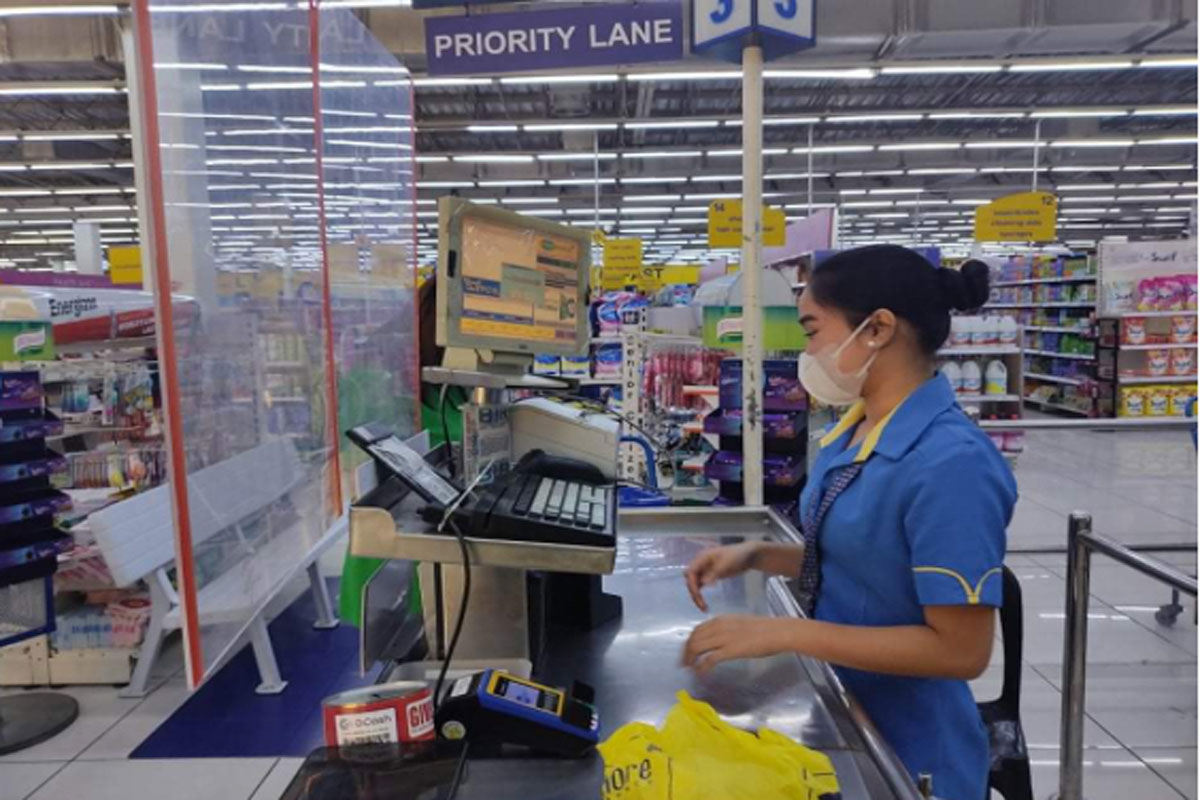 The SM Asensong Pinoy apprentices manning the checkout counters at SM Markets.
SM Foundation, partners strengthen apprenticeship program
ACCORDING to studies, to successfully link skills to productivity and employment, countries should target three objectives: match supply to current demand for skills; help workers and enterprises adjust to change; and anticipate and deliver new and innovative skills that will be needed in the future.
This is the reason why SM Foundation, together with the Department of Social Welfare and Development (DSWD), Department of Labor and Employment (DOLE) and the Technical Skills and Development Authority (TESDA) are ramping up efforts to open more employment opportunities to the marginalized with the launch of their SM Asensong Pinoy Program.
Launched Q4 of last year, the program intends to increase the employability of Filipinos and address community issues such as poverty and unemployment through skills development. The program provides core work skills and industry-based competencies that facilitate transition to the formal sector.
Under the SM Apprenticeship Program, the participants undergo 900 hours (four-and-a-half months) of training to master the skills needed by prospective employers like cashiering, barcoding, responding to customers' queries, and manning customer service booths, among others.
The trainees are recommended and endorsed by the DSWD and DOLE's PESO. Ms. Kathleen A. Agbannawag, who oversees the program said that SM Foundation taps beneficiaries of the government's Pantawid Pamilyang Pilipino Program (4Ps) and DSWD's Sustainable Livelihood Program (SLP).
While undergoing training, the apprentices receive allowances equivalent from 75%-100% of the mandated minimum wage rate prevailing in the locality.
According to Agbannawag, when the first Apprenticeship Program was launched, there were 20 apprentices and the 18 who completed training were immediately hired by SM Markets. This first batch was trained on the different aspects of customer service – from the technical and hands-on training to a module on values formation.
Inspired with the success of its initial program run, SM Foundation intends to offer other courses such as Warehousing NC2. After the training, participants will then be assessed, and those who will pass will then be offered employment by SM affiliate companies such as the SM Homeworld.
"In order for the training program to be successful and sustainable, we at SMFI also intend to match our trainees with our affiliates at SM to employ all of our apprentices after the training, subject of course to the technical evaluation by our partners" Agbannawag said.
"Education, vocational training and lifelong learning are central pillars of employability and sustainable enterprise development. Skills development is a key in stimulating a sustainable enterprise development process and can contribute in facilitating the transition of Filipinos from the informal to the formal economy" Agbannawag added.
This year, SM Foundation expanded the program to Regions 4A, 5 (Pampanga, Tarlac, Nueva Ecija, Bulacan, Zambales, Rizal, Laguna, Cavite, Batangas & Quezon) and the National Capital Region as the new sites of the Apprenticeship Program. Selection of the sites is based on the SM Affiliates' branches where apprentices are needed.
AUTHOR PROFILE
Miscellaneous
SHOW ALL
Calendar