Amid a backdrop of Vice Presidential aspirant, Mayor Sara Duterte, House Majority Leader and Lakas-CMD Party President Martin Romualdez (right) hands over copies of the signed Uniteam Alliance agreement to Presidential aspirant Ferdinand Bongbong Marcos Jr. following the signing ceremony at Sofitel Hotel in Pasay City. Photo by VER S. NOVENO
Romualdez sees grand coalition to propel BBM-Sara win
LAKAS-CMD prexy says UniTeam Alliance just the beginning
LAKAS-Christian Muslim Democrats (CMD) President Martin G. Romualdez on Thursday morning said he envisions a grand coalition of national and regional parties that will propel former Sen. Ferdinand "Bongbong" Marcos, Jr. and Davao City Mayor Sara Duterte's tandem to victory in the 2022 national elections.
House Majority Leader and Leyte 1st District Rep. Martin G. Romualdez proclaimed this during the hybrid signing of the UniTeam Alliance Agreement which formalized the coalition of Lakas-CMD, Partido Federal ng Pilipinas (PFP), Hugpong ng Pagbabago (HNP), and Pwersa ng Masang Pilipino (PMP).
"Today (Thursday), Lakas-CMD is entering into a formal alliance with three other major political parties to ensure the victory of the BBM-Sara team in the coming elections," said Romualdez, a lawyer from the University of the Philippines (UP). "The UniTeam Alliance, we pray, is just the beginning. We dream of a grand coalition of national and regional parties with local alliances that share our vision of a better future for this generation and the next."
"Only through unity can we hurdle the challenges that we face today as a nation. Healing and moving forward will make us all stronger. If we are to survive, and thrive, as a people, there is no other way but work together," added Romualdez, president of the Philippine Constitution Association (Philconsa).
Romualdez also underscored that in the face of two choices in the upcoming May 9, 2022 elections, officials and members of Lakas-CMD will choose "braving the path to peace and development" over "returning to the old politics of hate and divisiveness," "tranquility in the communities over chaos on the streets," "economic activity over idle talk or endless debates," and "working together over finger-pointing or blame-shifting."
"All these— we aspire— to help bring prosperity for our people and put an end to poverty and hunger," Romualdez said. "To achieve our mission and fulfill our goal, we have vowed to help elect new leaders who will guide and steer us to the right direction. We need leaders who have displayed steely nerves in leadership. We need leaders who have solid background in public service. We need leaders with a clear vision on how to keep Filipino families safe and the Philippine economy growing and expanding."
"These, my friends and countrymen, are the reasons why the Lakas-CMD has chosen Bongbong Marcos as our presidential candidate and Sara Duterte as vice presidential candidate for the 2022 elections. We are going all-in for the BBM-Sara team in 2022," he added.
The UniTeam Alliance vowed to pursue good governance, reforms to reboot and rebound the economy, programs to combat the coronavirus disease-19 (COVID-19) pandemic, national unification and healing, and address other enormous problems facing the Philippines.
Party officials also pushed for stronger cooperation in ensuring the preservation of the country's democratic processes, including the conduct of peaceful and orderly polls.
On Wednesday, Lakas-CMD's Executive Committee (Execom) held a virtual meeting via Zoom where the party adopted resolutions officially adopting Marcos as its presidential candidate, and confirming Duterte as its vice presidential bet in the 2022 elections.
The Execom also authorized Romualdez to enter into alliance agreements with other political parties.
The resolution underscored the importance of building alliances with different political groups to strengthen the party's political resources and assets aimed at enhancing the winning chances of Lakas-CMD candidates.
In a message during the Execom meeting, Sara Duterte also urged Lakas members to invite more parties to join forces with the UniTeam Alliance.
"Hopefully, we will be able to invite more parties in the coming days to sign up for the UniTeam Alliance for the 2022 elections. I know that you have many friends outside of Lakas-CMD and I hope that you will take time out to talk to them and invite them," Duterte said.
AUTHOR PROFILE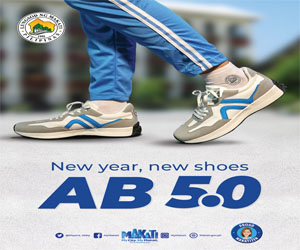 Nation
SHOW ALL
Calendar