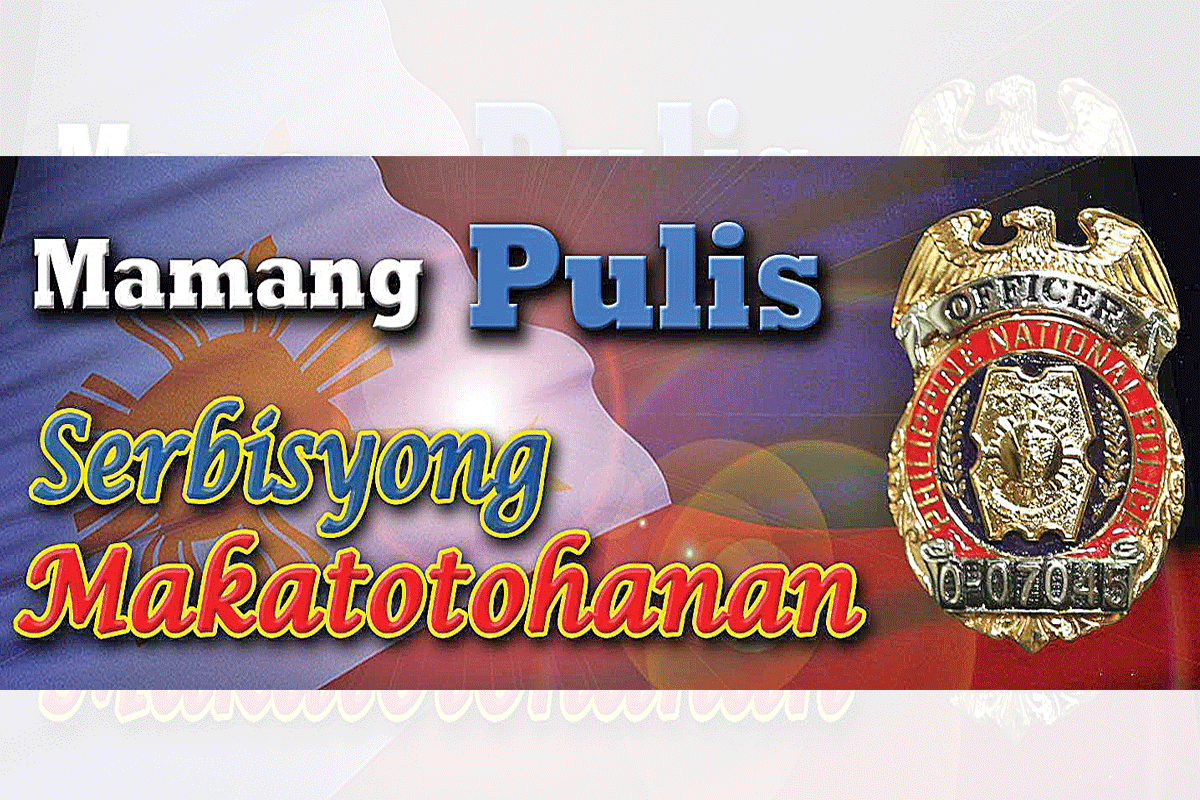 PNP-IMEG agents jail 18 roque cops since May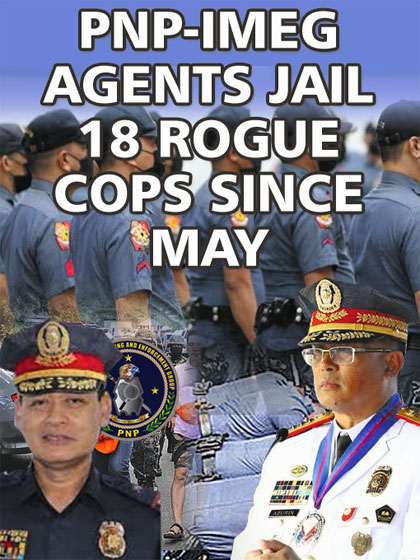 EIGHTEEN rogue active, retired or dismissed policemen have been put to jail by the Philippine National Police Integrity Monitoring and Enforcement Group (PNP-IMEG) since last May amid its vow to enforce the law 'without fear or favor,' the Journal Group learned yesterday.
"We are fully committed to continue leading the PNP's campaign to identify and arrest rogues in government uniform and also to account for those who are already the subject of warrants of arrest for different criminal cases," PNP-IMEG Officer-in-Charge, Brigadier Gen. Samuel C. Nacion said in an interview.
PNP-OIC, Lieutenant Gen. Vicente D. Danao Jr. earlier ordered the PNP-IMEG to ensure that it won't hesitate to arrest policemen — whether they are in active service or not—in case they are caught in the act of violating the law or are already the subject of warrants of arrest issued by competent courts in the country.
Following this, Brig. Gen. Nacion said their stepped up effort to help the PNP internal cleansing program since last May 18 has led to the arrest of 18 active and dismissed policemen facing criminal and administrative charges.
"As Lt. Gen. Danao has been saying again and again, we are showing no leniency to any PNP member, either active, retired, dismissed or suspended who are involved in illegal activities. We are going all-out against these rogues in uniform who continue to defy the law despite the PNP's OIC's stern warning. This is our commitment to the PNP organization and the entire public," said Nacion.
Last July 17, PNP-IMEG agents arrested Patrolman David Suarez Bolor Jr., a cop wanted on frustrated murder charges during an operation along Mulawin Street in Dilang Nagpayong, Barangay Pinagbuhatan in Pasig City.
No bail was recommended for one of the criminal complaints filed against the accused on October 20, 2021. However, he was allowed to post a P200,000 bail for the 2nd offense.
Nacion said his men also arrested dismissed Police Master Sergeant Rodrigo D. Sanoy along Roxas St. in Sampaloc, Manila last July 15 on the strength of a non-bailable warrant of arrest for murder.
The official described the accused as the 8th most wanted person in Malabon. The dismissed cop used to be assigned at the Regional Police Holding Assistance Service of the National Capital Region Police Office (NCRPO) before he was dismissed from the force.
"The arrested person is known in their locality as involved in various illegal activities such as gambling and with complaints in the barangay for sorts of local ordinance violations," the PNP-IMEG director.
The official likewise said that last July 15, his men facilitated the surrender of three active members of the Biñan City Police Station in Laguna accused of involvement in a shooting incident in their area the day before.
He identified the accused as Corporals Mark Jefferson Arzola and Gerald Casanova and Patrolman Amiel Howell Alcantara, all members of the Biñan CPS Drug Enforcement Unit.
Nacion said a member of the PNP Highway Patrol Group (PNP-HPG) ordered arrested by the court for violation of Republic Act 7610 or the Special Protection of Children Against Abuse, Exploitation and Discrimination Act was also apprehended by his operatives inside the PNP-HPG headquarters in Camp Crame last July 19.
The other arrested suspects include the following: retired Police Executive Master Sergeant Jolito Panlasiqui Jr., a resident of San Jose del Monte City in Bulacan who is the subject of a non-bailable warrant for murder issued by Judge Maria Rowena Alejandria of the Caloocan City Regional Trial Court Branch 121 last May 17;
ex-Police Officer 1 Raymon Job, arrested for a non-bailable murder case while giving a haircut to his customer in a barbershop in Barangay Malagasang 2-C in Imus City in Cavite last June 1; The suspect's arrest was ordered by Judge Briccio Ygaña of the Pasig City RTC Branch 151 last January 26;
ex-PO1 Jayson Maitim, arrested in Bgy. Critorey in Capas, Talarc on the basis of a warrant for malversation of public funds or property issued by Judge Francis William Espinola of the Camiling, Tarlac RTC Branch 112 last May 26 with a P36,000 recommended bail;
ex-Patrolman Jonjon Averio, arrested last May 23 in Bgy. Poblacion in Tagkawayan, Quezon last May 23 on the strength of a warrant for robbery-extortion issue by Judge Lizel Aquiatan of the Muntinlupa city RTC Branch 205
ex-Corporal Ariel Gapate, arrested last June 9 in Bgy. San Bartolome in Novaliches, Quezon City on the basis of warrants of arrest for homicide and attempted homicide issued by Judge Rodolfo Azucena of the Caloocan City RTC Branch 125 and Judge Jonald Hernandez of the Caloocan City RTC Branch 84 respectively. A total bail of P156,000 was recommended for the temporary liberty of the accused;
Major Angelita Nastor, a member of the PNP Maritime Group who was arrested last May 24 in San Jose, Occidental Mindoro on the basis of a warrant for direct assault issued by Judge Dennis Aga of the Q.C. RTC Branch 140 with a P36,000 bail recommended; and Staff Sergeant Kris Christopher Lacap, arrested last June 4 inside the Police Regional Office 4-A in Calamba City on the basis of a warrant for homicide issued by Judge Edilwasif Baddiri of the Pasay City RTC Branch 115 and ordered committed at the New Bilibid Prison in Muntinlupa City.
The two others are an active Camp Crame policeman and a retired staff sergeant who are both the subject of warrants of arrest for violation of Republic Act 9262 or the Anti-Violence Against Women and their Children Act of 2004.
Also hauled to jail by the PNP-IMEG was ex-Police Staff Sergeant Luis Jomok III, a former member of the Rizal Police Provincial Office wanted for the 2008 killing of his 19-year old neighbor in Pasay City.
Nacion said the accused even offered a P2 million bribe to the arresting officers in exchange for his liberty. The PNP-IMEG team ignored the offer and instead handcuffed the suspect who will be facing a separate case for violation of Article 212 of the Revised Penal Code otherwise known as corruption of public officials, said Brig. Gen. Nacion.
Acting on a tip from informants, Nacion said the suspect was arrested in his house on 83 Cabrera Road in Kaytikling, Barangay Dolores in Taytay, Rizal shortly before noon last June 15 on the strength of a warrant of arrest for homicide issued by Judge Wilhelmina Jorge-Wagan of the Pasay City RTC Branch 111 in September 2021.
Police records showed the suspect was demoted thrice and was eventually dismissed from the force in connection with the killing of then teenager Billy Lozada.
The ex-cop was accused of shooting Lozada twice in the chest on August 7, 2008. He surrendered to the Pasay City police after the incident and was charged in court when the victim died.
"The arrest of SSgt. Jomok is a testament to the IMEG's commitment to help the PNP regain public trust and confidence by seeing to it that the law will be enforced really without fear or favor," he said.
The official commended members of the PNP-IMEG Counter-Intelligence Division led by Lieutenant Colonel Leo M. Canuel and Major Christian C. Burgos for hauling the wanted ex-policeman to jail.
Danao likewise congratulated the PNP-IMEG for proving again and sundry that it will not hesitate to arrest their wanted colleagues, regardless of their rank and stature.
"As I have always emphasized, there is no room for misconduct and breach of discipline in the PNP, thus we will ensure that cops with criminal cases are prosecuted to the fullest extent of the law because criminals have no place in the police service," said Lt. Gen. Danao.
Most of the accused are now being held at the PNP-IMEG lock-up facility in Camp Crame.
Nacion, a member of PNP Academy Class 1992 said that on instructions of Lt. Gen. Danao, they are going all-out against any police personnel, uniformed or non-uniformed, who are involved in corrupt activities specifically drug trafficking and robbery-extortion.
"This is part of the PNP leadership's ongoing massive Intensified Cleanliness Policy aimed at penalizing undesirable members of the organization defying strict directives and other policies," he said.
He said that information may be relayed to the PNP IMEG Hotlines: Smart- 09989702286 or Globe- 09957952569 or thru the Facebook Page: Integrity Monitoring Enforcement Group and Twitter Account: @imeg2017.
The official assured that the identities of the informants will be kept in utmost secrecy.
AUTHOR PROFILE
Opinion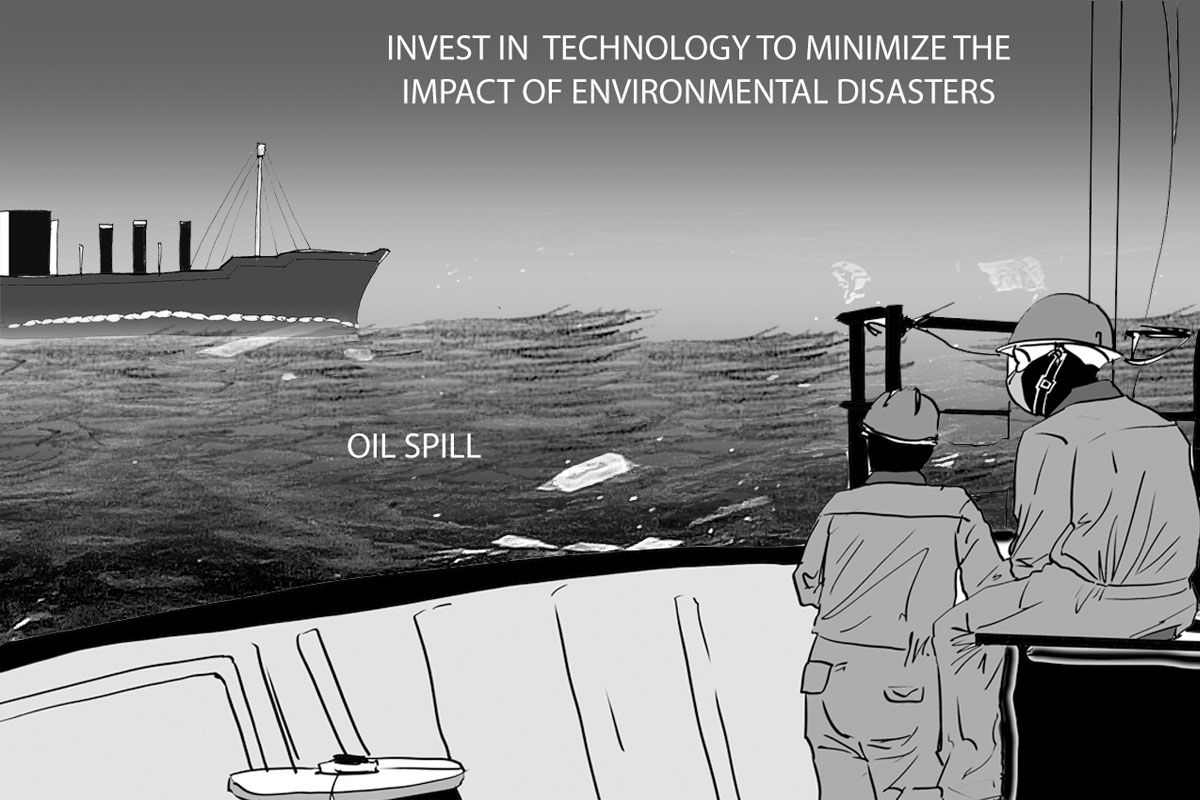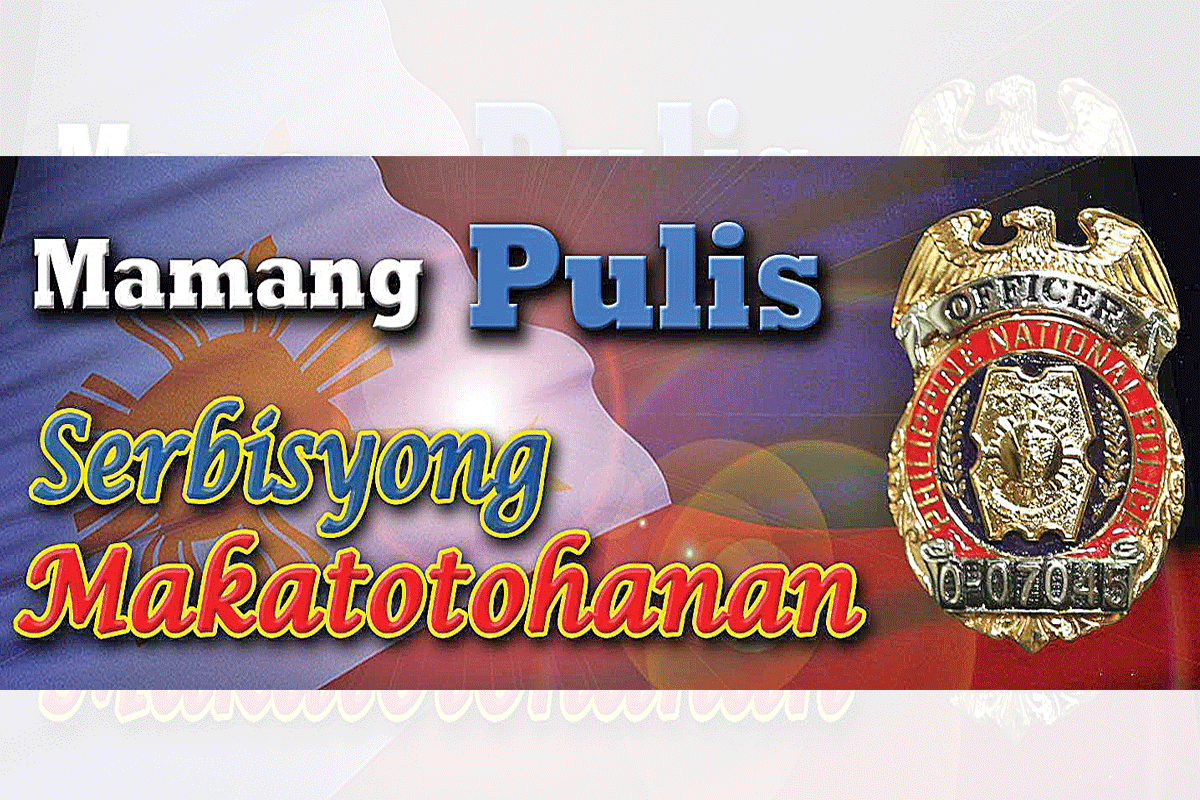 SHOW ALL
Calendar