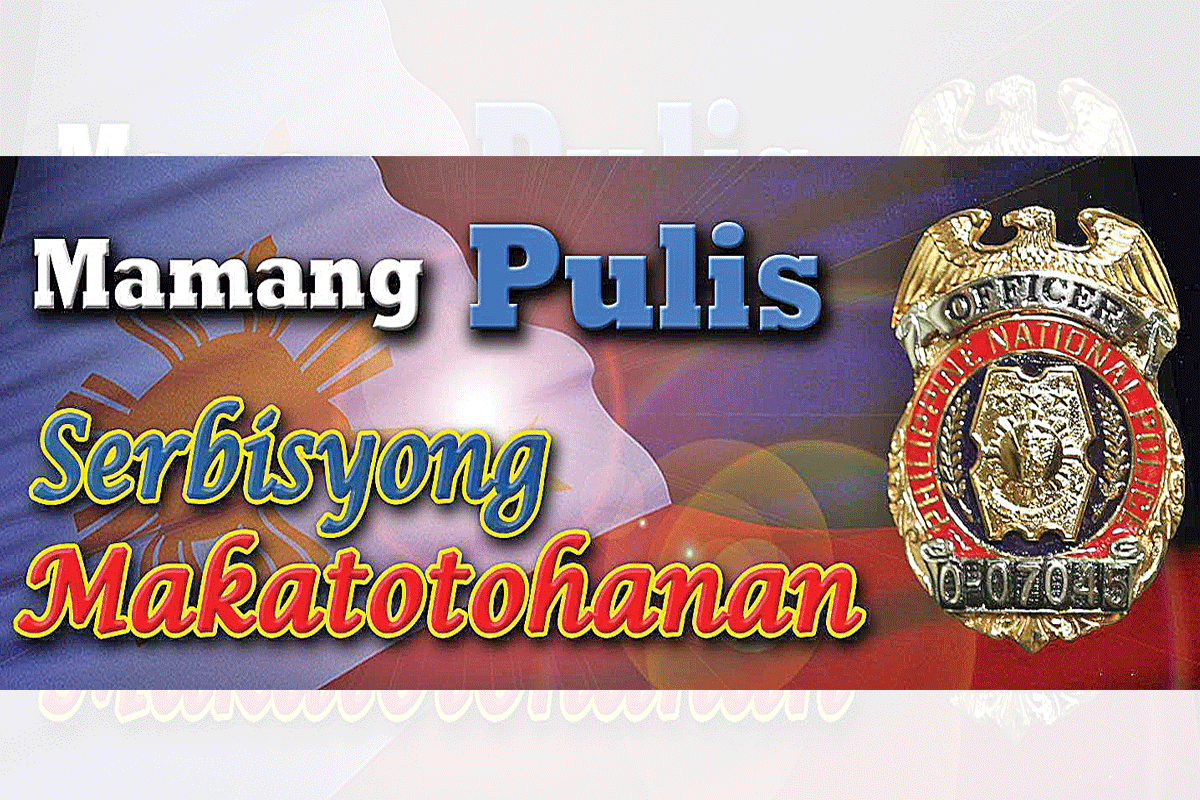 PNP drive vs MWPs to continue — Danao
PHILIPPINE National Police (PNP) Officer-in-Charge, Lieutenant General Vicente D. Danao Jr. on Thursday assured the public of their continuing all-out effort to account for most wanted persons and other lawbreakers ordered jailed by courts nationwide as part of their efforts to keep the streets safe 24/7.
The top cop said they are making a major headway in preventing and suppressing crime and terror in the country byintensifying their drive to arrest most wanted criminals and terrorists since the year started.
A First Quarter 2022 assessment report released by the PNP Directorate for Operations headed by Major Gen. Val T. de Leon heralded PNP operational accomplishments in the national flagship campaign against illegal drugs, highlighted by the confiscation of some P1.63-billion worth of illegal substances from 12,858 police operations from January 1 to March 31, 2002.
As a result of these efforts, 15,946 suspects were arrested while 31 died in police operations.
During the same period, 288 members of organized crime groups were rounded-up by the police all over the country.
The PNP-DO report also said a total of 1,476 firearms were also confiscated from crime groups, private armed groups, and communist/local terrorist groups during the period.
The continuing crackdown against loose firearms in the country also resulted in the arrest of 2,542 persons who are all facing charges for violation of Republic Act 10591 or the Comprehensive Firearms and Ammunition Regulations Act of 2013.
Seventeen most wanted persons with reward for their arrest were also captured while 7,037 other most wanted persons were also arrested during the period. The PNP said that it accounted for a total of 19,658 wanted persons in their list during the period, according to the PNP-DO headed by Major Gen. Val T. de Leon.
NCRPO AGENTS ARREST 3,854 MOST WANTED PERSONS SINCE MARCH 1
National Capital Region Police Office (NCPRO) director, Major General Felipe R. Natividad yesterday announced the arrest of 3,854 wanted persons in Metro Manila from March 1 until last May 29 amid their all-out effort to account for criminals and other wanted law offenders in the metropolis.
The arrests of the Regional, District, Station Level and Other Wanted Persons in Metro Manila were made amid the enhanced intelligence-gathering and coordination between the NCRPO and its other counterpart law enforcement agencies, said the official.
According to the Metro Manila police chief, 21 of the Regional Wanted Persons were hauled to jail by the Northern Police District headed Brigadier Gen. Ulysses G. Cruz followed by four each arrested respectively by members of the Quezon City Police District under Brig. Gen. Remus B. Medina and the Southern Police District headed by Brig. Gen. Jimili L. Macaraeg.
The Eastern Police District under Brig. Gen. Orlando O. Yebra arrested two while the Manila Police District headed by Brig. Gen. Leo M. Francisco caught one of NCR's most wanted men following months in hiding.
Maj. Gen. Natividad said that also accounted for during the period were 149 District Level Wanted Persons; 1,804 Station Level Wanted Persons and 1,869 Other Wanted Persons.
The suspects were wanted for various criminal offenses including violation of Republic Act 9165 or the Comprehensive Dangerous Drugs Act of 2002, RA 10591 or the Comprehensive Firearms and Ammunition Regulations Act of 2013, robbery-holdup, theft, homicide, physical injuries and estafa.
"The invigorated implementation of manhunt operations by different police districts of NCRPO is worthy of commendation and accolades. Gayunpaman, hindi ito magiging dahilan upang tayo ay tumigil bagkus lalo pa nating paiigtingin ang ating kampanya upang makasigurado na ang mga wanted sa batas ay hindi na makapangbiktima pa ng iba," said Natividad
Crime volume in the country overall has also dropped by more than 70 percent since the start of the Duterte administration but Lt. Gen. Danao said they are not letting their guard down and are seeing to it that their anti-criminality drive will remain in full throttle under the incoming administration of President-elect Ferdinand 'Bongbong' Marcos Jr.
Lt. Gen. Danao said that during the May 9 national and elections which went on record as the most peaceful in the country, even the number of focused crimes or the eight major crimes greatly went down compared to the May 9, 2016 records.
A total of 58 crimes including nine cases of murder; two homicide; 25 physical injuries, four rape cases; five robbery incidents; 12 theft cases; and one motorcycle theft were recorded by the police force last May 9 when voters trooped to different polling centers across the country to give a landslide victory to former Senator Marcos and his running-mate, Davao City Mayor and presidential daughter Sara Duterte.
In contrast, the PNP recorded 25 murder cases, seven homicide cases; 86 physical injuries; 41 rape cases; 63 incidents of robbery; 108 theft cases of motor vehicle theft; and 29 incidents of motorcycle theft on May 9, 2016.
Ahead of the just-concluded polls, the PNP rode the crest of the major gains it scored against criminality in 2021. Records show that the PNP recorded a significant 14 percent drop in all major crimes in the country in 2021 consistent with the downtrend in the total crime volume nationwide since the start of the Duterte administration and its war on drugs.
The PNP Directorate for Investigation and Detective Management headed by Major Gen. Jireh Omega D. Fidel reported that from 43,696 incidents in 2020, crime incidents dipped to only 37,626 or 6,070 fewer incidents in 2021, or a 13.89 percent reduction.
The same report indicated single and double digit decline in all eight focus crimes between 2020 and 2021 with physical injury posting the biggest decline at 33.20 percent, homicide incidents dropping 19.53 percent, and motorcycle theft down by 15.29 percent.
Although incidents of theft posted the highest volume among the eight focus crimes, it slid 5.26 percent further from 12,130 in 2020 to only 11,492 incidents in 2021.
The PNP-DIDM also reported a downtrend in focus crimes from a high of 131,685 cases in 2016 to only 37,626 incidents in 2021 or a 71.42 percent drop over the 6-year period.
AUTHOR PROFILE
Opinion
SHOW ALL
Calendar