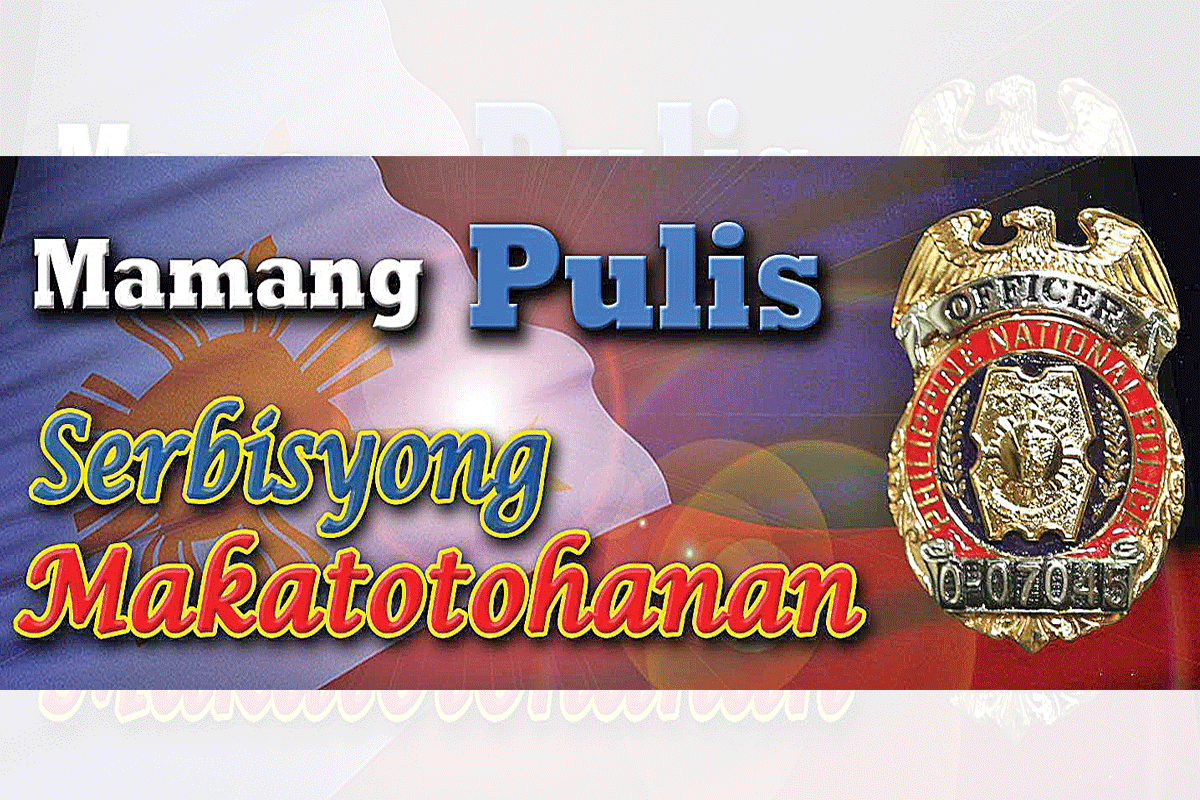 PNP-AKG going all-out vs foreign kidnappers-Eleazar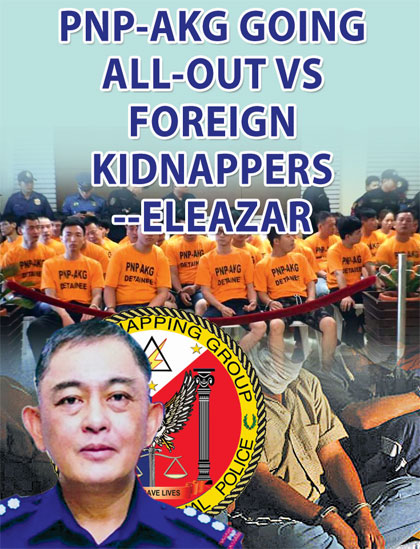 ACTING on orders of Philippine National Police (PNP) chief, General Guillermo Lorenzo T. Eleazar, the PNP Anti-Kidnapping Group has further intensified its effort to identify, arrest and prosecute foreigners involved in kidnapping-for-ransom cases in the country, the Journal Group learned yesterday.
PNP-AKG director, Brigadier General Rudolph B. Dimas gave the assurance as PNP chief, General Guillermo Lorenzo T. Eleazar committed the full resources of the 220,000-strong police force in arresting KFR and serious illegal detention and other criminal activities involving foreign nationals in the country.
Gen. Eleazar particularly gave the assurance to the Chinese Embassy and its citizens.
"We assure the Chinese Embassy officials that the PNP is continuously monitoring and stepping up its operation to protect their citizens in the country as manifested by the series of successful operations against KFR groups since 2017," the top cop said.
"Regardless of the nationality of both the victims and the perpetrators, an attack committed in the Philippines is an attack on our sovereignty that is why we continue to conduct regular security assessment and adjustments to maintain peace and order," he added.
The top cop said the cooperation and coordination also extend to other illegal activities that include telecom fraud and drug-related crime.
He said the police would continue to coordinate with Chinese officials and even with other foreign entities in a bid to prevent all forms of lawless activities.
"The PNP continues to coordinate with our Chinese counterparts pertaining to law enforcement and transnational security concerns affecting both our countries. Apart from efforts to address kidnapping, we also collaborate with China's Ministry of Public Security in the campaign against illegal drugs," said Gen. Eleazar.
Last week, Brig. Gen. Dimas, a member of PNP Academy Class 1992 said they have filed kidnapping-for-ransom and serious illegal detention charges against 13 suspects in the abduction of two Chinese and a Vietnamese national in Metro Manila.
In a report to Gen. Eleazar, the official said that nine of the suspects, four of them identified as Chinese nationals Shi Qi alias 'Boss' and Zhi Ming and their Filipino accomplice, one Rea Dometita were charged with kidnapping-ransom and serious illegal detention before the DOJ in connection with the abduction of Wenlong Zhang.
Dimas said that Zhang, assisted by a Chinese interpreter joined a team of officers from the PNP-AKG in filing a case against the accused before DOJ Prosecutor Michael John Humarang last Tuesday.
On the other hand, KFR victim Xie Jiannan, a male Chinese, with the help of an interpreter signed his affidavit before Prosecutor Humarang charging Fei Duan,37, a male from Shanxi, China and Jin Jin,33, a female also from the same China province with kidnapping-for-ransom and serious illegal detention.
Brig. Gen. Dimas said that last September 2, their assistance was sought by the China Embassy the Consul Deng Hong Wei regarding the alleged kidnapping of Xie Jiannan of Fujian, China.
The official said that members of the AKG Luzon Field Unit led by Colonel Frederick E. Obar conducted an operation which led in the safe recovery of Jiannan and another Chinese national identified as Zeng Jian Bin,33, inside no. 74 Matthew Street in Multinational Villagein Parañaque City around 11 p.m. of the same day.
He said that the two suspects who were found to be residents of the raided house in Parañaque City will be subjected to a preliminary investigation.
Brig. Gen. Dimas also reported the filing of criminal charges for kidnapping-for-ransom and serious illegal detention against two Filipinos identified as Steve and Jimboy Buntas in connection with the alleged kidnapping of 30-year old Vietnamese national Vu Thanh Binh, a native of Hai Pong City, Vietnam. The charges were filed before the DOJ.
An investigation showed that the Vietnamese was snatched by the suspects last July 4near Green Residences in Taft Avenue, Malate, Manila.
The PNP-AKG director said that Vietnamese Ambassador Hoang Huy Chung sought their help in investigating the case. Binh positively identified the two suspects thru their photos during investigation at the PNP-AKG headquarters in Camp Crame.
Dimas said that they are waiting for the issuance of warrants of arrest against the accused before moving in to apprehend them.
Gen. Eleazar earlier assured the China Embassy of all-out effort by the PNP-AKG and their other units in arresting cases of Chinese nationals, mostly POGO workers being kidnapped by their rogue compatriots in Metro Manila.
Along with the PNP-AKG, the PNP Criminal Investigation and Detection Group under Major Gen. Albert Ignatius D. Ferro and the National Capital Region Police Office headed by Maj. Gen. Vicente D. Danao Jr. have also arrested a number of Chinese nationals who have abducted POGO workers in Metro Manila and tortured them in their safehouses inside and outside the metropolis while demanding huge ransom from their families abroad.
At present, cases of some Chinese nationals being arrested for their involvement in casino and POGO-related kidnappings are being hampered by the inability of Philippine authorities to track down the kidnappers known for torturing their preys and forcing them to produce ransom paid thru a China-based mobile payment app called WeChat.
Dozens of Chinese nationals found to have been involved in kidnapping-for-ransom activities in the country were found to have asked their victims to pay ransom money thru WeChat, a Chinese multi-purpose messaging, social media and mobile payment app first released in 2011 and is now considered as the world's largest standalone mobile app with over one billion active users.
Philippine police investigators however have no ability to establish the money trail left thru WeChat and will need the help of their Chinese counterparts to literally unlock the code.
In many cases, the victims were enticed to borrow money from casino loan shark rings being operated by Chinese syndicates. After losing their borrowed money in the casino tables, the victims are seized and kept in hotel rooms or safehouses where they were forced to seek ransom money from their families from China and other parts of Asia.
AUTHOR PROFILE
Opinion
SHOW ALL
Calendar