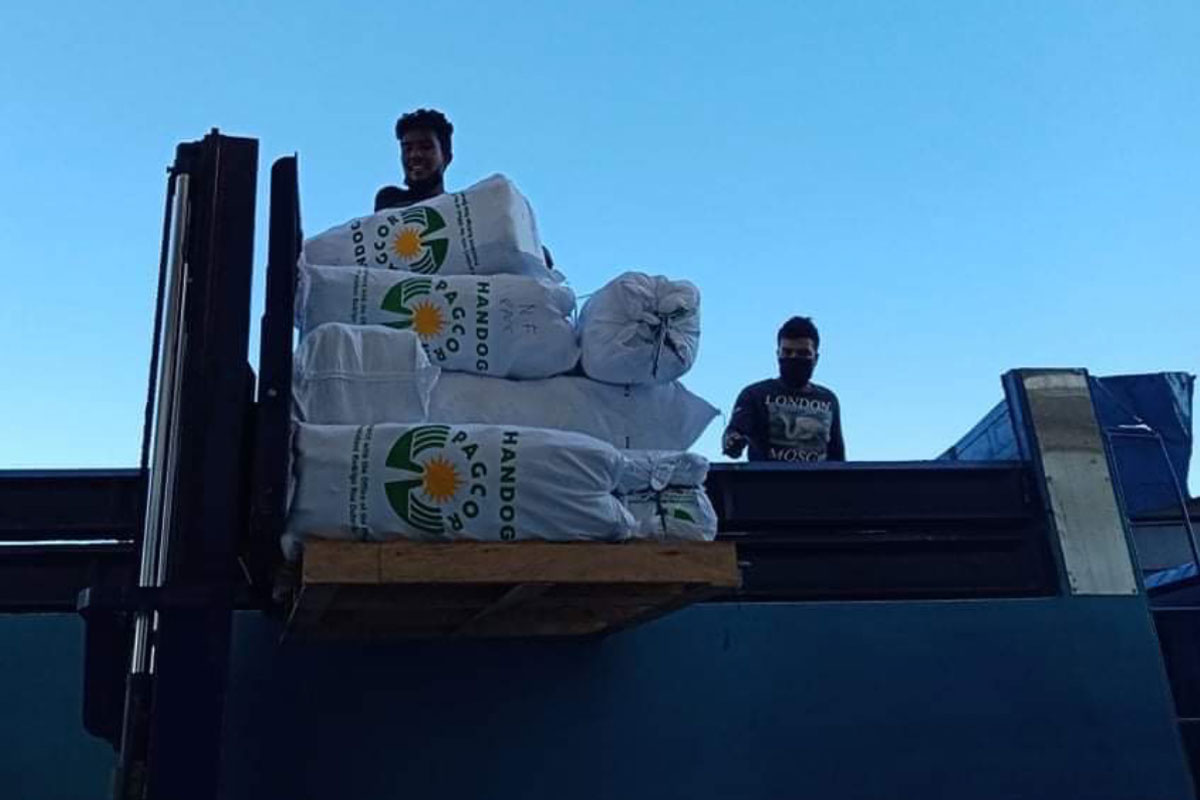 Sacks of food and non-food items are being loaded by the volunteers to the truck. PAGCOR initially sent a total of 9,000 relief packs and non-food items to the second district of Surigao del Norte, first district of Cebu City, Puerto Princesa, Palawan and Maribojoc, Bohol.
PAGCOR, casino licensees provide aid to typhoon Odette victims
THE Philippine Amusement and Gaming Corporation (PAGCOR) and its licensed casinos provided much-needed assistance to thousands of locals in some parts of Visayas and Mindanao who were victims of the onslaught of Typhoon Odette last December 2021.
PAGCOR immediately sent a total of 9,000 relief packs and non-food items to the second district of Surigao del Norte, first district of Cebu City, Puerto Princesa, Palawan and Maribojoc, Bohol. More than 8,000 relief packs are scheduled for distribution in Leyte, Southern Leyte, Siargao, Cebu and Misamis Oriental –which are among the severely affected areas of the typhoon.
According to PAGCOR Chairman and CEO Andrea D. Domingo, its casino licensees in Entertainment City and Clark have already poured in their support to help the affected families in those areas.
"Days after the onslaught of typhoon Odette, they reached out to us for their disaster relief efforts through their respective charitable arms which we immediately approved. Under PAGCOR's mandate, our licensees must establish Foundations which will undertake establishment of health and educational infrastructure, culture development, relief aid and other similar undertakings," Domingo explained.
While the past two years have been challenging to the gaming industry in the country due to the pandemic, PAGCOR and its licensees are still committed to respond to the needs of the Filipinos, said Domingo.
"The lockdowns, movement restrictions and temporary closure of gaming operations have tremendously affected our revenues, but PAGCOR and our licensed casinos will continue to support the government in helping Filipinos in need," Domingo said.
Among the charitable entities, Bloomberry Cultural Foundation Inc. (BCFI) of Solaire Resort and Casino Manila, already allotted P50 million for the purchase and delivery of relief goods in badly-hit communities in Visayas and Mindanao.
BCFI and its volunteer employees distributed more than 12,300 family packs and water to displaced residents in Siargao Island on January 7 and 15, 2022. Their relief mission will continue in the coming weeks in Palawan, Bohol, Cebu, Misamis Oriental and Southern Leyte.
"The typhoon first made its landfall in Siargao Island on December 16, 2021. Thousands of residents were displaced, and many of them celebrated Christmas and New Year without a home, enough food, water, and other necessities. Considering their situation, we immediately responded to their needs. We believe that any sort of help would bring much-needed assistance and comfort to our kababayans," BCFI President Donato Almeda said.
Meanwhile, Melco Resorts (Philippines) Foundation Corporation (MRPFC) of City of Dreams Manila, allocated P13.5 million for the provision of food packs and other relief amenities which they distributed to the affected families in Dinagat Island last January 10, 2022.
"There were more than 14,000 totally damaged homes in the island. Many were left homeless, and they don't have enough food and drinking water. We wish to extend immediate help by providing relief goods for the family members affected by the calamity,'' said MRPFC President and Chairman of the Board Clarence Yuk Man Chung.
Resorts World Manila likewise donated P1 million to Red Cross, while their employees were able to collect P130,288 out of their own pockets to support RWM's Save Odette Survivors initiative. The employees' contributions were used to buy 188 boxes of relief goods donated to the Coast Guard for the typhoon victims.
Two other foundations have also pledged donations to help the typhoon victims.
Okada Foundation, Inc. of Okada Manila committed P15 million to be used for the purchase of relief goods for Southern Leyte, Cebu, Iloilo, Surigao del Norte, Surigao del Sur and Bohol.
Likewise, Widus Foundation Inc. of Widus Philippines, Inc. will donate P1 million-worth of food packs to the Philippine Air Force – Headquarters Air Defense Command based in Clark. PAF-HADC will handle the distribution of the food packs to the affected families in Visayas and Mindanao.
AUTHOR PROFILE
Miscellaneous
SHOW ALL
Calendar