Our Mayor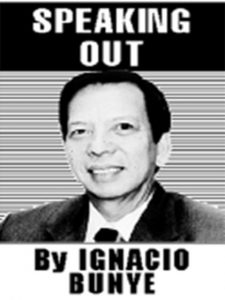 1976 was an eventful year for me personally and providentially for Muntinlupa as well. It was the year when a group of then young community leaders met and organized the Kiwanis Club of Muntinlupa Rizal, now one of the premiere service clubs of the city.
Among the group were Dr. Jose Yason, Jr., who became the club's charter president, Diony Alog, Boy Valencia and Romy Tan (who eventually became governors of Kiwanis Philippine Luzon District), Dante de Mesa, the brothers Hector and Cesar Manalo, Paning Espeleta (who became a municipal then city councilor), Greg Inocencio, Lito Dulay, Honor Santiago, Nelson Manzanero, the brothers Joe and Dading Alcaraz, Eli Bicaldo, Rudy Pelayo, Ernie Millama, Nards Tan, Rudy Kwan, Monsignor Tom Gonzalez, and a young lawyer-businessman Jimmy Fresnedi.
I remember Jimmy as reserved and soft-spoken but very active in club activities. Jimmy eventually became the club president – a distinguished one at that – a few years later. A very eligible bachelor, Jimmy was then courting a pretty bank employee – Lor Obong – who would later become his first lady.
While the Kiwanis Club of Muntinlupa Rizal principally engaged in meaningful community projects which benefitted children, the club members never neglected to have fellowship activities. One such activity was the Christmas caroling project which really bonded the Kiwanians and their Kiwanettes . For two weeks in December, the Kiwanians would exercise their vocal chords practising Christmas carols and then go around Muntinlupa, Parañaque and Las Piñas serenading pre-selected benefactors.
Ten years later, the 1986 People Power Revolution took place. President Cory Aquino started replacing incumbent local officials with her Officers-in-Charge or OICs. Civic groups, including the Cory's Crusaders and the Kiwanis Club of Muntinlupa Rizal, started vetting candidates for the position of OIC Mayor of Muntinlupa . Without me knowing it at the time, the Kiwanis Club of Muntinlupa Rizal submitted my name to Ka Jaime Ferrer (a trusted confidante of President Cory) as a fifth candidate to fill in the position. The rest is history.
When I assumed office as OIC Mayor, I tapped tested and proven hard-working Kiwanians to join my transition team. Paning Espeleta assisted me as Municipal Administrator. Honor Santiago agreed to temporarily head the business license office. Cesar Manalo became my finance officer. Jimmy Fresnedi became my municipal attorney. When the time came in 1988, I asked Jimmy to run as my Vice Mayor.
As Vice Mayor, Jimmy was also the Presiding Officer of the Sangguniang Bayan. He supported me by shepherding the passage of important ordinances and resolutions which would help pave Muntinlupa's road to cityhood. Health, education and welfare legislation provided an enabling environment that would catapult Muntinlupa as a "business friendly LGU", a safe and caring community.
Jimmy's support was "all weather", especially when the going got tough. The case in point was the passage of Kapasyahan 45 which rescinded the lease contract between the municipality and a market cooperative which was then running the Alabang public market. On its face, the contract's nullity was very apparent. There was no public bidding. The term of the contract exceeded five years – the legal limit for the lease of public markets. The lease rental was unconscionable – only P35,000 monthly versus the total sub-lease rentals amounting to P700,000 monthly.
The general manager of the market cooperative went to the Sandiganbayan and charged those who signed and implemented Kapasyahan 45 with violation of Section 3-E of the Anti-Graft and Corrupt Practices Act. For some reasons which I still could not understand, the Sandiganbayan Second Division rendered a judgment convicting me, Vice Mayor Jimmy Fresnedi, Councilors Carlo Tensuan, Roman NIefes, Nemesio Mozo, Rufino Joaquin, Nolasco Diaz, Roger Smith and Barangay Captain Rufino Ibe, sentencing us to from 6 years to 10 years in jail. Fortunately, the Supreme Court had a better understanding of what we did to protect Muntinlupa. The SC acquitted us.
Throughout our trial, Jimmy Fresnedi never wavered in the belief that the passage of Kapasyahan 45 was the right thing to do. I can not say the same for a few who denied their participation in the passage of Kapasyahan 45 to get off the hook.
When I attended Muntinlupa's 27th cityhood anniversary last March 1, I felt justifiably proud like most Muntinlupeños to have had Jimmy Fresnedi as Muntinlupa's second longest serving mayor. He first served from 1998 to 2007 and then from 2013 to the present. The achievements of the "little man with the big heart" are visible everywhere – a responsive and efficient bureaucracy, public infrastructure, school buildings, health facilities, low-cost housing, sports facilities, livelihood assistance, disaster response, and effective response to the Covid pandemic. Looking back to 1988, I tell myself that I could not have chosen a more worthy partner in public service and future successor.
AUTHOR PROFILE
Opinion
SHOW ALL
Calendar