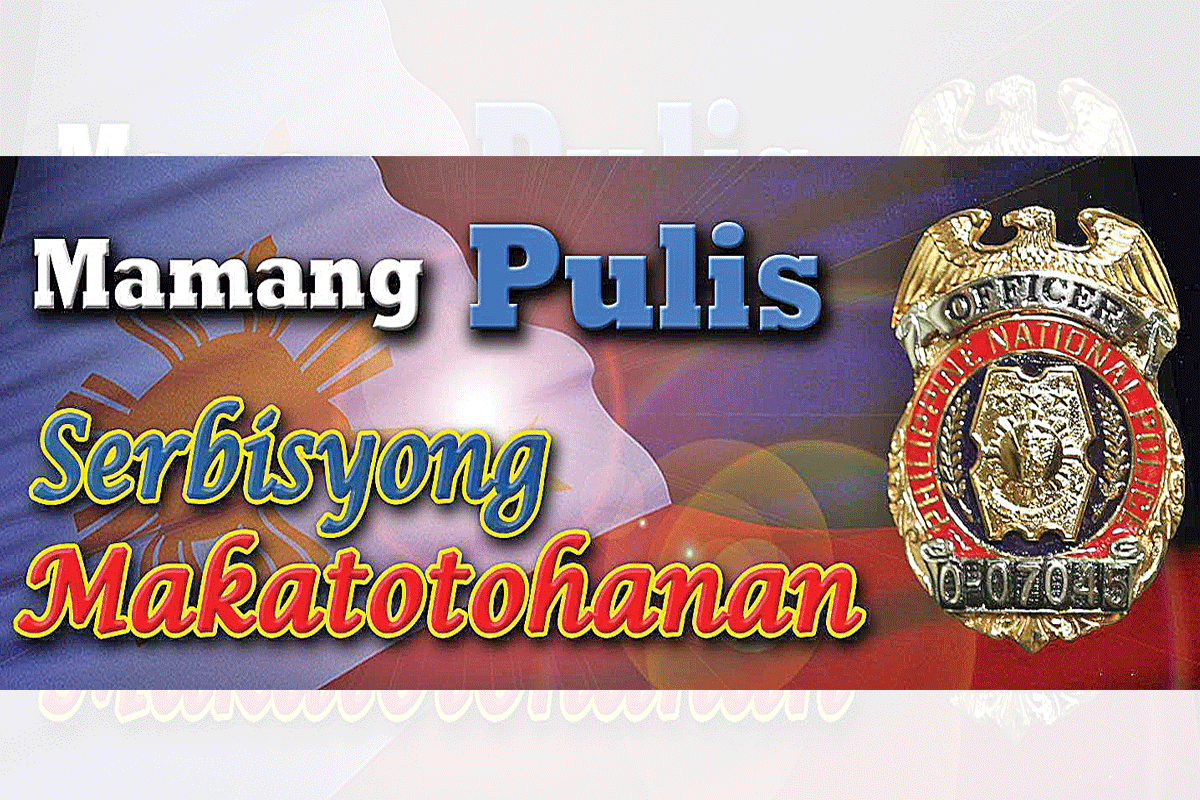 N. Mindanao cops go all out to prevent poll violence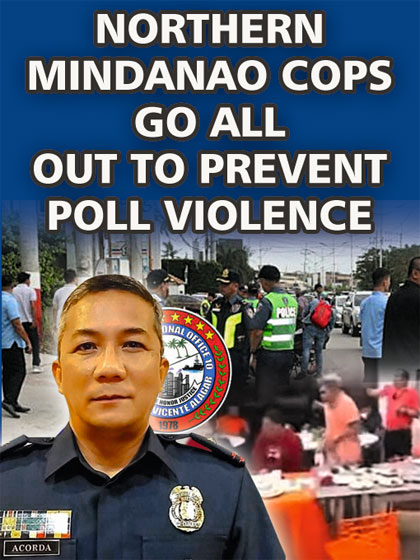 POLICE Regional Office 10 (PRO10) director, Brigadier General Benjamin C. Acorda Jr. yesterday assured the country they are doing their best to prevent loose firearms and private armed groups from disrupting the May 9 national and local elections in Northern Mindanao.
He issued the statement amid the ongoing investigation into an alleged 'sniping' incident in Tangub City, Misamis Occidental last which killed a local mayor and injured two other politicians, including 2nd District Representative Henry Oaminal last December 22 and a gun attack on an independent mayoralty candidate of Calamba municipality last March 13.
Brig. Gen. Acorda said the Regional Special Investigation Task Group led by PRO10 Deputy Regional Director for Operations, Colonel Benidicto C. Pintor is constantly convening to provide regular updates regarding the December 22 incident.
He added that in their latest meeting, the SITG requested the conduct of interviews on a number of personalities present during the alleged 'sniping' incident that killed Lopez Jaena town Mayor Michael Gutierrez and injured Rep. Oaminal as well as congressional aspirant Jason Almonte.
Gutierrez was campaigning for the province's vice-gubernatorial post when killed while attending a Christmas Party of PDP-Laban and Asenso Ozamiz stalwarts and supporters in Tangub City.
Already interviewed by the SITG were Sinacaban
Mayor Dello Lood; Aloran Mayor Junie Roa; the late mayor's daughter Pinky and wife Rowena. The SITG also requested for a copy of the medical records of the late politician although his family is still consulting their lawyers regarding the matter, Brig. Gen. Acorda told the Journal Group.
The official added that the SITG also requested the owner of the AiA, one Maria Toling, to allow them entry to the area any time to inspect the crime scene and look for more clues. The management is yet to respond to the request, he said.
Brig. Gen. Acorda added that an SITG was also created last March 13 to investigate the gun attack on Calamba, Misamis Occidental independent mayoral candidate George Matunog. Protocols have also been established to determine if the attack may be considered a Suspected/Validated Election-Related Incident (ERI) based on parameters set by the Philippine National Police leadership headed by General Dionardo B. Carlos.
The PRO10 director said they have started a 'profiling' of the victim to determine the possible motive behind the attack without giving prejudice to his initial statement. Further, all 'person/s of interest' in the gun attack have also been subjected to a profiling to ensure that all possible angles are covered to help in finding out the truth behind the incident, he added.
According to Brig. Gen. Acorda, the Misamis Occidental Police Provincial Office director has never ceased to remind his chiefs of police to intensify the established PNP preemptive security measures to ensure the safety of not only the candidates but also to promote a general sense of security among the local populace.
"This office is regularly conducting Enhanced Managing Police Operation (EMPO) to account and measure the degree of compliance of all its Municipal Police Stations/City Police Stations to the PNP's Anti-Criminality Campaign, Campaign Against Loose Firearms, Anti-Insurgency and Anti-Illegal Drugs Campaign," he said.
As to the alleged 'sniping' incident in Tangub City, Brig. Gen. Acorda said that the local SITG has already submitted a resolution that the said case is not an ERI based on parameters set by the PNP leadership in determining suspected election-related cases.
However, the official said they have reasons to believe the Matunog case is a Validated ERI considering that all parameters were present.
"Though the Matunog case is already considered an election-related incident, rest assured that the PNP Misamis Occidental is still capable of ensuring a safe and secure Misamis Occidental before, during and after the conduct of the May 9 National and Local Elections," Brig. Gen. Acorda said.
Records showed that Mayor Gutierrez who was initially hurt in a "sniper" attack during a Christmas party in Tangub City died in a hospital after days after being shot on the nape.
Rep. Oaminal was first reported to be the real target of the 'sniper attack' which took place at around 8:45 p.m. last December 22. Oaminal was running for governor of the province while Gutierrez was supposed to be his running-mate.
Rep. Oaminal dangled a P5-million bounty for anyone who could provide information that would lead to the arrest and imprisonment of the assailants.
"This brazen and senseless act of violence has no place in a democratic society, especially when it threatens our fundamental right to vote. We cannot let fear and injustice prevail over us," he said.
Misamis Occidental (1st District) Rep. Diego Ty also offered a P1 million bounty on the head of the suspects behind the killing of Gutierrez even as he denied accusations regarding his alleged involvement in the attack.
The 'sniper attack' was followed by a shooting incident along a main road in Purok 1, Barangay Southwestern Poblacion in Calamba, Misamis Occidental which targeted the 55-year old Matunog.
The SITG said a CCTV footage showed Matunog was walking along the main road in Purok 1 when shot by a motorcycle back-rider. The victim and a male companion have just attended the opening of a convenience store in the municipality and were on their way home when he was shot.
Reports said Matunog has been endorsed by Rep. Ty whose party is under the coalition of leading presidential candidate, former Senator Ferdinand 'Bongbong' Marcos Jr. and his running-mate, Davao City Mayor Sara Duterte who is also topping different vice-presidential surveys.
The Commission on Human Rights said it will conduct a 'motu-proprio' investigation on the attempted assassination of Matunog.
"Continued occurrences of vigilante-violence to electoral candidates, if left unabated, may lead to a chilling effect on our electoral system and negatively impact the country's security and the democratic process in general," said CHR spokesperson Jacqueline Ann de Guia.De Guia.
"We cannot allow this culture of violence and impunity to be a norm during the election period," she added.
AUTHOR PROFILE
Opinion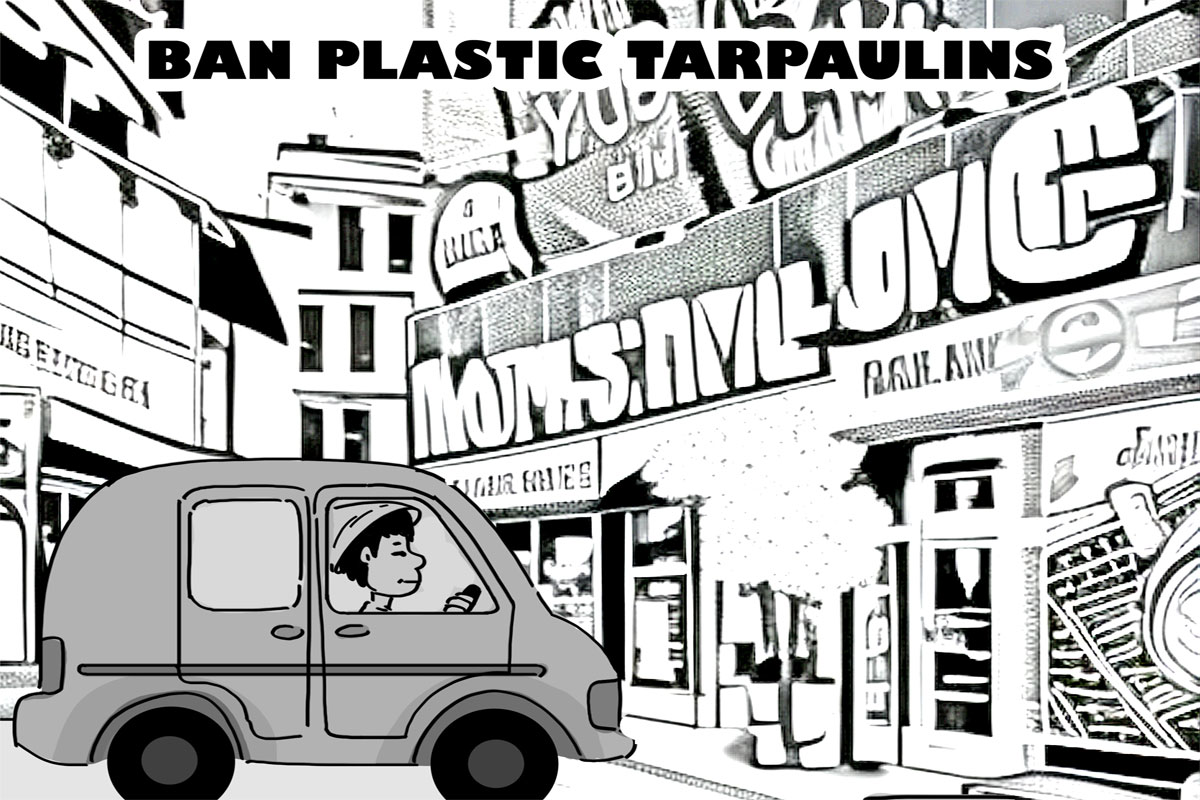 SHOW ALL
Calendar