More water very soon for Metro Manila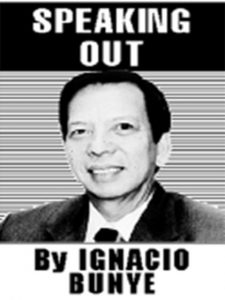 December 6 was a very memorable day for Oscar Ileto Violago (Oca to classmates and friends, OIV to business associates.) After 29 trying years, Oca's vision for a new and abundant water source for Metro Manila finally became a reality.
The day marked the inauguration of the Tayabasan weir, the first phase of Wawa bulk water supply project which is being implemented by WawaJVCo – a joint venture of Violago and business tycoon Enrique Razon.
It was a long and tortuous journey for Oca.
"When I applied for the water rights in 1993, nobody believed me. Through those years I found and encountered so many obstacles and opposition. People would say that it was not a good project, that it was a dirty river and that the project was not needed because we would have an oversupply of water in 2010. Some also said that if ever I succeeded, the supply would only be good for 50 MLD.
"Today, we proved all of them wrong as we inaugurate the project and deliver the first 80 MLD of raw water supply to our people. Once we finish our high dam, another 500MLD to 750MLD will be delivered to serve our Metro Manila water consumers."
At a recent get-together with former classmates, Ernie Fajardo recalled Oca's 29-year travail in applying for water rights. At one point, Ernie good-naturedly suggested to Oca – known among classmates as a devotee to a dozen saints – to include San Fernando among his intercessors.
Asked why San Fernando, Ernie recalled the lyrics of a popular folk song which ran as follows: "Okaka okaka, San Fernandong Wawa." I could not verify if San Fernando did the trick for Oca.
The Tayabasan weir is a 25-meter roller-compacted concrete structure designed to deliver 80 million liters per day (MLD).
It comprises three parts: the weir, where water is impounded; the pumping station, which brings the bulk water to the water treatment plant; and the buried water pipeline, where the bulk water passes to get to the water treatment plant.
Oca was once described by former President Fidel V. Ramos as the Father of the Casecnan $680M Casecnan Irrigation and Power Multipurpose Project at Pantabangan dam which serves three purposes – irrigation, flood control and power generation.
The project involved the construction of a 26.27-kilometer, 6.50 meter diameter transbasin tunnel traversing Caraballo Mountains with a capacity of 80 m3/s capable of diverting at least 800 million m3 of water/year to the Pantabangan Reservoir.
It also involves the construction of two (2) diversion weirs in Casecnan and Taan Rivers in Nueva Vizcaya including 80.46-kilometer access roads that connect to local municipal and provincial road networks. Two (2) generator sets were also installed generating a combined power of 150 MW and a 230kV Switchyard wherein the National Power Corporation's (NPC) transmission lines were connected. The power produced in the plant is supplied to the Luzon Grid.
BPI's green banks
Bank of the Philippine Islands has set a new milestone in the country's sustainable banking operations as BPI Iloilo Solis and BPI Loyola Katipunan became the first two bank branches in the Philippines to earn the Excellence in Design for Greater Efficiency (EDGE) certification of the International Finance Corporation (IFC).
The certifications were issued by the Philippine Green Building Initiative (PGBI). The resource efficient designs of the two buildings are expected to result in substantial reductions in energy consumption (22-25 percent), water consumption (23-31 percent) and materials-based energy (76-84 percent).
Since 2017, BPI has long guided real estate project owners to comply with IFC EDGE standards in line with the Ayala group's long-standing commitment to embed sustainability in the conduct of business.
Maria Cristina "Ginbee" L. Go, BPI EVP and Head of Consumer Banking, projects that "next year, we have 25 branches planned for reconstruction to achieve EDGE certification. This forms part of our vision to lead in sustainable business practices in the Philippine banking industry and build a better Philippines – one family, one community at a time."
AUTHOR PROFILE
Opinion
SHOW ALL
Calendar