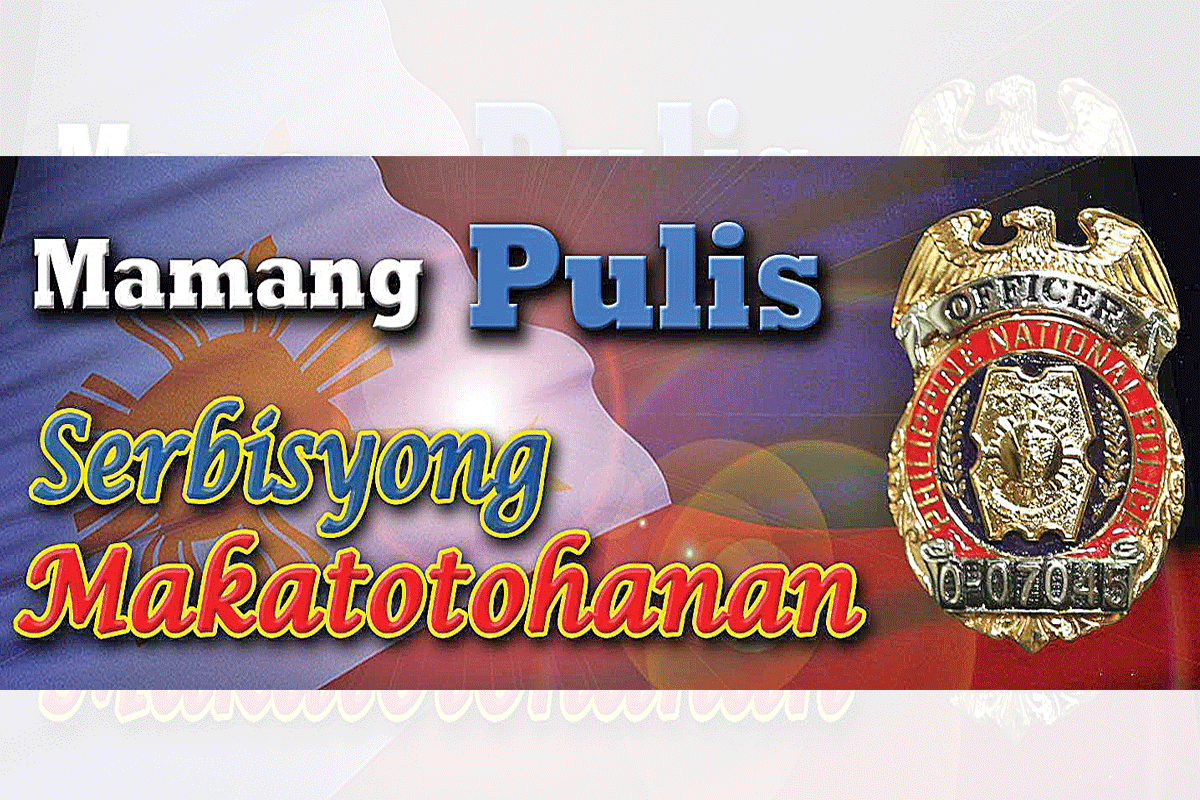 Marcos gov't winning war on drugs — PNP chief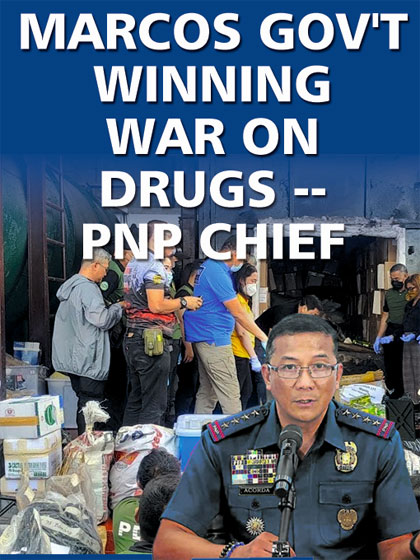 PHILIPPINE National Police (PNP) chief, General Benjamin C. Acorda Jr. has expressed confidence that the year-old Ferdinand Marcos Jr. administration is winning its war on drugs.
"At the rate PNP anti-illegal drug operations are getting underway, I can confidently say that the whole of government is winning the national campaign against illegal drugs," the top cop said.
Gen. Acorda said that from January 1 to last May 19 alone, police hauled to jail a total of 23,395 drug personalities following the conduct of 17,668 anti-narcotics operations which led in the confiscation of an estimated P4.76 billion.
On Wednesday last week, two 'high-value targets' in Calabarzon region were arrested in a buy-bust operation in Calamba City in which resulted in the seizure of nearly 28 kilograms of high-grade shabu valued at around P191.7 million.
Laguna Police Provincial Office director, Colonel Randy Glenn G. Silvio identified the arrested suspects as Donna Mateo Gali, a 37-year old resident of Block 25, Lot 5, Tennessee Subdivision in Barangay San Pablong Nayon in Sto. Tomas City, Batangas; and John Erwin Cadilińa alias 'Erwin,,37, a driver residing at no. 233 Larino Street in Bgy. Lecheria in Calamba City.
The official said that the two were arrested in a sting in Bgy. Makiling conducted by undercover officers from the Calamba City Police Station Drug Enforcement Unit.
Recovered during the initial buy-bust operation were one heat-sealed plastic sachet containing 25 grams of the so-called 'poor man's cocaine' and the P60,000 buy-bust money topped by two marked P1,000 bills.
Col. Silvio said that when inspected, the suspect's Toyota Hi-Ace Van with plate no. DAU 4569 yielded 29 plastic self-sealing plastic packets found to be containing a total of 27.775 kilos of shabu worth P191,647,000, a weighing scale and P8,000 in different denominations.
In Metro Manila, National Capital Region Police Office director, Major Gen. Edgar Alan O. Okubo commended his men for accounting for nearly P50 million worth of shabu last week.
Officers of the Southern Police District under Brigadier Gen. Kirby John B. Kraft arrested Jonnie Romo,41, during a sting in Bgy. San Dionisio in Parañaque City which resulted in the confiscation of some P3,450 grams of the so-called 'poor man's cocaine' worth P23 million.
Northern Police District director, Brig. Gen. Ponce Rogelio I. Peñones Jr. also commended the Caloocan City Police Station headed by Colonel Ruben B. Lacuesta for arresting two 'HVT's identified as Edgardo Vargas,42; and Lenard Buenaventura,20, who yielded nearly P25.9 million worth of shabu and a gun during a sting in Bgy. 160 last Saturday.
Criminal charges for violation of Republic Act 9165 or the Comprehensive Dangerous Drugs Act of 2002 have been filed against the suspects who are now being held in different police-lock-up facilities or Bureau of Jail Management and Penology-run detention centers.
The PNP chief also said that police units nationwide continue to operations against big-time drug pushers and street-level drug personalities.
The PNP Drug Enforcement Group headed by Brig. Gen. Faro Antonio D. Olaguera and the Regional and Provincial Drug Enforcement Units of the 17 Police Regional Offices and their respective Provincial, City and Municipal DEUs are tasked to go after known big-time drug traffickers and other 'high-value targets' in the country.
Gen. Acorda has underscored his mission to transform the 228,000-strong force as 'Vanguards of Peace' tasked to fully enforce the law and further intensify the war on drugs while ensuring the protection of human rights at all time.
The member of Philippine Military Academy (PMA) 'Sambisig' Class of 1991 who became the 2nd top cop under the young administration of President Ferdinand 'Bongbong' R. Marcos Jr. has declared that under his watch, police would ensure there would be safe, economically stable and crime-free communities across the country.
The 29th PNP chief has ordered an unrelenting anti-criminality campaign nationwide thru intensive police visibility and sincere police presence.
"We will not rest until every Filipino feels safe and secure in their homes, in the streets and in their places of work," he said.
Gen. Acorda likewise vowed to sustain the PNP's massive anti-illegal drugs campaign and internal cleansing program as he cited the force's success in accounting for nearly P6 billion worth of shabu and other prohibited substances since the year started.
During the period, the PNP has conducted over 16,000 anti-illegal drug operations which led to the arrest of more than 21,000 drug offenders, many of them engaged in drug trafficking activities, he said.
He added that those operations resulted in the confiscation of illegal drugs valued at over P5.8 billion.
Gen. Acorda said those are big accomplishments in their campaign against illegal drugs.
"We will continue to be aggressive in all our operations against big- time drug personalities or High-value Individuals (HVIs)," he emphasized.
"All this shows the PNP's strong commitment to slow down if not put an end to the illegal drug trade. Under my leadership, I will assure the public that the PNP will remain steadfast in its commitment to protect the Filipino people and rid the country of the drug menace. We will continue to work tirelessly to ensure that our communities are safe and secure," Gen. Acorda added.
The PNP chief maintained that their efforts have been highly effective in ensuring that those involved in illegal drugs are brought to justice. The top cop also underscored the need to address the root causes of illegal drug use in the country thru an honest-to-goodness demand reduction and rehabilitation.
He said they are also fully supporting President Marcoses' commitment to continue the crackdown on illegal drugs but within the framework of the law and with respect for human rights.
The Commander-in-Chief has also maintained the need to focus on the aspect of rehabilitation and socio-economic development of drug patients.
Gen. Acorda has promised the country that he will make sure no member of the police force would be involved in the illegal drug trade even as he described his own approach to the problem as 'holistic in prevention and aggressive in operations.
The former PNP Director for Intelligence has underscored the big need to subject anti-narcotics policemen to stricter vetting to ensure they are not involved directly or indirectly in any illegal drug activities past or present.
The top cop said he wants a continuing thorough vetting or screening in particular of members of Drug Enforcement Units whether in the PNP National Headquarters or the Regional, Provincial, City and Municipal DEUs.
Gen. Acorda added he has ordered all concerned commanders to further step up their counter-intelligence aimed at ferreting out misfits and scalawags in their organization.
He also maintained that although they have a list of some 3,000 police officers and men involved in illicit activities including the so-called 'bangketa/hulidap' and other robbery-extortion cases related to illegal drug operations, majority of the police force remain hardworking and disciplined policemen who are performing their duties to keep the streets safe round the clock.
The purported involvement of some police officers and men in illegal drugs triggered the move by Department of Interior and Local Government Secretary Benjamin 'Benhur' C. Abalos Jr. to call on all 3rd-Level PNP Officers to tender their courtesy resignations before President Ferdinand 'Bongbong' R. Marcos Jr. last January.
Sec. Abalos said the 5-Man Advisory Group cleared 917 officers of any wrongdoings while 32 are still undergoing investigation.
Gen. Acorda has also assured both Houses of Congress of an intensified PNP internal cleansing program under his command.
The top cop particularly welcomed calls by the Philippine Senate led by Senate President Juan Miguel 'Migz' F. Zubiri and the House of Representatives led by Speaker Ferdinand Martin F. Romualdez of his strong resolve to lead the massive house-cleaning of the police force.
"The Philippine National Police gratefully acknowledges the support of the Senate and the House of Representatives in all ongoing internal cleansing efforts of the organization. We assure our Honorable Senators and Congressmen that all measures are in place to prevent every possible opportunity for irregularities to be committed by police personnel and if committed, appropriate actions will be readily taken," he said.
" At the same time, internal disciplinary mechanisms are enhanced to establish certainty of commensurate punishments as the PNP's stern response to every case involving any form of misbehavior or abuse by its members," Gen. Acorda added.
AUTHOR PROFILE
Opinion
SHOW ALL
Calendar