Isko-Pacquiao tandem in the works??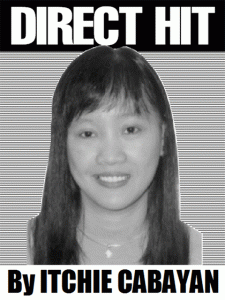 IN a recent tete-a-tete with several insiders from the beleaguered ruling PDP- LABAN party, I learned that a good number of its officials and members are meeting to push for an Isko-Pacquiao tandem.
The said party members, my sources bared, are mulling the idea without the knowledge of the two politicians concerned, Manila Mayor Isko Moreno and boxing icon, Senator Manny Pacquiao.
According to well-placed sources, they find the said tandem to be perfect in that Mayor Kois enjoys a huge following and support from the National Capital Region and nearby regions which can be complemented by Pacquiao hailing from the South.
Both politicians are also products of poverty who know the problems confronting the poor, inside out.
Pacquiao is currently abroad preparing for a fight and as such is not expected to issue any reaction, if and when he learns about this.
No reaction is also expected from Mayor Kois who, on the other hand, has seemingly learned the master of dodging questions about politics.
In every other interview, be it ambush or scheduled, the good mayor says this is not the time to discuss politics as he would rather focus on the problems that the city and its residents face, resulting from the pandemic and specially amid the existence of Delta variant in our midst.
As a matter of fact, asking him about the 2022 elections is a surefire way to end a presscon, ambush interview or what have you.
My two cents' worth on the issue is that an Isko-Pacquiao tandem may indeed, be a perfect one.
Since President Ferdinand Marcos, we have had presidents with outstanding educational background and yet, the country did not soar.
In the case of Mayor Kois and Pacquiao, they may not have sterling diplomas from expensive universities but there is no denying that they are streetsmart and being such is one thing that cannot be taught or learned in schools.
Mayor Kois' political career has also spanned over 20 years, having been a first district councilor for three terms, vice mayor for three terms and having held two posts in the national government before becoming mayor in 2019.
Particularly in the case of Mayor Kois, his personal experience as a poor boy who literally grew up in the squatters finding livelihood and food among the garbage mounds has taught him a lot of life lessons that shaped his mindset, principles and overall character and attitude towards life and relationship with people from all walks of life.
Clearly, these personal experiences along with those he had as a neophyte politician when he became a city councilor decades ago, have helped shape his policies in governance, since he knows all too well the problems that confront those from the grassroots, the ordinary masses.
This can be gleaned from his programs concerning delivery of basic services like the Food Security Program which provides monthly food boxes to nearly 700,000 families amid the pandemic, the provision of monthly financial assistance to the senior citizens, persons with disabilities, solo parents and public school college students, as well as his housing and public school programs, among many others.
His projects are mostly geared toward addressing the needs of those who have less or nothing in life specially when it comes to health and education which is why the six hospitals being operated by the city remain to offer free services to the residents.
The gold standard of testing, the RT-PCR or swab test, was immediately and currently is still being offered for free to residents and even non-Manilans while others charged from P3,500 to as high as P13,000. This was done particularly to help those who need the test so they can go back to work, although other reasons such as for mere peace of mind is enough to avail it.
In the aspect of education, Manila is the only city that provided the most number of gadgets needed in line with blended distance learning. Tablets and laptops were provided to the students and teachers respectively, even complete with loaded SIM cards to spare the recipients from spending money to get acess to internet.
His pro-people stance easily established Mayor Kois' connect to his constituency. They can relate to and readily identify with him.
Mayor Kois has endeared himself to the masses that some see in him the likes of President Ramon Magsaysay.
***
Jokjok (from Jonald Garing of Novaliches, Quezon City)— PEDRO: Hindi ko na kaya 'to! Araw-araw na lang tayong nag-aaway. Mabuti pa, umalis na ako sa bahay na 'to!/INDAY: Ako rin, sawang-sawa na! Away rito, away roon! Mabuti pa siguro, sumama na ako sa 'yo!
***
Direct Hit entertains comments, suggestions or complaints. Please have them emailed to itchiecabayan@yahoo.com or text 0919-0608558.
AUTHOR PROFILE
Opinion
SHOW ALL
Calendar