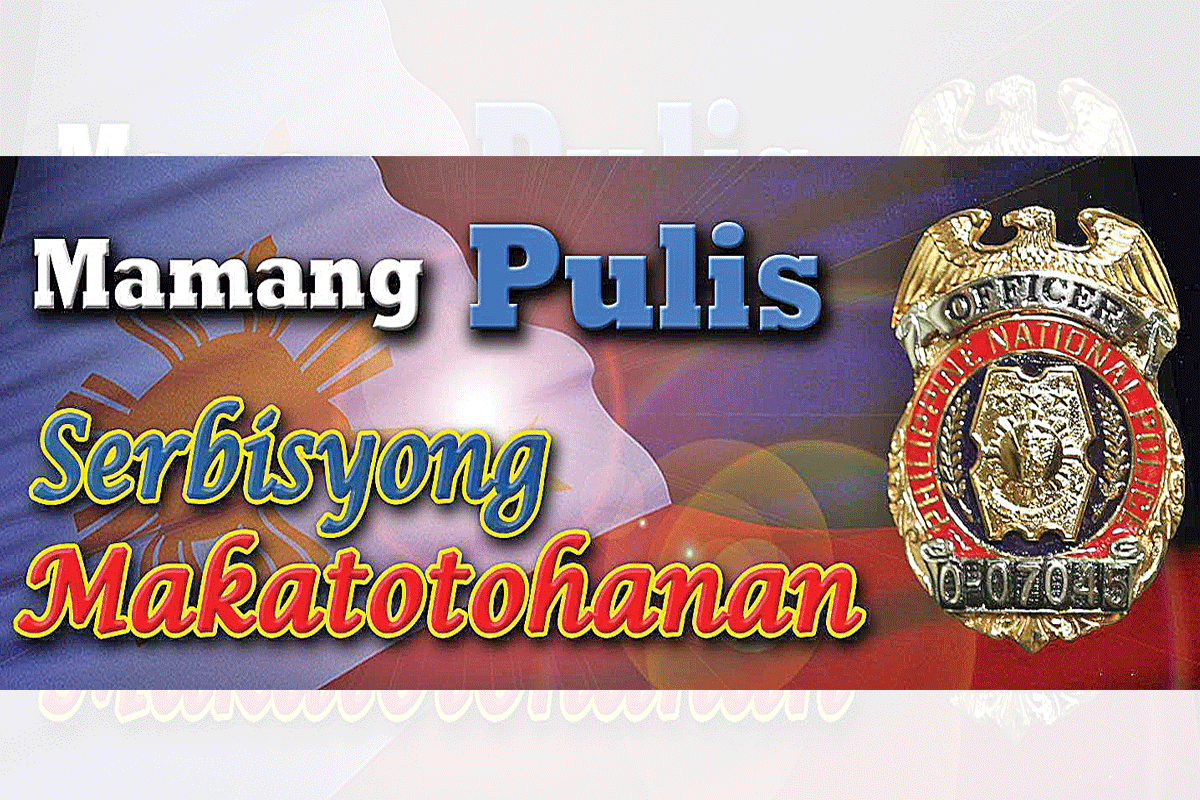 Gen. Azurin wants nationwide implementation of Kasimbayanan Program
SUCH a program proved to be a major factor in the nearly 50 percent crime volume reduction in Ilocos-Pangasinan region when he was still the Police Regional Office 1 director.
Now, General Rodolfo S. Azurin Jr. wants the PRO1 KASIMBAYANAN program or short for Kapulisan, Simbahan at Pamayanan implemented by all Philippine National Police units nationwide.
Under the program, volunteer church leaders shall help the police force nurture its relationship with the community. It also seeks to organize the community as peace advocates as the PNP aspires for lasting peace in partnership with the Armed Forces and various clusters of the National Task Force to End Local Communist Armed Conflict.
When he was still the PRO1 director, Gen. Azurin launched the successful KASIMBAYANAN program which led to a significant 43 percent decrease on recorded crime incidents in Ilocos-Pangasinan region specifically on the 8 Focus Crimes as well as notable accomplishments on their campaign against Most Wanted Persons.
Under their KASIMBAYANAN program, the PRO1 launched an unrelenting campaign against criminality, illegal drugs, corruption and insurgency using a formula in which local government units, the police force, the Church and the community "collaborates, cooperates and commits to work together for the prevention and control of crimes in order to make the community safe and peaceful."
The 28th PNP chief also wants his men to ensure that all barangay development programs shall reach its completion by providing all the help they can give to finish the job.
"Police must nurture harmonious relationship with all sectors. Dapat malaman ng lahat ng mamamayan na ang kanilang pulis ay handing rumpisponde sa anumang oras," Gen. Azurin said in calling for the full implementation of the program knowing that a safe and peaceful country shall lead to more job opportunities needed to sustain our economic growth under the Marcos administration.
President Ferdinand 'Bongbong' R. Marcos Jr. has commended Gen. Azurin, his 1st top cop and the 28th PNP chief in the country's history for reintroducing to the force his peace and security framework entitled "MKK=K which he launched during his incumbency as regional director of the Ilocos-Pangasinan region which include the President's home province of Ilocos Norte.
Gen. Azurin has reintroduced his "MKK=K" program which stands for Malasakit, Kaayusan, Kapayapaan, and Kaunlaran. "The "Malasakit program" aspires to address the external and internal issues of the organization, he explained.
According to the top cop, "the first challenge is for every police officer to convey that we are sworn to serve and protect our community."
"Thus, the PNP must nurture harmonious relationships with all sectors, to be able to address the peace and security of each community. Dapat maniwala ang taumbayan na ang kanilang pulis ay handang rumisponde sa anumang oras ng pangangailangan," he emphasized.
Gen. Azurin said the second challenge is to continue their unrelenting crackdown against rogues in uniform. Thus, he ordered the PNP Directorate for Intelligence now headed by incoming Major Gen. Benjamin C. Acorda Jr. to intensify their monitoring of police personnel involved in illegal activities so that the PNP Integrity Monitoring and Enforcement Group led by Brigadier Gen. Warren F. de Leon can undertake necessary operations to catch them.
"The second challenge is confronting those within the organization who err. In 2016, we began our internal cleansing program of preventive, punitive, and restorative efforts. Subsequently, the dismissal, suspension, and demotion of PNP personnel found guilty of administrative charges has declined over the years," he said.
" However, to further cleanse our ranks of misfits and undesirables, we need to level up our counter-intelligence. To further strengthen our internal cleansing program, all commanders must exercise their respective disciplinary authority. Otherwise, they shall be replaced with a more competent commander," Gen. Azurin told his commanders.
The "Kaayusan Program"aspires to strictly implement the rule of law, without fear or favor, he said.
"That every citizen may abide by ordinances as simple as: walang inuman sa kanto, walang nambabastos sa mga kababaihan, walang mandurukot, at walang maingay sa mga kabahayan pagkalipas ng alas diez ng gabi," said Gen. Azurin.
The "Kapayapaan Program" aspires for lasting peace, he declared.
The PNP chief said that in partnership with the Armed Forces of the Philippines and various clusters of Executive Order No. 70 NTF ELCAC – or the National Task Force to End the Local Communist Armed Conflict, the PNP shall continue this endeavor with more vigor and enthusiasm and shall ensure that all Barangay Development Programs shall reach its completion, by providing security to its implementers.
Lastly, Gen. Azurin said the "Kaunlaran program" "is the ultimate goal of my peace and security framework as it presumes that if our government is perceived to be safe and peaceful, then tourists and investors shall come to our beautiful country, thereby increasing job opportunities for every Filipino."
The PNP chief explained that the "MKK=K" framework shall be supplemented by his "KASIMBAYANAN program" which is short for Kapulisan, Simbahan, at Pamayanan wherein, regardless of religious affiliation, volunteer church leaders shall help the police nurture relations with the community in order to bridge the gap between the two.
It also seeks to organize the community as peace advocates, to ensure that every citizen is law abiding. Further, it aspires for church leaders to counsel their members, thereby contributing to reformation.
"With the ongoing COVID-19 pandemic, your PNP shall continue to cooperate with other agencies in the implementation of Inter-Agency Task Force (IATF) policies, with respect to the different Local Chief Executives. All kinds of crimes shall be dealt with dispatch for the immediate resolution of the case, within the bounds of law, and in accordance to human rights," he added.
Gen. Azurin also emphasized the need for all officers and men of the police force to be united and rally behind the Marcos administration's solid programs to uplift the economy and help the poor.
"In the inaugural speech of his Excellency President Ferdinand R. Marcos Jr., the marching order for every Filipino is his call for unity. To the 227,428 PNP personnel, let us steer this country towards greatness by performing our respective tasks as law enforcers. Let us do our best every day, as if it is our last day; and continue to challenge the status quo, as we serve and protect the members of our community to the best of our ability,' Gen. Azurin said.
AUTHOR PROFILE
Opinion
SHOW ALL
Calendar