Eleazar: 30K body cams to assure PNP transparency in conduct of arrests, searches, patrols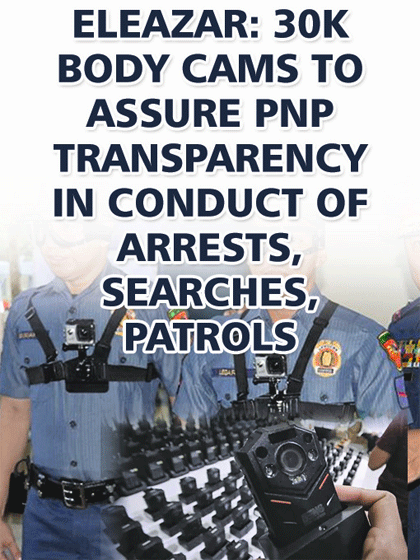 OVER 30,000 Body-Worn Cameras (BWCs) set to be used by the police will not only ensure transparency in their conduct of anti-criminality raids, searches and other operations but also help protect members of the force from counter-charges and other harassment suits, Philippine National Police (PNP) chief, General Guillermo Lorenzo T. Eleazar said.
The BWCs will be used by key PNP units and stations nationwide in their conduct of anti-criminality patrols and operations such as during the service of warrants of arrest and search warrants for illegal possession of drugs and firearms and explosives.
The PNP chief said that so far, a total of 2,696 body cams have already been distributed to different police stations and units in key cities across the country.
"We need additional 32,136 units to include all other support units," he said while adding that the additional body cameras would complete the PNP's requirement of 34,832 units.
"But in the meantime that there is still no budget for this additional procurement, we will make use of what we have and hopefully, this would convince our lawmakers to fund additional body cameras for the PNP in the spirit of transparency and effective law enforcement," Gen. Eleazar explained.
The top cop said he is very much confident that the use of the body cams will finally happen under his leadership.
According to Gen. Eleazar, he would initially want these body cams used by policemen in the service of court-issued search warrants such as warrants for violation of Republic Act 9165 or the Comprehensive Dangerous Drugs Act of 2002 and RA 10591 or the Comprehensive Firearms and Ammunition Regulations Act of 2013 to clear up allegations of irregularities in such operations.
This will serve as protection for both parties, the police operatives and the persons who are subjects of the warrant, " he emphasized.
However, he said that it would be natural for undercover police officers not to use the bulky BWCs since the presence of the bulky gadget strap in their shirts would naturally blow their cover specifically when dealing with drug dealers.
"These body cameras will ensure transparency in police operations and, hopefully, put a stop to allegations that policemen are engaged in planting of evidence or even the summary execution of suspects," he said.
Gen. Eleazar said he has been in touch with the Supreme Court regarding the use of body cameras in the service of search and arrest warrants. A meeting was held last month between the police and the High Tribunal to discuss other matters as well, he said.
At present, the PNP chief said the police force is still awaiting the guidance and the protocols of the High Tribunal in using the body cameras so that privacy concerns and other legal repercussions would be avoided.
NO PROTOCOLS YET ON TAKING VIDEO OF THE POLICE
Although it is already an internally-accepted practice, there is still no official PNP operational policy on how police will respond to private citizens taking their video while they are performing their duties in the streets.
A Journal Group source who spoke on condition of anonymity however said that as all government activities can be documented, conduct of legitimate police operations as a rule may be documented by the public thru the use of their cell phones and cameras. "It's part of the so-called documentation of all our activities but so far, there are no official PNP protocols regarding the matter," he said.
However, the official said that documenting the action of a police officer performing his duty in public can also be likened to a private citizen who may complain his rights are being violated if his video is being taken without his consent.
When he was still the PNP chief, now retired Gen. Archie Francisco F. Gamboa said he instructed the Joint Task Force COVID Shield to remind policemen about their policy on maximum tolerance and their rule on taking of videos and photos.
Gamboa said anyone could take photos and videos in public spaces provided that the individual is not breaching national security protocols and violating one's private rights.
The official issued the statement in the aftermath of an incident along Marcos Highway where some soldiers and policemen manning a Quarantine Control Point accosted a radio reporter for taking videos of the vicinity without seeking their permit.
Gamboa then said that police should be reminded 'when is maximum tolerance maximum.?
"We should also remind our personnel kailan mo babawalan ang isang tao kumuha ng video? That should be clear. Kasi, ang sa tingin ko lang naman, kung hindi siya involved in national security, which is also very broad actually, and it doesn't violate private rights… then everybody is authorized to get video. So 'yan ang general rule," Gamboa said.
Gamboa pointed out that the rule applies to everybody, whether he or she is a member of the media or not.
"Let us not pertain to specific classes or members of society. So kapag hindi siya possible breach ng national security and then second, hindi siya violative of private rights, then anybody is allowed to get video, whether he is with the media or not because freedom of expression still exists in the Philippines," Gamboa said.
On that day, Gamboa also reminded cops to "keep their cool" while manning areas and enforcing security protocols amid the community quarantine.
"Paminsan talaga siyempre tao, mainit ang ulo, matagal na doon sa checkpoint, mainit etc… but it's not a reason for them not to observe the basic tenets," he said.
Following the Marcos Highway incident, the National Union of Journalists of the Philippines called the attention of the PNP reminding members of the police force that there is no law prohibiting anyone from taking photos or videos in public places.
AUTHOR PROFILE
Opinion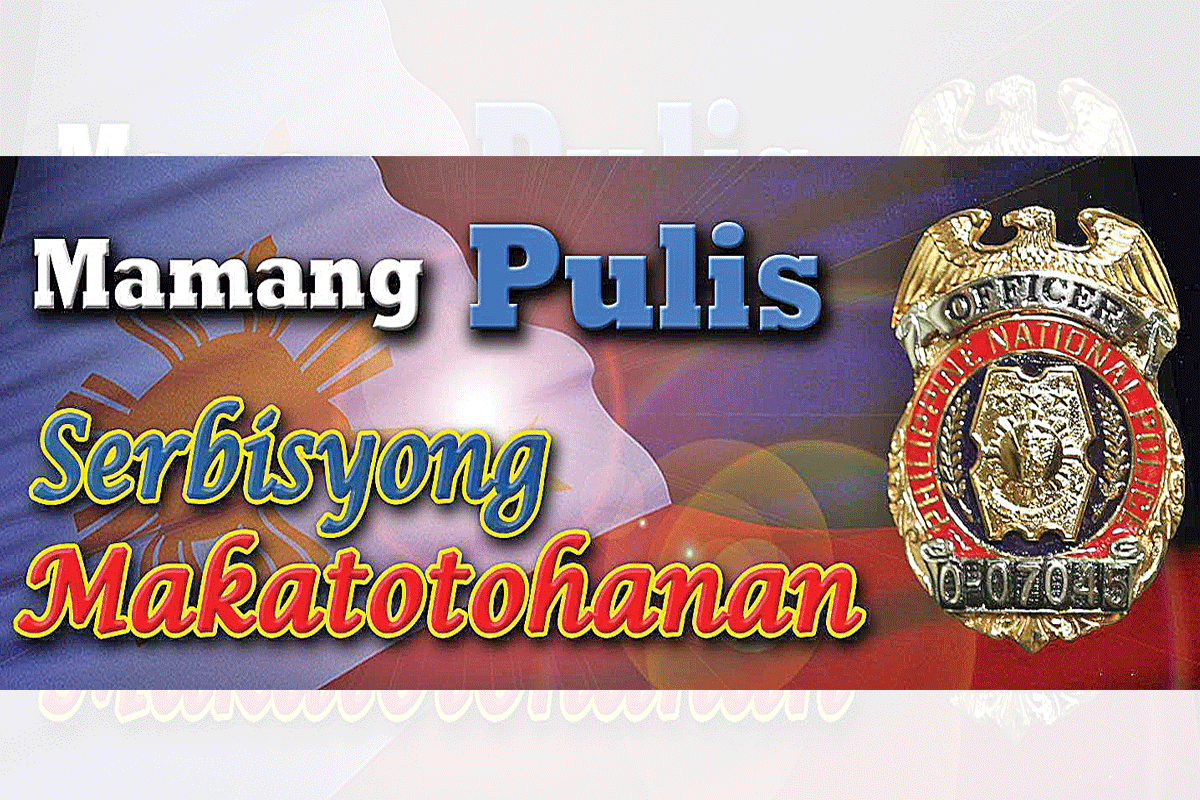 SHOW ALL
Calendar