DENR exec cites need to speed up efforts to address water crisis
ALL stakeholders must continue to work together and intensify efforts to take urgent action to address the global water crisis.
This was the appeal of the Department of Environment and Natural Resources (DENR) during the recently-held World Water Day (WWD) Philippines Awards 2023 ceremony, which served as the highlight of the local celebration of WWD under the theme, "Accelerating Change through Partnerships and Cooperation."
In her keynote speech read by Juan Miguel Cuna, DENR Undersecretary for Field Operations-Luzon, Visayas and Environment, DENR Secretary Antonia Loyzaga stressed that it is high time to accelerate efforts to address the water crisis.
"We need to act urgently, and we need to act now, in partnership and in cooperation with other stakeholders," Loyzaga said.
Loyzaga, together with Undersecretaries Analiza Rebuelta-Teh and Carlos Primo David, was in New York to attend the United Nations 2023 Water Conference from March 22 to 24. The conference was aimed at fostering greater discussion on water-related issues, including access to safe drinking water and sanitation, sustainable development, climate resilience, and international water cooperation.
During the conference, Loyzaga said the Philippines is ready to commit to a global water sector resilience agenda that ensures reliable and equitable access to safe water, sanitation, improved health and gender equality. The country shall also foster knowledge, innovation and just partnerships in water governance through strengthened access to science-informed, equitable and sustainable financing and engagements with the private sector, academia, multilateral development banks, and other stakeholders in climate action.
Meanwhile, Cuna said in his keynote address at the WWD.PH Awards 2023, that it is important to build on past achievements on water conservation and management, and scale new heights.
"The government, the private sector, and civil society organizations have been working together to address the water crisis through innovative and sustainable solutions," Cuna stressed.
Cuna noted that the government has been implementing programs to promote integrated water resource management, improve water quality, and ensure water access for all. He said, the private sector has been playing a significant role in promoting water conservation and efficiency in their respective operations.
Cuna further said that the communities across the country have been taking action to conserve water, such as implementing rainwater, harvesting, reforestation, and use of efficient irrigation systems.
Emphasizing this year's WWD theme, Cuna stressed that accelerating change requires collaboration, innovation and commitment from all sectors of society. It requires collective effort to build a more resilient and sustainable water future for all.
"We at the DENR have started to heavily embark on strengthening our partnerships with multisectoral stakeholders and we are glad to have thus far garnered positive response," he added.
Meanwhile, 21 individuals and institutions were recognized at the WWD.PH Awards 2023 for their significant contribution to the protection and sustainable use of water. The annual event was presented by the DENR, the National Water Resources Board (NWRB), and Maynilad Water Services Inc
This year, the National Irrigation Administration (NIA) handed over the Most Outstanding Irrigators Association Award to Makabilog Maynabo Tambo Irrigators Association, San Agustin San Luis Irrigators Association Inc., and Bayawan United Farmers Irrigators Association. These associations are NIA's partners in irrigation development and management for the efficient delivery of water to farmlands to increase farm production.
The Laguna Lake Development Authority conferred the "Kampeon ng Lawa" Award to the University of the Philippines-Training Center for Applied Geodsey and Photogrammetry, the Department of Science and Technology-Advanced Science and Technology Institute, and the local government of Teresa, Rizal in recognition of their efforts in promoting the sustainable development of Laguna Lake.
The NWRB presented the Water Wise Award to Cebu Technological University, Holcim Phils., and West Cebu Industrial Park Developers Inc.
The DENR-Environmental Management Bureau Water Leadership Award went to Adam Inovejas of Project Blue PH for his initiative to design innovative boats made entirely out of recycled and sustainable materials.
The Local Water Utilities Administration "Huwarang Lingkod Tubig" Award was given to the Baguio Water District, Silay Water District, and Gen. Santos Water District.
Aboitiz InfraCapital Inc.'s "Agos ng Kinabukasan" Award went to San Pablo City Water District for advocating the protection and preservation of water sources and the environment, while Metro Pacific Water's "Kampeon ng Kalikasan" Award was received by the Cagayan de Oro Water District.
Recipients of Maynilad's Water Warrior Award for Advocacy Leadership were Caloocan City Vice Mayor Karina Teh, broadcaster Alvin Elchico, the Quezon City Climate Change Education Department, and the Million Trees Foundation.
Philippine Water Works Association's "Alagad ng Tubig at Kalikasan" awardees were Go Share and the Philippine Bamboo Industry Development Council.
AUTHOR PROFILE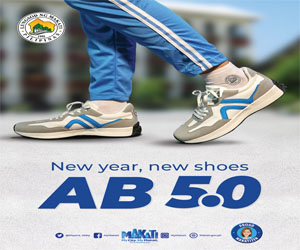 Provincial
SHOW ALL
Calendar