Chairman Mark Delfin appeals to pranksters not to make riders suffer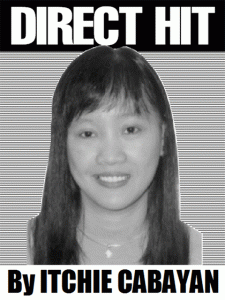 MY very good friend of long standing, barangay chairman cum engineer Mark Delfin, became the target of a prank similar to that which happened to Manila Mayor Isko Moreno last month. Chairman Mark said it was an ordinary working day for him when he received a call from his office, asking him if he ordered certain food that day.
Mark told his staff he did not place any order but since the rider told him that the food will be charged to him (rider), Mark, out of the goodness of his heart, directed his staff to just take the food and pay the delivery guy.
To the surprise of his staff, in a matter of minutes, four more arrived one after another, also claiming that the good chairman ordered food and they were there to deliver his order.
By that time, Engineer Mark was already in a very important meeting and could no longer be reached by his staff who had no choice but to refuse the orders.
It took hours before Mark learned of what happened and all he could do was feel sorry for the delivery guys and wished that it did not happen, specially knowing that the riders are the most adversely affected by the said wrongdoing.
The first was KFC at 3 p.m. for P1,200; Jollibee at 3:15 p.m. for P2,500; S&R at 3:45 p.m. for P1,450 and McDonald's at 4p.m. for P1,600.
Last month, the office of Moreno also fell victim to such pranks, when five fake delivery orders came to the mayor's office days apart.
The mayor's good executive assistant Weng Santiago was told by Moreno to pay for the orders, specially after the mayor learned that the riders will be charged if they don't get paid. The orders came from the same food establishment although from separate branches and the food were given to the employes.
In the case of Mayor Kois, what happened is quite understandable given his stature and that of course, he has political foes.
However, in the case of engineer now chairman Mark, I cannot think of any reason why anyone would do that to him. He is not only among the most amiable chairmen in Manila but he is also a low-key village chief who just works silently for his constituency. He has no known enemies and his constituents simply love him.
It is just unfathomable and lamentable that even in the middle of a pandemic where everyone is suffering in various ways specially economically, there are still some who really lack conscience and can still manage to dupe others, specially food delivery riders who are only trying to make a decent living.
While for most, the pandemic offers a chance for deep soul-searching, awakening and reformation for the better, it is just revolting how it also brought out the evil in others. When normally, we would think of ways to do good deeds as a way of giving back to God for keeping us alive and healthy which is not enjoyed by all, I cannot imagine how some unscrupulous individuals can stomach getting preoccupied with such evil schemes.
There is a saying that 'idle minds are a devil's workplace.' If in the middle of a health crisis where people die left and right and everyone has his share of problems and accompanying stresses, those pulling one over the others and who engage in evil acts, thoughts and deeds for monetary gains and selfish motives are just despicable. I hope the law of karma gets them good.
To those doing these prank orders, stop it. If you think you are hurting the person to whom the order is addressed, you are wrong. It's the delivery guys or riders who suffer because they are made to pay for orders that are refused.
Not all prank victims are as understanding, generous and kind as Mayor Kois or Chairman Mark. It so happened that both of them are public servants who have a larger understanding and heart for the ordinary masses.
The food mobile apps and delivery riders meanwhile, should at least be smart, responsible and careful enough to not entertain any transaction without thorough verification.There should be no room for gullibility in their kind of business.
***
Jokjok (from Ernesto Afable of Mandaluyong City)— D.O.M (Dirty Old Man): Alam mo Pare, lima ang chicks ko ngayon!Hah!/Pare: Wow! Talaga?!Magaganda ba silang lahat, pare?/D.O.M.: Magaganda pare at magkakamukha pa silang lahat!/Pare: Ha? Bakit? Pano nangyari 'yun?
D.O.M.:Lahat sila mukhang pera!
***
Direct Hit entertains comments, suggestions or complaints. Please have them emailed to itchiecabayan@yahoo.com or text0919-0608558.
AUTHOR PROFILE
Opinion
SHOW ALL
Calendar