Carlos orders men to secure election execs ahead of 2022 polls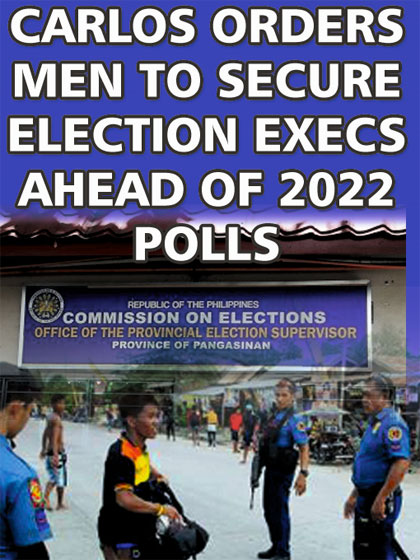 PHILIPPINE National Police (PNP) chief, General Dionardo B. Carlos has ordered his men to provide proper security to officers and employees of the Commission on Elections (Comelec) especially in areas with history of violent poll-related incidents since 1998 as part of their early preparations to ensure the holding of an honest, orderly and peaceful May 2022 national and local elections.
He reiterated his order after a Comelec officer in Northern Samar was shot dead by a still unidentified gunman last Thursday afternoon.
The victim, identified as 42-year old James Mahanoy of the Comelec office in Lope de Vega, Northern Samar was driving his motorcycle on his way home when attacked by the suspect and his cohort without any provocation in Barangay Somoge in Catarman municipality.
The victim suffered gunshot wounds in the head and body and died while being taken to the Northern Samar Provincial Hospital.
As of press time, the Police Regional Office 8 headed by Brigadier Gen. Rommel Bernardo A. Cabagnot is still investigating the motive and identities of the suspects.
A number of poll officers have come under attack from gunmen in the past prompting the PNP leadership to secure them in coordination with Comelec.
Carlos said they will see to it that Comelec officers and employees particularly those assigned in areas with security problems and with history of previous poll-related violence will be secured.
Last month, Aknam Hasim, an election officer of Maluso, Basilan was wounded in a gun attack in Calle Posporo, Barangay San Rafael in Isabela City. A local police investigation showed that Hasim was inside his vehicle with his wife when the car was repeatedly shot by unidentified gunmen.
On June 12, 2018, Noel Miralles, a Comelec officer in Mabini, Batangas was assassinated by two motorcycle-riding gunmen in Batangas City.
However, the most prominent Comelec officer to be killed in recent history was lawyer Alioden Dalaig, a Comelec law department director who was shot dead by still unidentified gunmen in Ermita, Manila on November 10, 2007.
Dalaig was killed just hours after a local election officer in Bacoor City in Cavite was also shot dead by assassins.
Carlos said they are continuously conducting preparations and aggressive operations against all threats to the peaceful and honest conduct of the May 2022. He already has ordered a continuing aggressive PNP campaign against loose firearms and the operation against active and inactive members of private armed groups.
The PNP chief emphasized the need to prepare early, saying that this would effectively deny criminal elements the opportunity to sabotage and sow violence during the campaign period, election day and the proclamation of winners.
During the May 2019 mid-term election, at least 20 people were reported killed in so-called ERVIs. However, the PNP said the number of ERVIs recorded during the 2019 mid-term elections dropped by 55 percent as compared to figures from 2016.
At least 60 ERVIs were recorded from January 19 to June 6, 2019 lower than the 133 ERVIs recorded in the last elections.
For the 2019 mid-term polls, 51 election-related violent incidents were recorded from January 13 to May 12 while eight cases were reported during Election Day. Only one was reported so far after the elections. Of the 113 victims reported in the 2019 polls, 23 were killed, 46 were injured while 44 were unharmed while 50 people were reported killed during the 2016 presidential elections.
The PNP's campaign against loose firearms and partisan armed groups are known to be major factors in addressing ERVIs every election.
During the 2019 elections, police seized more than 5,000 firearms of different types and nearly 50,000 other deadly weapons from over 6,200 suspects who were arrested during police response, checkpoints, gun checks and the serving of search warrants for violation of Republic Act 10591 or the Comprehensive Firearms and Ammunition Regulations Act of 2013 andRA 9516 or illegal possession of explosives.
The PNP leadership then attributed the reduction in the number of incidence of election violence to early preparations that started as early as July 2018.
The sharp decrease in ERVIs during the past election was attributed to strict security measures implemented by both the PNP and the Armed Forces in cooperation with other law enforcement agencies, and the cooperation of candidates to prevent violence.
Other factors which may have contributed to the low ERVIs were the PNP's application of search warrants on known criminal lairs, guns-for-hire, and members of private armed groups and application of warrants of arrest on wanted persons.
More than 17,500 positions will be at stake during the May 2022 elections. On E-Day, Filipinos will be electing a new President, a Vice President, 12 senators, 51 party-list representatives, 209 congressional district representatives, 79 provincisl governors and vice-governors; 722 provincial board members, 84 city mayors and vice mayors, 816 city councilors, 1,533 municipal mayors and vice mayors and 12,308 municipal council representatives.
Carlos has ordered all police territorial units to keep a close watch on areas with intense political rivalries and see to it that they will be after the heads of politicians employing partisan armed groups and storing illegal firearms that could be used to commit gun-related violence in next year's polls.
Prior to the start of the May 2019 election campaign period, the PNP identified 701 areas including the cities of Mandaluyong, Manla, Caloocan, Malabon and Pasay as election 'hot spots.'
The PNP leadership said then that the number were almost half or 42.9 percent of the 1,364 cities and municipalities in the country and prompted them to 'adjust' the deployment of their personnel for election duties.
However, the PNP is known for conducting a full validation of their poll watchlist including those so-called Areas of Election Concern (Yellow), Areas of Immediate Concern (Orange) and Areas of Grave Concern (Red).
Yellow areas are those with a histories of election-related incidents, intense political rivalry, and areas that had been previously declared under the control of the Commission on Elections.
Orange areas are those located in places known for having a considerable presence of armed groups including the New People's Army, Bangsamoro Islamic Freedom Fighters, Abu Sayyaf Group , the Maute Group and rogue elements of the Moro National Liberation Front and Moro Islamic Liberation.
Areas under the Red category were those with combined factors under the Yellow and Orange criteria and would warrant motu propio declaration of the Comelec Control.
With nearly two months before the May 13, 2019 polls, the number of areas identified by the PNP as 'election hot spots' increased to 941 following validation.
On that date, 131 towns and cities were described as being in the 'Yellow' category while 238 are in the 'Orange' category. Another 570 areas were placed und the 'Red' category or areas of grave concern including 66 in Luzon, 50 in Visayas and 492 in 494 in Mindanao.
Carlos said their intensified law enforcement operations will be done thru service of warrants of arrest and search warrants, checkpoint operations, police patrols and response as well as the so-called 'Oplan Sita/Bakal/Galugad.'
Based on historical data of previous elections, election related incidents resulting from intense political rivalry are known to escalate during the start of the campaign period.
"We will ensure to remain apolitical and to protect the will of the electorate by ensuring honest, orderly and peaceful elections in May," Carlos emphasized.
AUTHOR PROFILE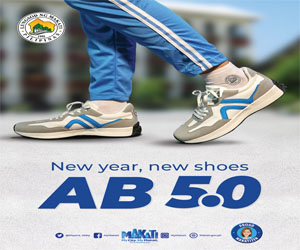 Opinion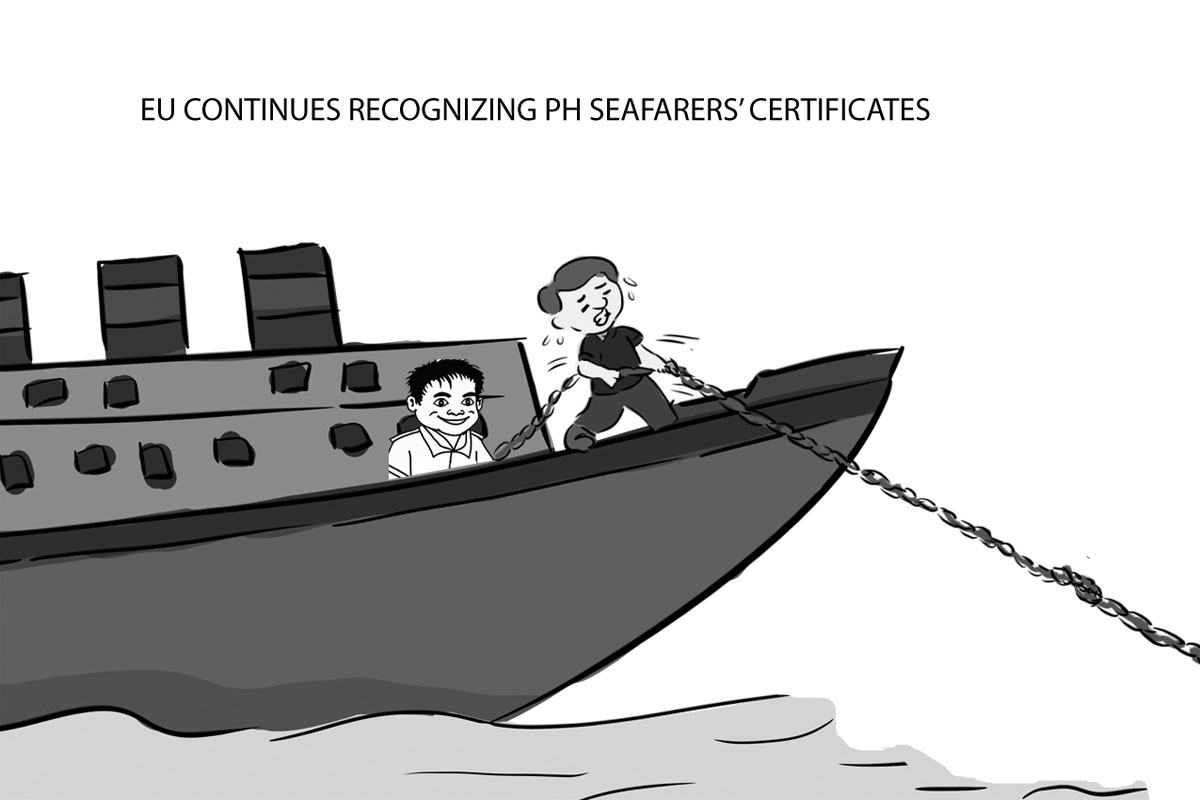 SHOW ALL
Calendar