Bright and proud 'Maringal' Generals in the PNP
I'M referring to the remaining members of the present ruling class in the Philippine National Police, the Philippine Military Academy 'Maringal' Class of 1988 led by General Dionards Carlos, all of whom will be retiring from the service very soon after a sterling career in the military and the police force.
The pride of the 'Maringals,' Gen. Carlos will retire on his 56th birthday on May 8, a day before the May 9 national and local elections unless President Duterte extends his term until June 30 to give the incoming Commander-in-Chief a freehand to appoint his personal choice to become the country's 27th PNP chief.
Good friends like the PNP chief, 4 other members of PMA Class 1988 are also set to retire very soon . One of them, Lieutenant Gen. Marni Marcos, the erstwhile commander of the Area Police Command-Northern Luzon actually marked his 56th birthday on Friday, April 22. He was replaced by Lt. Gen. Jun Azurin of PMA 'Makatao' Class of 1989.
The 3 others are Lt. Generals Ferdie Divina and Joel Balba and Major Gen. Jun Tadeo. Divina, the PNP Deputy Chief for Operations will retire on May 2 while Balba, the head of the Area Police Command-Visayas will retire on June 11.
On the other hand, Maj. Gen. Tadeo, currently the PNP Director for Personnel and Records Management will retire on May 24.
How time really flies. I have met these officers and gentlemen when they were still majors working hard to track down wanted criminals and bust organized crime syndicates and rogues in uniform.
Marcos, a proud product of the public school system in Laoag City in Ilocos Norte-your guess is as good as mine if the question to be asked is: is he related to the Marcoses?'—became a Southern Leyte police director and later head of the PNP Anti-Cybercrime Group.
The Ilocano-speaking general also became a director of the Bangsamoro Autonomous Region in Muslim Mindanao; PNP Director for Comptrollership and later Director for Investigation and Detective Management; and Director for Integrated Police Operations-Eastern Mindanao before being designated as Area Police Command-Northern Luzon by Gen. Carlos last November.
Divina gained fame when he became a Bulacan Police Provincial Office director and launched a no-nonsense crackdown against illegal drug trafficking and abuse and other forms of criminality as well as police scalawags. He later became a Police Regional Office 8 director in Eastern Visayas and later Area Police Command-Southern Luzon commander.
Last March 6, he was designated by Gen. Carlos as the PNP Deputy Chief for Operations following the assumption of Lt. Gen. Rhodel Sermonia of PMA Class 1989 as PNP Deputy Chief for Administration and Lt. Gen. Vic Danao of PMA 'Sambisig' Class of 1991 as the new PNP The Chief Directorial Staff.
Lt. Gen. Balba is another well-rounded officer who used to visit me and my family in our house in sleepy Antipolo City when he was still the Rizal police director. A simple and unassuming guy, Joel and I used to have a couple of iced cold beer before calling it a night during his stint as Rizal PNP director.
He went on to head two police district in Metro Manila: the Eastern Police District and the Manila Police District before becoming a PRO8 director and later commander of the elite PNP Special Action Force. He was named as Area Police Command-Visayas director on May 10, 2021.
Maj. Gen. Tadeo is a seasoned officer of the PNP Highway Patrol Group and the Criminal Investigation and Detection Group who, in August 2020 was named by then PNP chief, Gen. Archie Gamboa as director of the PNP Finance Service after a 6-month stint as PNP Health Service director.
Tadeo eventually joined the Command Group of the National Capital Region Police Office and later became the PNP Area Police Command-Visayas deputy director before being picked by Gen. Carlos to be his Director for Personnel.
As their mistah and my good friend former Police Colonel Michael Ray Aquino had previously told me, Gen. Carlos and their classmate Allen Paredes swapped places while they were about to graduate from Fort del Pilar in 1988.
Carlos originally should have joined the Air Force while Paredes was to join the now defunct Philippine Constabulary. However, Carlos was disqualified from joining the PAF since he has no 'depth perception' which is needed to become a pilot.
The rest is history since the one who should have joined the PAF entered the Constabulary and became the head of the PNP, the PC successor while Paredes, who should have joined the PC became an Air Force chief.
Carlos is a known 'soldier's soldier,'—a well-rounded officer, skydiver, scuba diver, Big Bike rider, a Special Action Force officer. He used to be a Quezon police director who went on to become a PNP spokesman, a PNP Aviation Security Group and PNP Highway Patrol Group director, a PRO8 director and later head of the PNP Directorate for Police-Community Relations.
Dionards also became a PNP Director for Information Communications Technology Management, a DIPO-Visayas head and later the PNP-TCDS which is the 4th highest position in the police force. I'm proud to tell my friends and neighbors that the former PNP spokesman who used to visit me and my family in our home wearing his favorite Batman costume while in the company of his fellow 'Ghost Riders' became our PNP chief.
WHY NOT FIXED TERM FOR PNP, AFP CHIEFS?
I join my friends in the police and military service in calling for a fixed term for PNP and AFP chiefs for the good of the country. Why? This will really provide whoever will be appointed as PNP and AFP chief enough time to fully implement his plans and programs .
In particular, the problem with having a PNP chief for 6 months, or even 2-months in the case of retired Gen. Pikoy Cascolan is that each Chief has their own programs and policies that will affect those of his predecessors. In short, there is no continuity.
Former PNP chief-turned senatorial candidate Gilor Eleazar said he is inclined to support any legislation that will provide a fixed term for the PNP and AFP chiefs as this will solve the government's problem on the revolving door system.
The revolving door refers to the quick change in an organization's leadership where chiefs only serve for a short period of time. "For so long a time, iyon ang nakita natin na ginagawa sa ating bansa. Umuubra siya kasi technically, pwede naman siyang gawin sa Constitution natin. Pero kung ako ang tatanungin kung mas maganda ba na may fixed term na mas mahaba ang PNP at AFP chiefs? Mas maganda iyon," said Eleazar.
Eleazar, who served as the top cop for only 6 months just like his mistah from PMA 'Hinirang' Class of 1987, Gen. Debold Sinas and Gen. Carlos, , said a fixed term will ensure the continuity of the plans and programs of the PNP and AFP chiefs since they have enough time to see to it they are being implemented.
Under the current situation, the PNP and AFP chief are getting a replacement after they reach the mandatory retirement age of 56 years old.
"Suportado ko na magkaroon ng minimum tenure na at least three years para sa PNP at AFP chief. Isipin niyo ako 56 years old and I just retired last November. Sayang 'yung investment ng gobyerno sa mga opisyal na nasa peak ka ng career mo ay magre-retire ka," he said.
"It would be better kung may fixed term than what we have right now. Ito kasing revolving door ay nakakaapekto adversely sa atin dahil kailangan mag-adjust nang mag-adjust sa sistema dahil papalit-palit agad ang mga namumuno," he explained.
The Senate has adopted House Bill 10521 which prescribes fixed terms for ranking officers of the AFP last January. However, many police officers and men are one in saying that the same should be in effect too at the PNP.
"Mas mainam sana na mapasama dito ang PNP dahil pareho naman iyang sistema sa AFP. Gusto natin na mas maayos ang pamumuno sa ating kapulisan para mag-improve pa ang kanilang performance at mas maging disiplinado sila," Eleazar said.
AUTHOR PROFILE
Opinion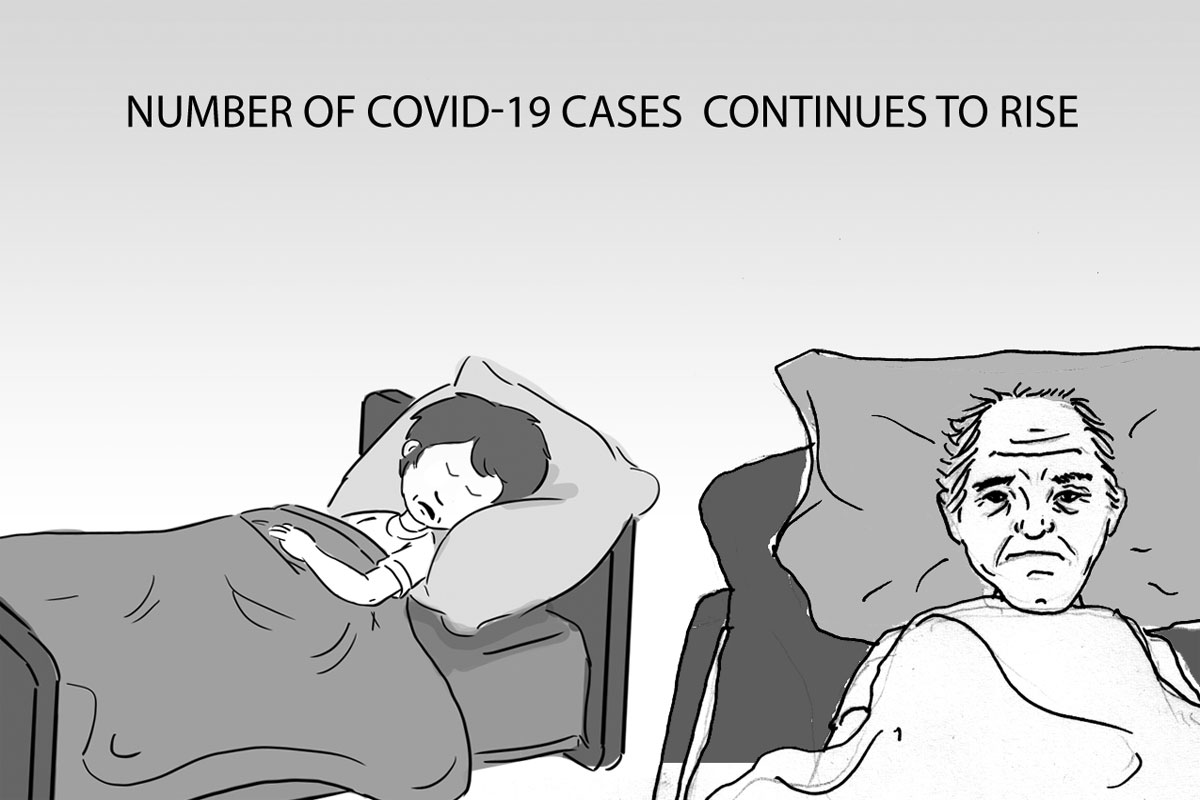 SHOW ALL
Calendar