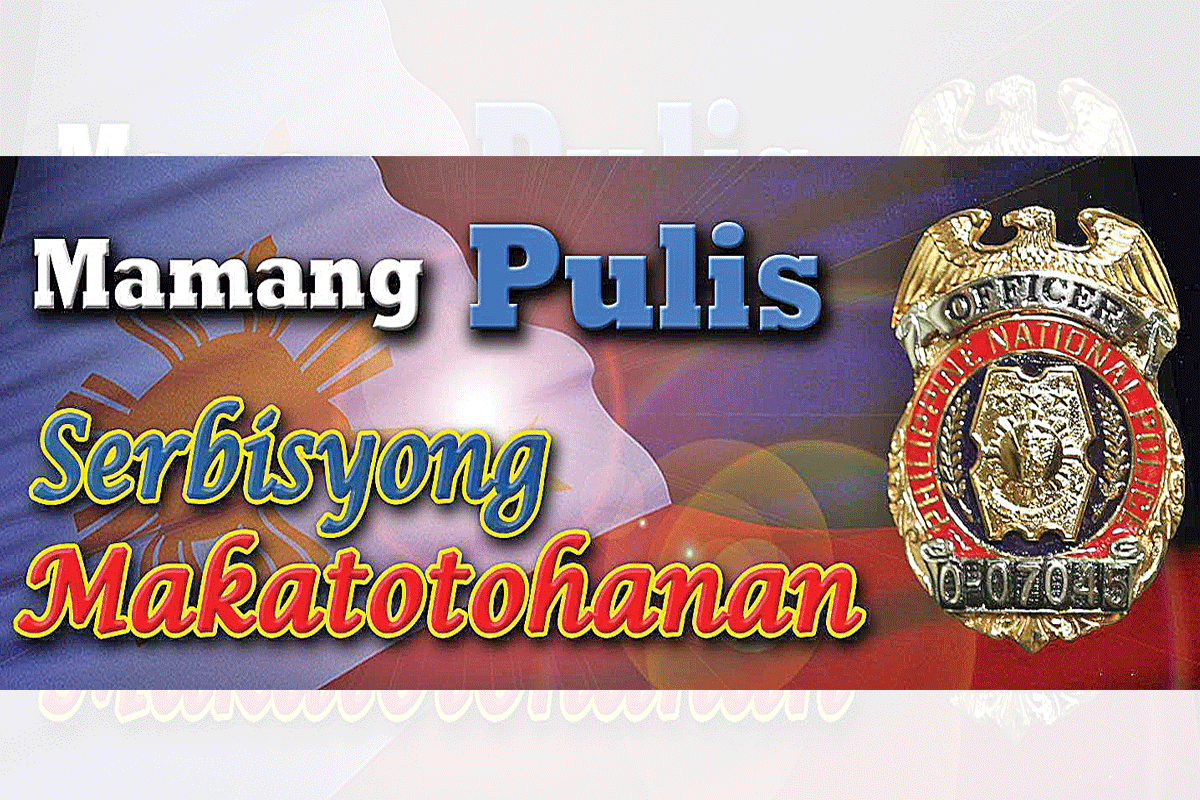 Azurin: No stopping drive vs wanted persons in the country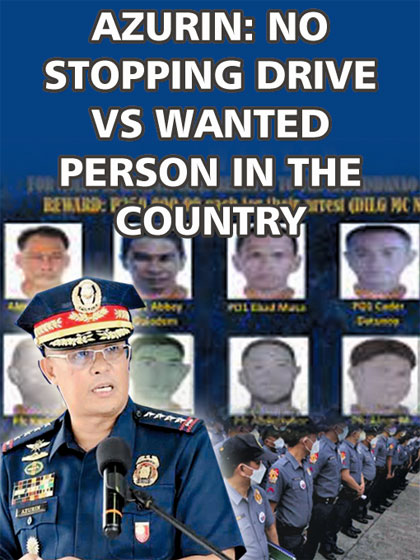 PHILIPPINE National Police (PNP) chief, General Rodolfo S. Azurin Jr. has assured there won't be stopping their all-out campaign to account for wanted persons to prevent them from committing more crimes and bringing further trouble in the streets. The drive would also ensure that Filipinos would be safe in their sleep, at work or in school particularly during the Yuletide Season, the top cop added.
During his first 89 days as PNP chief, police across the country accounted for 23 Most Wanted Persons carrying a total of P16.640 million in monetary rewards offered by the Department of Interior and Local Government.
Also arrested during the period were 23,428 Other Wanted Persons while 86 surrendered after feeling the heat of a massive police manhunt operation. Another 18 wanted criminals died in shootouts with officers trying to arrest them.
The period also saw the PNP Directorate for Intelligence headed by Major Gen. Benjamin C. Acorda Jr. giving nearly P6 million in cash reward to 39 informants who provided them reliable information that led to the arrest of 36 most wanted criminals.
Gen. Azurin said that since last January to date, more than 78,000 wanted persons in the country have been hauled to jail amid their stepped-up anti-criminality efforts.
Citing a consolidated assessment report released by the PNP Directorate for Operations last December 7, the top cop said there were a total of 78,293 persons who were arrested by the police nationwide for their involvement in various criminal cases.
He said that during the same period, 2,940 members of organized crime groups were rounded up while 381 were neutralized and 162 criminal group members surrendered. A total of 369 assorted high-powered and low-powered firearms were confiscated from the suspects.
Gen. Azurin said that in the PNPs campaign against loose firearms, 32,441 firearms were confiscated, 9,724 individuals were arrested and 4,930 cases for violation of Republic Act 10591 or the Comprehensive Firearms and Ammunition Regulations Act of 2013 were filed against the suspects in court.
In other non-index crime cases, PNP units across the country also arrested a total of 3,135 persons involved in illegal logging activities; jailed 29,572 individuals as a result of their campaign against illegal fishing; and rounded-up 103,159 for their involvement in illegal gambling activities.
"I commend our hardworking PNP personnel who made each police operation successful. Indeed, this triumph only implies that PNP is performing what we promised to the President and the Filipino people," Gen. Azurin said.
" In my term as 28th Chief PNP, I will intensify more our police presence in the community to reduce crime, corruption, illegal drugs, insurgency, terrorism as well as most wanted persons who are fugitives from justice and who continue to pose threats to peace and order in our country" the top cop added.
According to the PNP chief, since last January, a total of 2,440 members of the New People's Army which has been described as a 'communist terrorist groups' have already surrendered to authorities with renewed hope to become productive members of the mainstream society.
A total of 1,133 rebel firearms were confiscated or surrendered during these operations.
Gen. Azurin said their accomplishment against these 'CTGs' and their support systems are clear manifestations of the strong partnership of the PNP with other government agencies, local government units and stakeholders who willingly have extended full support to the implementation of Executive Order No. 70 to End Local Communist Armed Conflict.
Gen. Azurin also noted that the dismantling of 17 NPA guerrilla fronts during the period in which the remaining active NPA groups have been already weakened after their leaders were either captured or slain in internal security operations.
"These landmark operational accomplishments by PNP units nationwide showcase the sincere dedication, compassion, and diligence of our PNP personnel in furtherance of the PNP's peace and security framework, the M+K+K=K Program supplemented by the KAIMBAYANAN Program to win against all forms of criminality," Gen Azurin said.
KASIMBAYANAN or Kapulisan, Simbahan and Sambayanan refers to the active participation of the police force, Church and other faith-based organizations and the community in the drive versus criminality, terror, drugs and corruption.
AUTHOR PROFILE
Opinion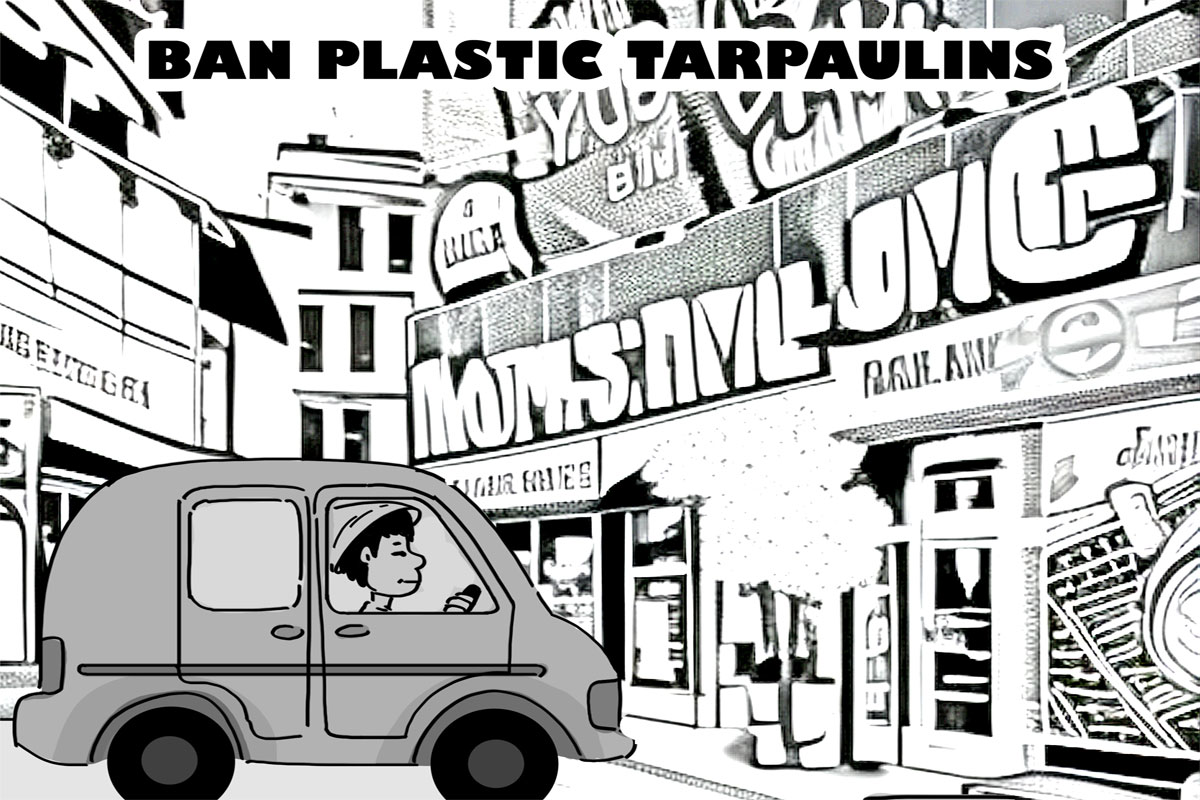 SHOW ALL
Calendar