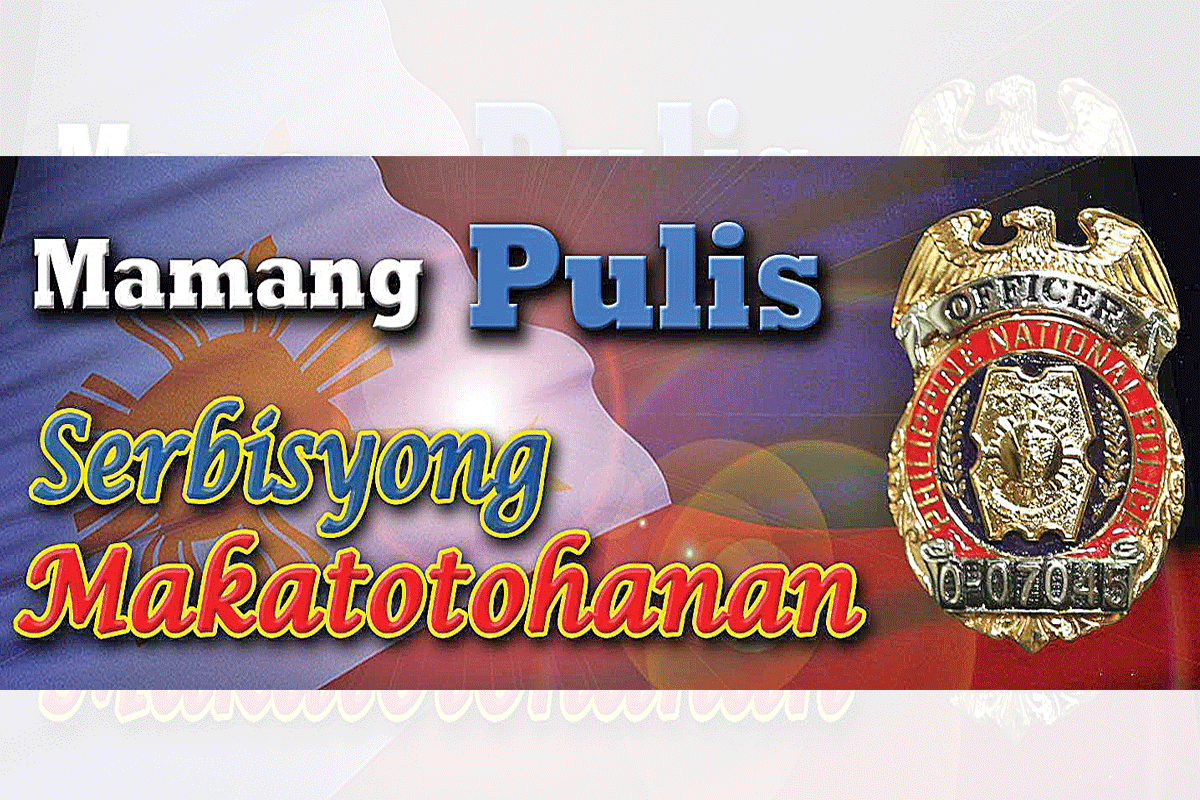 Azurin: Be on alert for fake bills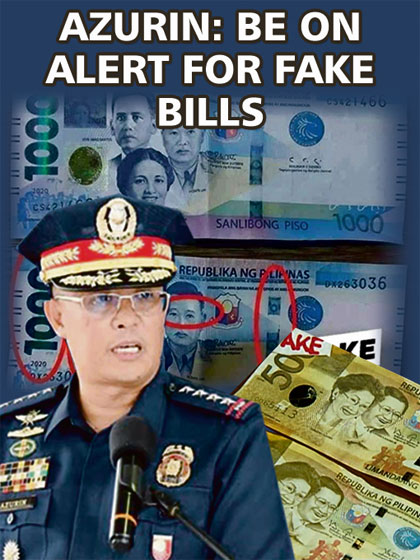 THE Philippine National Police (PNP) headed by General Rodolfo S. Azurin Jr. yesterday warned the public to be wary of counterfeit money being circulated by syndicates in Metro Manila and other parts of the country as these gangs try to take advantage of the holiday shopping rush to fool people.
Last December 7 alone, Southern Police District (SPD) director, Brigadier Gen. Kirby John B. Kraft said his men arrested a 40-year old woman who used a fake P1,000 bill to pay her taxi fare in Taguig City.
The official said that suspect Elizabeth de Roxas was apprehended after she gave a bogus P1,000 bill to taxi driver Jeffrey Andrino to pay for her P150 fare. It turned out that the woman asked that she be taken to Gate 3 of Chino Roces Extension in Barangay Fort Bonifacio in Taguig City from Malibay, Pasay City.
After reaching her destination, the suspect handed over the P1,000 bill to the driver and demanded her P850 change. However, the cabbie discovered that what she gave was a fake bill when he thoroughly examined it.
The driver returned the money to the woman who tried to exchange the bill in a nearby convenience store but was also turned down. When she again tried to give the same bill to the cabbie, the latter refused triggering an argument.
He sought the assistance of officers manning the Taguig City Police Sub-Station 1 who later arrested the suspect after discovering that she was in possession of a fake bill.
"Atin pong pinapaalalahanan ang ating mga kababayan na siyasating mabuti ang perang tinatanggap para hindi mabiktima ng mga pekeng salapi. Tingnan natin ang mga security features ng totoong pera, tulad ng security thread at watermark. Lalong lalo na ngayong kapaskuhan ay madami na naman maglalabasang pekeng pera at mga masasamang loob na magsasamantala sa paggamit nito," said Brig. Gen. Kraft.
Police yearly make a number of arrests and seizures pertaining to the circulation of fake bills in the country.
Last year, some P100,000 worth of counterfeit money were confiscated by agents of the PNP Criminal Investigation and Detection Group in separate entrapment operations in Cebu City.
One of the suspects yielded 52 fake P1,000 bills and 70 counterfeit P500 bills worth P88,000. Another suspect yielded P24,000 worth of fake P1,000 and P500 bills in October 2021.
In their initial inspection, Banko Sentral ng Pilipinas (BSP) agents revealed that the seized bills were found to be fake as they all failed to show any of the security features a genuine bill has.
The BSP also called on Filipinos to familiarize themselves with the features of the genuine ones to avoid being victimized by these illegal peddlers and also to help avoid the spread of the use of these counterfeit banknotes for legal tender.
Persons arrested for the offense are charge for illegal possession and use of false treasury or banknotes and other instruments under Article 168 of the Revised Penal Code.
With more money circulating this Yuletide Season, Gen. Azurin has warned the public anew to be vigilant against the proliferation of fake P1,000 and P500 bills being passed off in different parts of the country by syndicates and con artists.
The top cop underscored the need for the citizenry to be 'sharp eyed' against fake currencies this period and help authorities catch those circulating them. In the past, authorities have complained that most victims of counterfeit notes do not report the incident and when duped, they may try to pass on the fake note to other unsuspecting persons.
PNP spokesperson, Colonel Jean Fajardo issued the same reminder saying that crimes against property like theft and robbery as well as fraud and deceit usually increase during the Christmas and New Year holidays.
"Nagpapaalala ang PNP na mag-ingat po tayo sa ating mga transaksyon kapag tayo ay namimili sa mga palengke, sa mga malls, lalong-lalo na na ganitong pagkakataon na marami tayong mga balikabayan na uuwi at may bitbit na mga remittance," she said.
With Christmas Day just around the corner, Col. Fajardo asked the public to buy gifts and supplies as early as now to avoid the holiday shopping rush. She also reminded the people to only buy from legitimate sellers, even in online shops.
"'Wag na tayong sumabay doon sa Christmas rush na sinasabi. Kung kayang mamili nang mas maaga, 'wag humalo doon sa napakamarami. Kapag ganyan na maraming tao, diyan madalas nagkakaron ng switching ng pera," she said.
Officials said that fraudsters usually operate in heavily-crowded areas including flea markets or 'tiyangges' and slum areas where cash velocity is especially high during market days, mainly Saturdays and holidays.
In the past, police said many of these counterfeit bills were found to have been distributed by syndicates in different parts of Metro Manila, Ilocos-Pangasinan region and Calabarzon (Cavite, Laguna, Batangas, Rizal and Quezon) region.
Arrests have been made previously in Pasay City, Binondo, Manila, Cebu City and many parts of Mindanao. In a sting in Pasay City three years ago, officials discovered that the counterfeit money came from Maharlika Area in Taguig City.
The suspects usually sell the fake P1,000 bills for P300 each, thus the police warning for the public to be watchful in receiving money especially P1,000 bills in their financial transactions.
The arrests were made amid complaints that some people are having a problem in identifying genuine bills from fake ones. However, despite the series of police operations targeting these fake money syndicates, the proliferation of fake P1,000 and P500 bills remains a problem, particularly among poor Filipinos.
In many cases, poor taxi drivers and vendors have ended up penniless after giving change to the P1,000 bills paid to them by innocent-looking people, some of them even wearing 'Barong Tagalog' or long-sleeved shirts.
In case the public get hold of fake banknotes, they are advised to surrender them to the Currency Issue and Integrity Office through the Cash Department, BSP, Security Plant Complex, East Avenue, Diliman, Quezon City or to the nearest BSP regional office or branch.
AUTHOR PROFILE
Opinion
SHOW ALL
Calendar