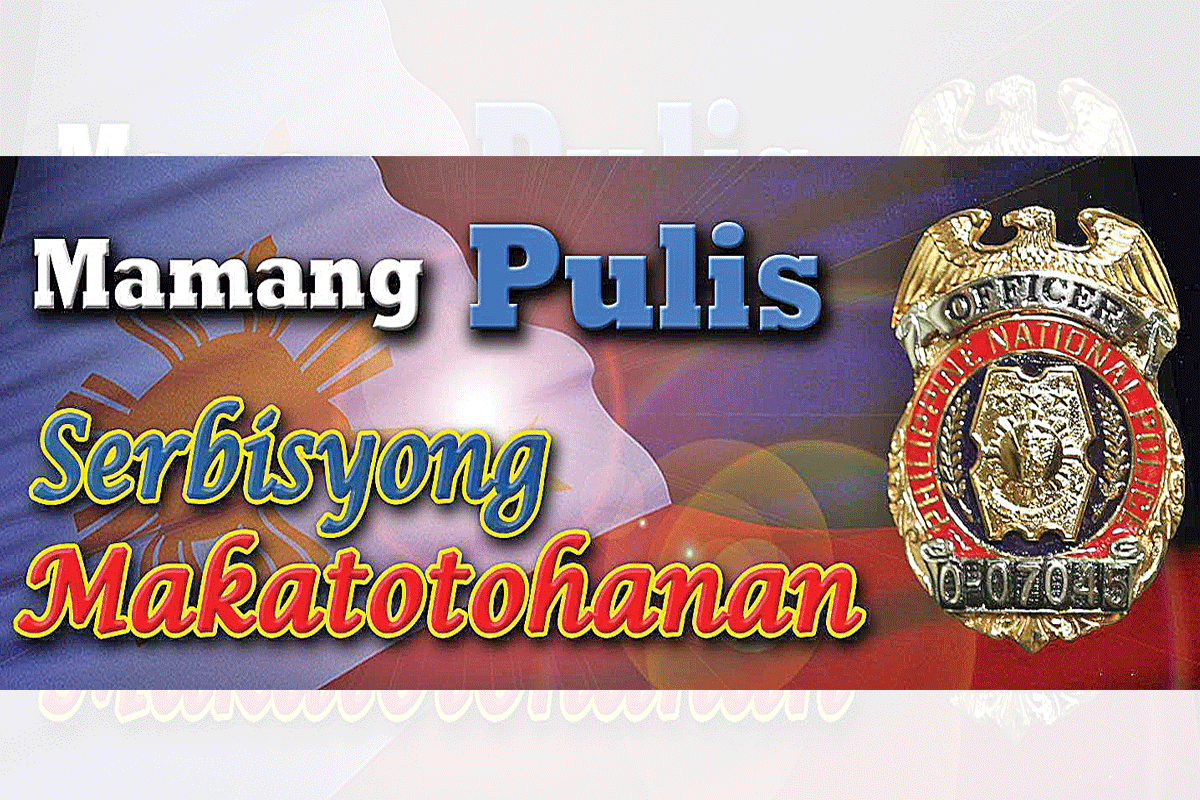 204 of 226 new PNPA grads now PNP lieutenants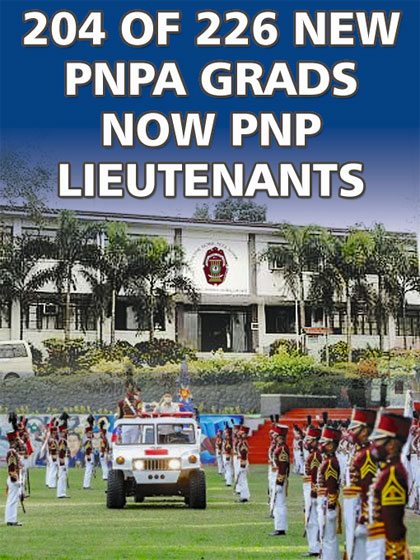 THE Philippine National Police (PNP) headed by General Dionardo B. Carlos welcomes 204 freshly-minted Lieutenants from the PNP Academy who were all urged by President Duterte last week to maintain their professionalism by heeding the calls of duty without acting beyond their legal parameters.
"You must maintain professionalism for you will soon take over its leadership and will be the role models of future Filipino law enforcers," the Commander-in-Chief told the new PNPA graduates, all considered as future police, jail and fire generals.
He also extolled the PNP for being at the forefront in the government's fight against illegal drugs, criminality, and terrorism under his leadership.
The President also expressed hope the 226 new PNPA graduates would sustain the "same level of courage, determination and passion" as they join the PNP, the Bureau of Fire and Protection (BFP) and the Bureau of Jail Management and Penology (BJMP).
President Duterte reminded the PNPA graduates to avoid acting beyond their legal parameters since their mandate is to serve and protect the Filipino people.
"Although our war with lawless forces is far from over, I am proud to say that we have made great strides in improving the crime situation in the country. Always be reminded that the core of your profession is and will always be the welfare of our people," he added.
The 204 are among the 226 members of PNPA 'Alab-Kalis' or Alagad ng Batas na Kakalinga sa Sinilangang Bayan' Class of 2022 who took their oath of office before President Duterte last April 21 at the PNPA headquarters in Camp General Mariano Castañeda in Silang, Cavite.
The 11 other members of the Class will join the Bureau of Jail Management and Penology while the remaining 11 will join the Bureau of Fire Protection.
Gen. Carlos officially introduced the Top 10 members of PNPA Class 2022 who completed the 4-year cadetship program to become commissioned officers in the PNP, BJMP and BFP before newsmen at Camp Crame.
Eight of the Top 10 will join the PNP namely Cadet Ernie B. Padernilla of Passi City, Iloilo; Cadette Regina Joy Caguioa of Taguig City; Cadette Precious Shermaine Lee of San Juan City; Cadet Fidel Triste III of Palo, Leyte; Cadette Geneva Flores of San Carlos City, Pangasinan; Cadet Zoe Seloterio of Santa Barbara, Iloilo; Cadet Mhar Viloria of Pugo, La Union; and Cadette Alyssa Bantasan of Bauko, Mountain Province.
The two others are Cadet Neil Navalta of Diffun, Quirino who will be joining the BFP and Cadette Collyn Mae Panganiban of Antipolo City, Rizal.
Padernilla, the Class Valedictorian received the Presidential Kampilan Award while Caguioa, the Class Salutatorian got the Vice-Presidential Kampilan Award.
Padernilla also received a house-and-lot from the government.
"Your valedictorian, I am talking on behalf [of the government], may house and lot 'yan," said President Duterte. The top PNPA Class 2022 graduate also received the Chief,PNP Kampilan Award and got the Best in Forensic Science Award and the Best in Thesis Award.
Members of PNPA Class 2022 to 2025 with outstanding punishments and demerits were also pardoned by the President last week.
"I, Rodrigo Roa Duterte, President of the Republic of the Philippines, hereby pardon all outstanding punishments and demerits of the Class 2022, Class 2023, and Class 2024, and Class 2025 of the Cadet Corps of the Philippine National Police Academy, effective today," the President announced.
PNP spokesperson, Colonel Jean Fajardo explained that some of the cadets incurred orresponding punishments and demerits by committing administrative infractions.
These include being late in formation, having an unshined buckle during inspection, and being caught sleeping in class.
The PNPA is the primary source of commissioned officers of PNP whose alumni now occupy key positions in the command structure of the organization. The Academy provides a 4-year cadetship program consisting of academic and non-academic curriculum.
The PNPA's supervision has already been transferred from the Philippine Public Safety College to the PNP.
At present, dozens of PNPA-bred police generals are now occupying key positions in the 225,000-strong police force.
Set to become the highest-ranked PNPA product in the PNP soon is Major Gen. Rhoderick C. Armamento of PNPA Class 1990. Armamento will get his 3rd-star or the rank of Police Lieutenant General with his designation by Gen. Carlos as new Area Police Command-Southern Luzon commander.
The official used to be the PNP Director for Information Communications and Technology Management.
Two others from PNPA Class 1988 are now 2-star police generals in the person of Maj. Gen. Walter E. Castillejos, the PNP Director for Police-Community Relations and Maj. Gen. Domingo R. Lucas, the PNP Director for Research and Development.
The PNPA is headed by Maj. Gen. Alexander J. Sampaga of PNPA Class 1989.
Other products of the PNPA who are now occupying key PNP positions include Brigadier Gen. Arthur R. Cabalona of PNPA Class 1992, now the regional director of the Bangsamoro Administrative Region Police Regional Office; Brig. Gen. Alexander C. Tagum of PNPA Class 1991, now the Police Regional Office 12 director in Central Mindanao; and Brig. Gen. Franco P. Simborio of PNPA Class 1990, now the PRO9 director in Western Mindanao.
In Metro Manila, the Quezon City Police District director is Brig. Gen. Remus B. Medina of PNPA Class 1993 while the Eastern Police District director is Brig. Gen. Orlando O. Yebra Jr. of PNPA Class 1992.
At Camp Crame, top PNPA products who are occupying key positions include Brig. Gen. Rudolph B. Dimas of PNPA Class 1992, currently the PNP Anti-Kidnapping Group director; another PNPA Class 1992 member, Brig. Gen. Roderick Augustus B. Alba of the PNP Public Information Office; PNP Headquarters Support Service director, Brig. Gen. Clifford B. Gairanod of PNPA Class 1993; PNP Drug Enforcement Group director, Brig. Gen. Randy Q. Peralta of PNPA Class 1993;
PNP Information Technology Management Service director, Brig. Gen. Harris R. Fama of PNPA Class 1990; PNP Retirement and Benefits Administration Service director, Brig. Gen. Niño David L. Rabaya of PNPA Class 1993; PNP Engineering Service director, Brig. Gen. Ricardo G. Layug of PNPA Class 1993; PNP Communications and Electronics Service director, Brig. Gen. Prexy D. Tanggawohn of PNPA Class 1991; PNP Maritime Group director, Brig. Gen. Harold B. Tuzon of PNPA Class 1990;
Police Security and Protection Group director, Brig. Gen. Juel Neil O. Salcedo of PNPA Class 1993; PNP Firearms and Explosives Office director, Brig. Gen. Alden B. Delvo of PNPA Class 1995; PNP Human Rights Affairs Office director, Brig. Gen. Vincent S. Calanoga of PNPA Class 1991; PNP Communication Center director, Brig. Gen. Ronnie Francis M. Cariaga of PNPA Class 1992; Center for Police Strategy and Management director, Brig. Gen. Randolf Y. Balonglong of PNPA Class 1991; and PNP Aviation Security Group director, Brig. Gen. Andre P. Dizon of PNPA Class 1994.
AUTHOR PROFILE
Opinion
SHOW ALL
Calendar